PAB™
Pre-Assembled Anchor Bolt
Strong-Rod® ATS Components
This product's information may differ depending on the category of use. You are currently viewing details related to Strong-Rod® ATS Components. You can also view product information related to the categories of: Bolts, Strong-Rod® URS Components
The PAB anchor bolt is a versatile cast-in-place anchor bolt ideal for high-tension-load applications, such as rod systems and shearwalls. It features a plate washer, at the embedded end, sandwiched between two fixed hex nuts and a head stamp for easy identification after the pour.
Key Features
Available in diameters from 1/2" to 1 1/4" and lengths from 12" to 36" (in 6" increments)
Available in standard and high-strength steel
Head stamp contains the No Equal sign, diameter designation and an "H" on high-strength rods
Material
Standard Steel — ASTM F1554 Grade 36, A36 or A307; Fu = 58 ksi
High-Strength Steel (up to 1" dia.) — ASTM A449; Fu = 120 ksi
High-Strength Steel (1 1/8" and 1 1/4" dia.) – ASTM A193 B7 or F1554 Grade 105; Fu = 125 ksi
Installation
On HDG PABs, chase the threads to use standard nuts or couplers or use overtapped products in accordance with ASTM A563; for example, Simpson Strong-Tie® NUT5/8-OST, NUT7/8-OST, CNW5/8-OST, CNW7/8-OST. Couplers may be special ordered with both ends oversized. Couplers may be oversized on both ends. Contact Simpson Strong-Tie.
Ordering Information
When calling out PAB anchor bolts, substitute the desired length for the "XX" in the Root Model Number
For a 5/8" x 18" anchor bolt, the model number would be PAB5-18 (or PAB5H-18 for high strength)
Related Links
Catalog Pages
Related Literature
Product Information Tables
PAB Anchor Bolt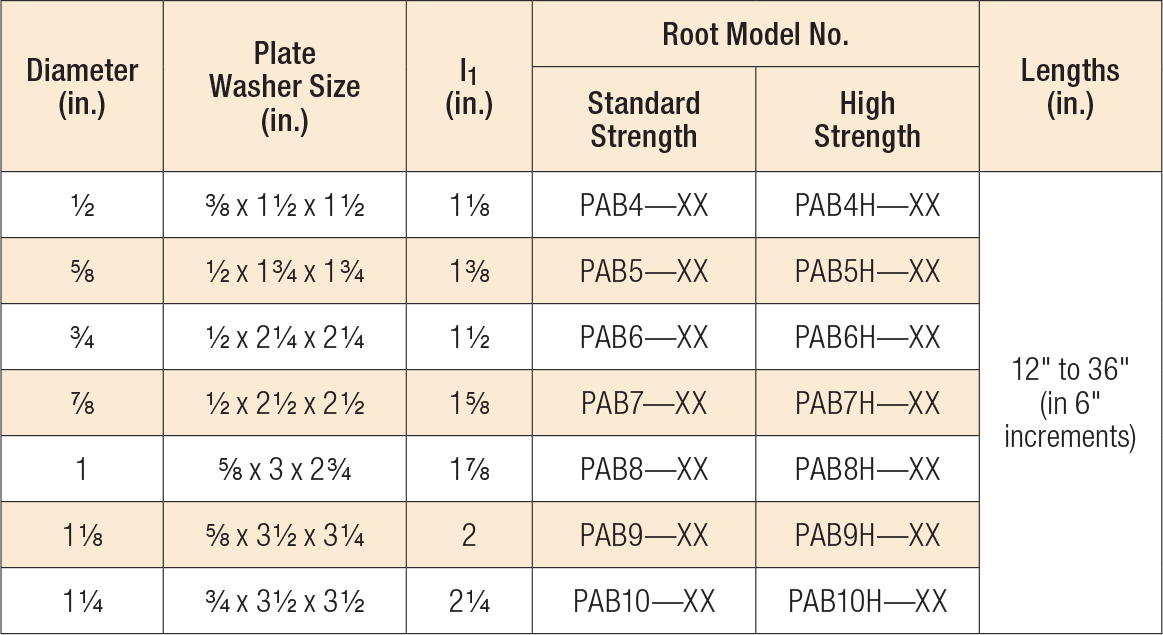 Lengths greater than 36" are available as a special order.
Plate washers are designed to develop the capacity of the bolt.
Load Tables
PAB Anchor Bolt – Anchorage Solutions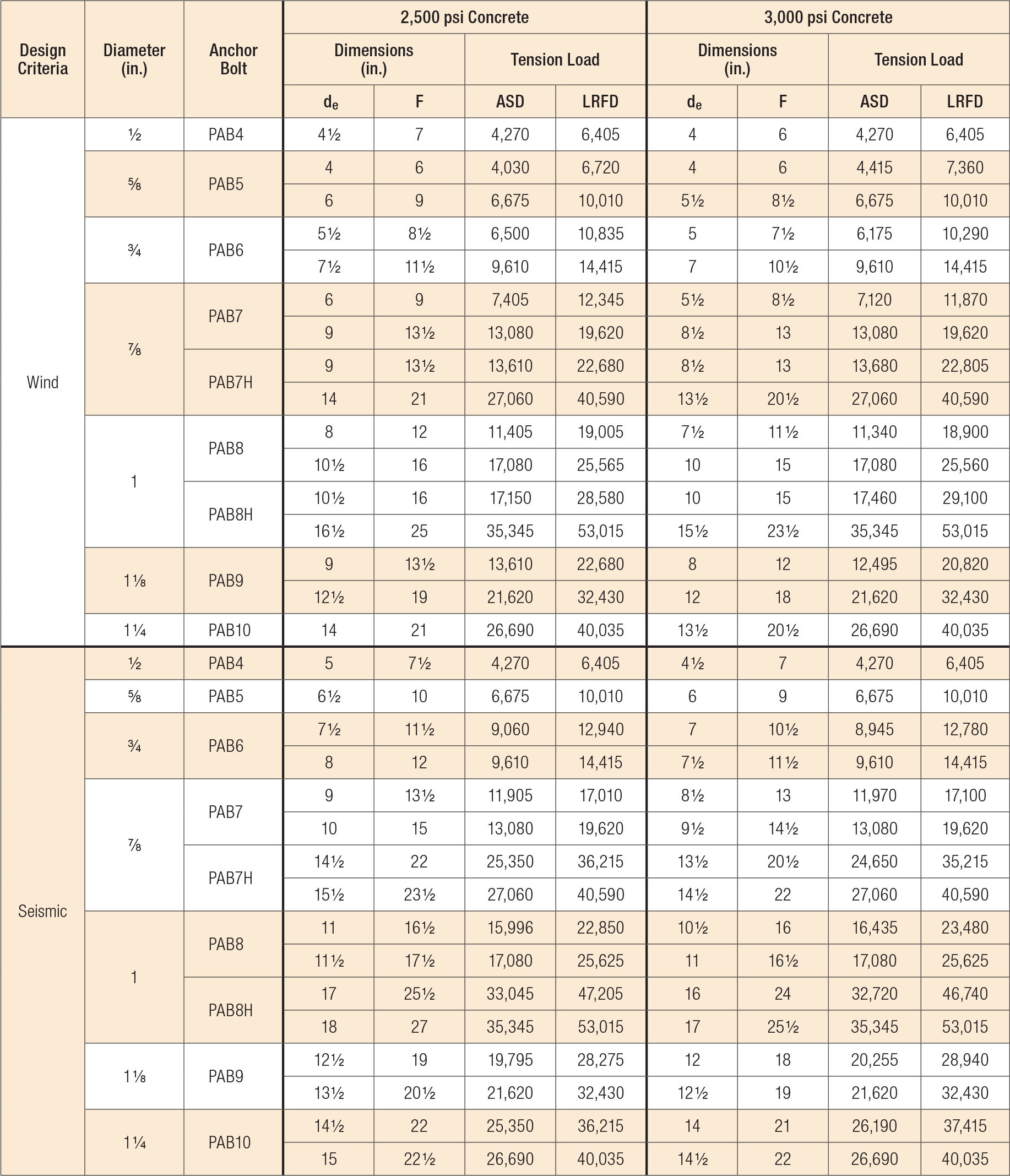 Anchorage designs conform to ACI 318-14 and assume cracked concrete with no supplementary reinforcement.
Seismic indicates Seismic Design Category C-F and designs comply with ACI 318-19, Section 17.10.5.3. Per Section 1613 of the 2012/2015/2018/2021 IBC, detached one- and two-family dwellings in SDC C may use wind values.
Wind includes Seismic Design Category A and B.
Foundation dimensions are for anchorage only. Foundation design (size and reinforcement) by Designer. The registered design professional may specify alternative embedment, footing size, and anchor bolt.
Where tension loads are governed by anchor steel, the design provisions from AISC 360 are used to determine the tensile steel limit. LRFD values are calculated by multiplying the nominal AISC steel capacity by a 0.75 phi factor, and allowable values are calculated by dividing the AISC nominal capacity by a 2.0 omega factor.
Where tension loads are governed by ACI 318 concrete limit, the Allowable Stress Design (ASD) values are obtained by multiplying Load Resistance Factor Design (LRFD) capacities by 0.7 for Seismic and by 0.6 for Wind.
Code Reports & Compliance