On This Page
Column caps provide a strong connection for column-beam combinations.
Material
CC3 1/4, CC44, CC46, CC48, CC4.62, CC64, CC66, CC68, CC6-7 1/8, ECC3 1/4, ECC44, ECC46, ECC48, ECC4.62, ECC64, ECC66, ECC68, ECC6-7 1/8 — 7 gauge; all others — 3 gauge
Finish
Simpson Strong-Tie gray paint. Some products available in HDG, stainless steel or black powder coat; CCO, ECCO — no coating.
Installation
Use all specified fasteners; see General Notes
Bolt holes shall be a minimum of 1/32" to a maximum of 1/16" larger than the bolt diameter (per 2015/2018 NDS, section 12.1.3.2)
Contact engineered wood manufacturers for connections that are not through the wide face
Options
Straps may be rotated 90° where W1 ≥ W2 (see illustration) and for CC5 1/4-6.
For special, custom, or rough-cut lumber sizes, provide dimensions. An optional W2 dimension may be specified. (The W2 dimension on straps rotated 90° is limited by the W1 dimension.)
CCO/ECCO — column cap only (no straps) may be ordered for field welding to pipe or other columns. CCO/ECCO dimensions are the same as CC/ECC. Weld by Designer.
CCOB — any two CCOs may be specified for back-to-back welding to create a cross beam connector. Use the table loads; the load is no greater than the lesser element employed.
Related Literature
Load Tables
These products are available with additional corrosion protection. Additional products on this page may also be available with this option, check with Simpson Strong-Tie for details.
For stainless-steel fasteners, see Fastener Types and Sizes Specified for Simpson Strong-Tie Connectors.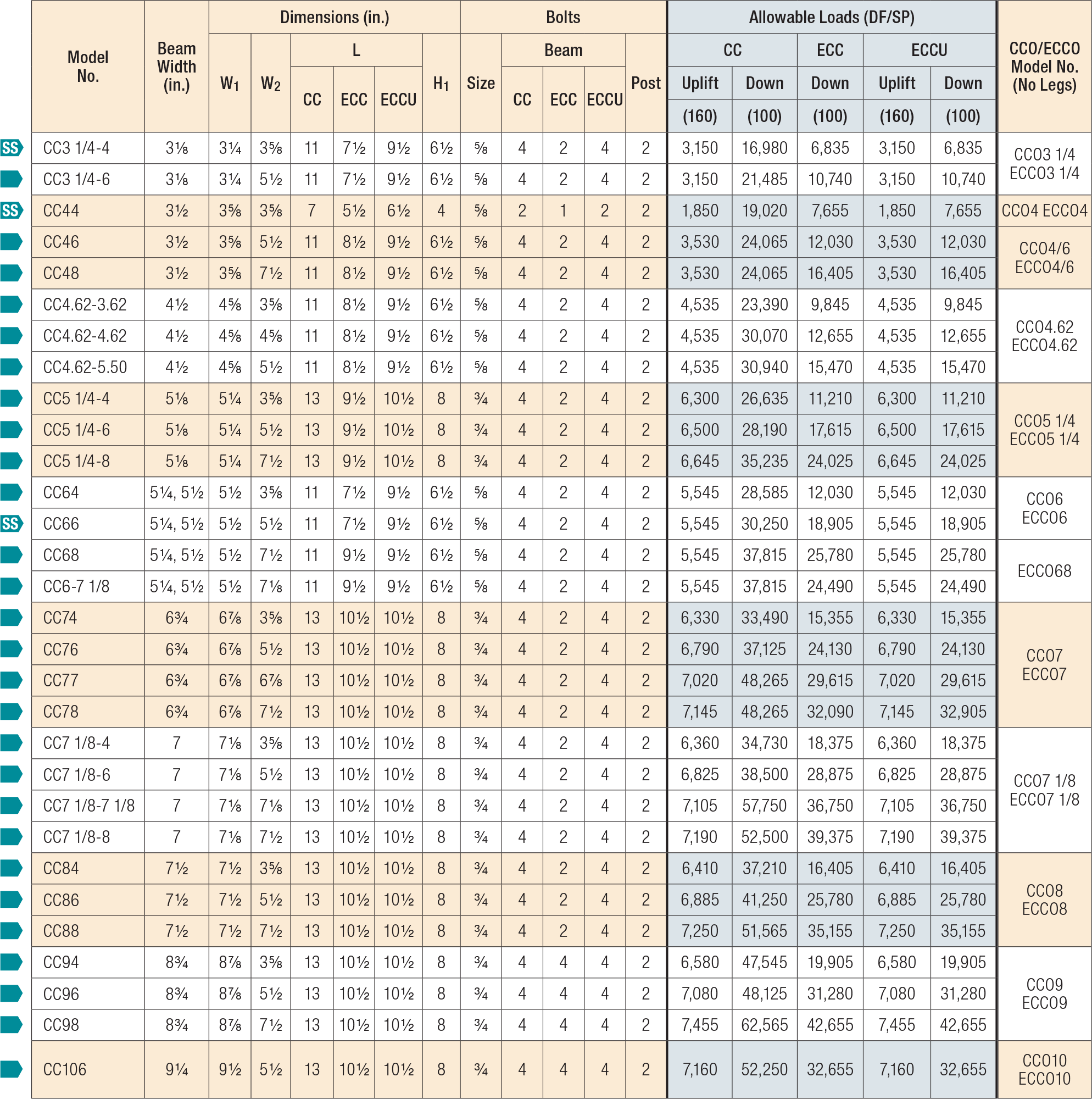 Uplift loads have been increased for earthquake or wind loading with no further increase allowed. Reduce where other loads govern.
Downloads shall be reduced where limited by allowable loads of the post.
CC uplift loads do not apply to splice conditions.
Splice conditions with CCs must be detailed by the Designer to transfer tension loads between spliced members by means other than the column cap.
Column sides are assumed to be aligned in the same vertical plane as the beam sides. CC4.62 models assume a minimum 3 1/2"-wide post.
Structural composite lumber columns have sides that show either the wide face or the edges of the lumber strands/veneers known as the narrow face. Values in the tables reflect installation into the wide face. See technical bulletin T-C-SCLCLM for load reductions resulting from narrow-face installations.
Beam depth must be at least as tall as H1.
CCO and ECCO welded to a steel column will achieve maximum load listed for the beam and the post cap as CC and ECC. The steel column width shall match the beam width. Weld by designer.
All references to bolts are for structural quality through bolts (not lag screws or carriage bolts) equal to or better than ASTM A307, Grade A.
Code Reports & Compliance