On This Page
The TB provides bracing between floor joists as a critical contribution to the structural strength of a floor. Installed in pairs, this tension-type bridging keeps joists in place and prevents them from rotating while distributing loads over more than one joist. The TB model line is designed with flexibility to fit multiple joist sizes for each model depending on joist height and O.C. joist spacing.
Key Features
Galvanized for corrosion resistance
Keeps floor system continuity and prevents joist rotation
Installation flexibility, with seven nail holes on each end
Installation
Support floor joists with a depth-to-thickness ratio of six or more with bridging at intervals not exceeding 8'. If span is greater than 8', install on 2x8 or larger joists. If span is greater than 16', use more than one pair.
Tension bridging works only in tension, so must be used in cross pairs.
Install bridging tightly; loose installation may allow floor movement.
Requires two 0.148" x 1 1/2" fasteners per end.
Related Links
Catalog Pages
Related Literature
Product Information Table
Fastener Production Information and Stuff & Things

| Model No. | Ga. | L (in.) | Coating/Material | Packaging Qty. |
| --- | --- | --- | --- | --- |
| TB20 | 20 | 20 | Zinc Galvanized, G90 | 1 |
| TB27 | 20 | 27 | Zinc Galvanized, G90 | 1 |
| TB30 | 20 | 30 | Zinc Galvanized, G90 | 1 |
| TB36 | 20 | 36 | Zinc Galvanized, G90 | 1 |
| TB42 | 20 | 42 | Zinc Galvanized, G90 | 1 |
| TB48 | 20 | 48 | Zinc Galvanized, G90 | 1 |
| TB54 | 20 | 54 | Zinc Galvanized, G90 | 1 |
| TB56 | 20 | 56 | Zinc Galvanized, G90 | 1 |
| TB60 | 20 | 60 | Zinc Galvanized, G90 | 1 |
Product Information Tables
Tension Bridging for I-Joists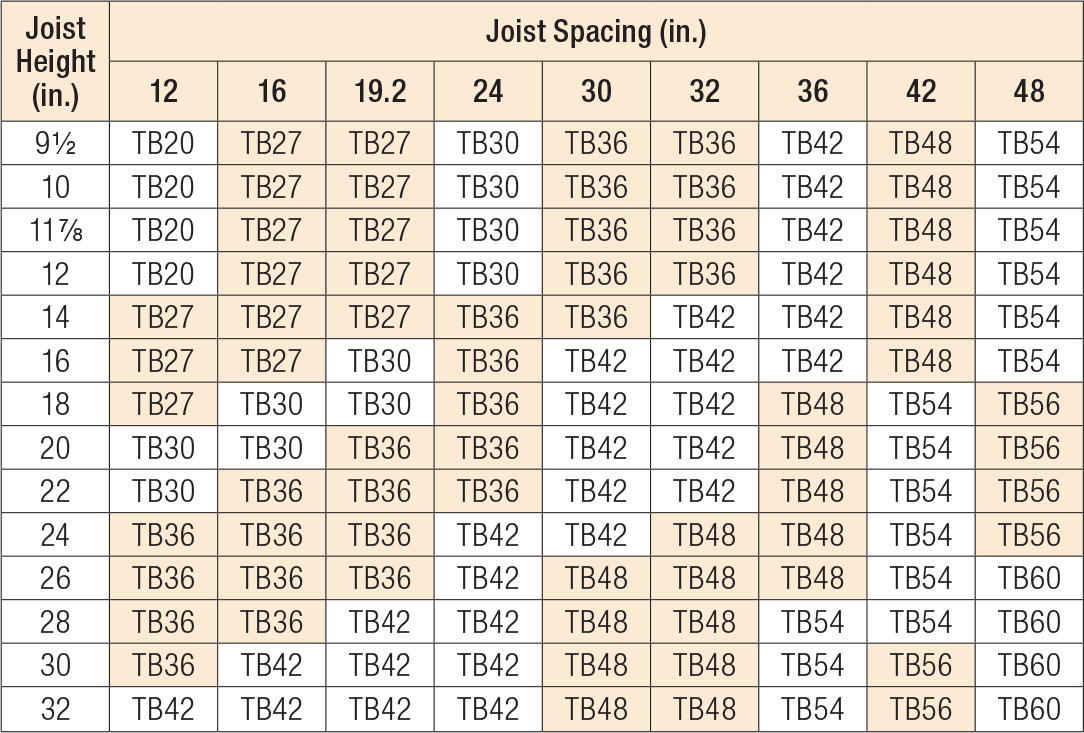 Tension Bridging for Solid Sawn Lumber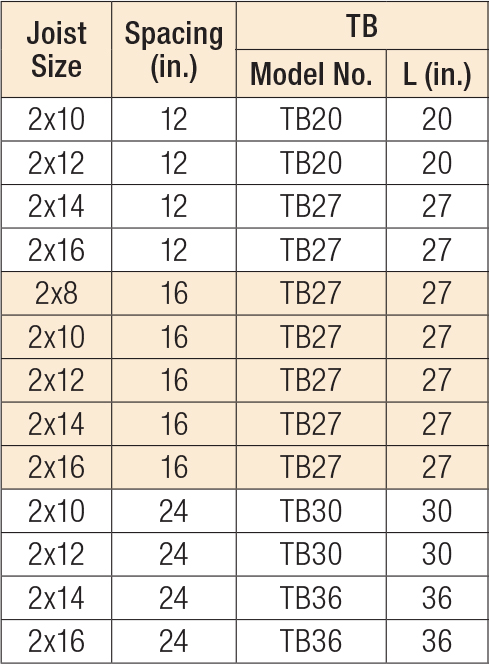 Code Reports & Compliance