DBC
Drywall Bridging Connector
On This Page
Work smarter, not harder
Patented design allows for one- or two-screw installation of the DBC, significantly reducing labor and material cost. The first and only connector load rated for 3/4" u-channel, the DBC joins the SUBH line of bridging connectors tested as a system, ensuring that published design capacities capture the influence of stud web depth and thickness.
Key Features
Most applications require only a single screw
Designed for 3/4" u-channel to fit smaller web knockouts common to drywall studs
Compatible with drywall stud depths of 3 5/8" and 6" with 1 1/2" wide knockouts
Material
33 mil (20 ga.) carbon steel
Installation
With 3/4" x 54 mil (16 ga.) u-channel installed through the stud web knockouts, insert the DBC2.5 through the knockout so that the DBC slots engage the stud web and the DBC flanges engage the u-channel as shown in the illustration
Use the specified number of #8 screws to fasten the DBC to the u-channel
Ordering Information
DBC2.5-R200 (Bucket of 200)
Codes
Tested in accordance with ICC-ES AC261
Related Links
Catalog Pages
Related Literature
Load Tables
DBC Bridging Connector Strength Allowable Loads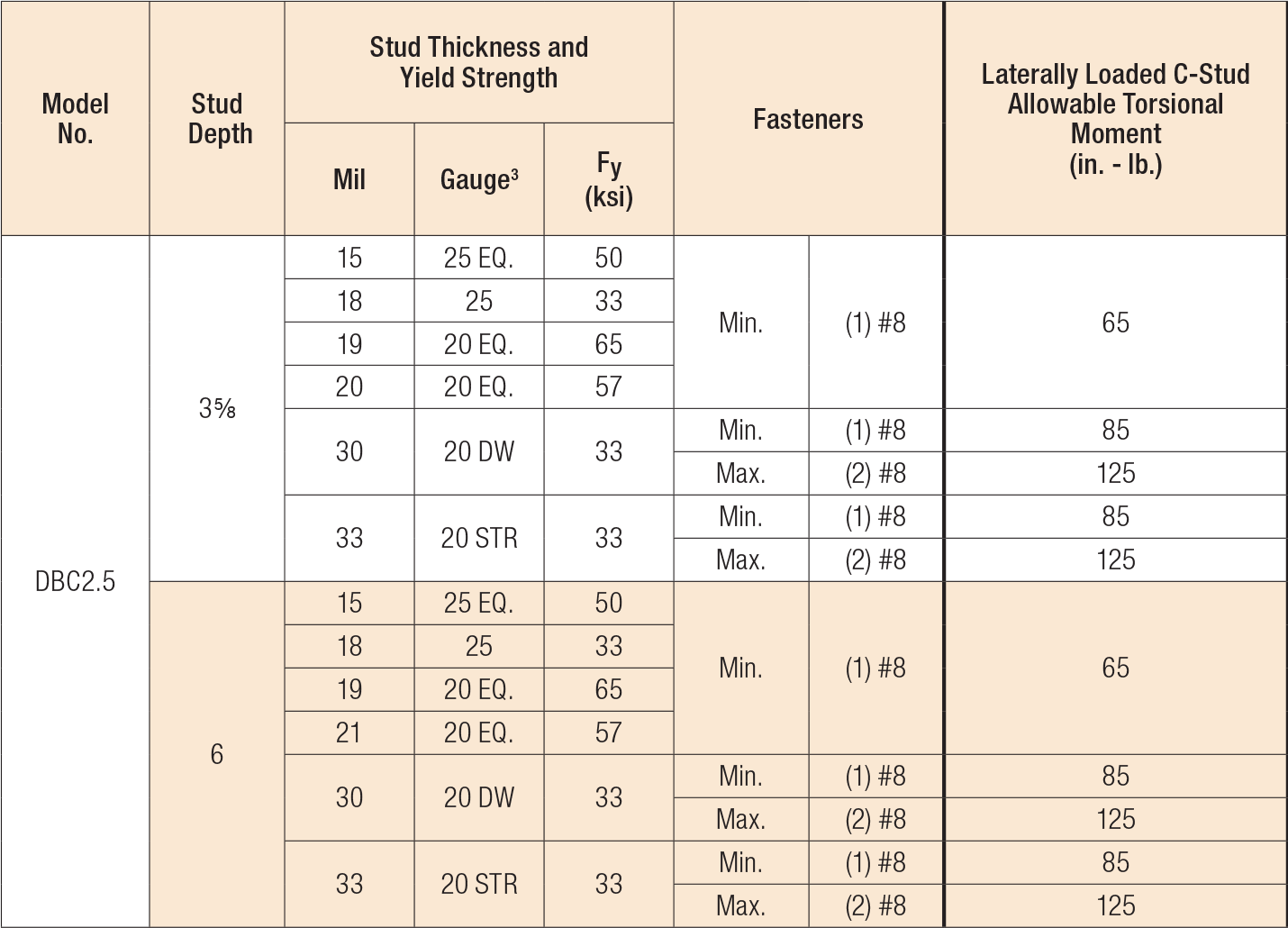 Allowable loads are for use when utilizing Allowable Stress Design methodology. For LRFD loads, multiply the ASD tabulated values by 1.6.
Min. fastener quantity and tabulated values – fill round hole (1 screw total); Max. fastener quantity and tabulated values – fill round and triangle holes (2 screws total).
EQ — equivalent, DW — drywall, STR — structural.
Design Example:
Laterally loaded C-stud
Given
600S125–18 (33 ksi) studs at 24" o.c., 10 ft. tall

Mid-point bracing (5' o.c.)
Distance from shear center to mid-plane of web, m = 0.408 in.
(SFIA Technical Guide Version 2012.101)

Lateral load = 5 psf
Laterally-Loaded Stud Design
ASD Design load tributary to brace:

W = (5 psf)(2 ft.)(5 ft.) = 50 lb.

Required bracing force (AISI S100 Eq. D3.2.1-3):

P L1 = - P L2 = 1.5(m/d)W = (1.5)(0.408 in./6 in.)(50 lb.) = 5.1 lb.

Torsional moment:

M z = P L1d = - P L2d = (5.1 lb.)(6 in.) = 30.6 in.- lb.

From Allowable Loads table above, for 6"-18 mil stud:

=> Select DBC2.5 with Min. fasteners ((1) #8)
Allowable torsional moment = 65 in.- lb. > 30.6 in.- lb. OK
Code Reports
Part
IAPMO UES ER
ICC-ES ESR
City of Los Angeles
State of Florida
DBC
No evaluation report listing.
DBC2.5
No evaluation report listing.