For ornamental applications where the connectors are exposed, the HSTPC/PSPC non-notched straps provide transfer tension loads. Each model features a powder-coated black paint for a more finished look.
Finish
Textured powder-coated flat black paint
Installation
Use all specified fasteners; see General Notes
Options
Notched alternatives: OS/OHS Strap Ties
Non-ornamental alternatives: HST, PS
Related Literature
Load Tables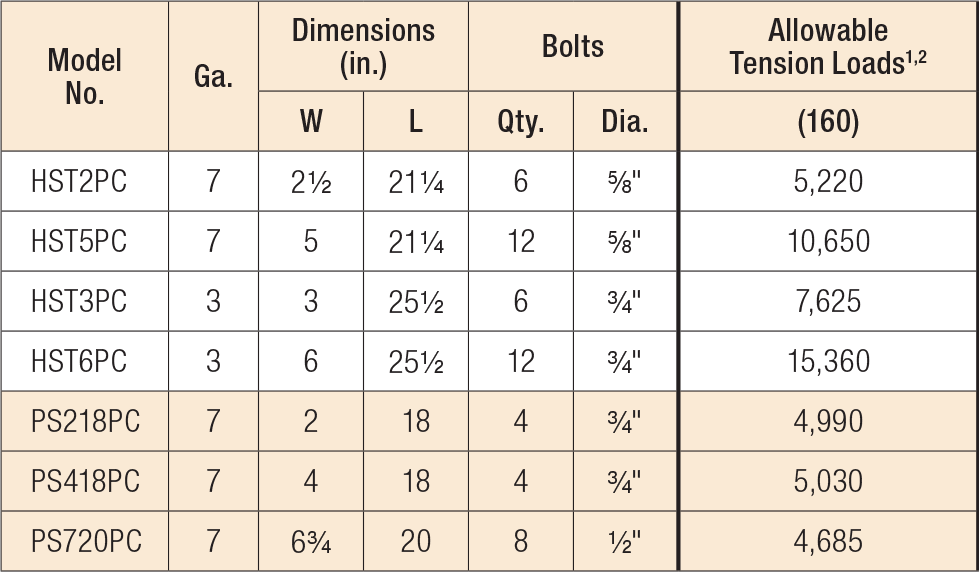 Allowable loads have been increased 60% for wind or earthquake loading with no further increase allowed; reduce where other loads govern.
Allowable loads are based on parallel-to-grain loading and a minimum member thickness of 3 1/2" with machine bolts in a single shear. Straps must be centered about splice joint, and bolt edge distances must meet NDS minimum requirements.
Designer must determine allowable loads when combining bolts parallel and perpendicular to grain.
Code Reports
Part
IAPMO UES ER
ICC-ES ESR
City of Los Angeles
State of Florida
HST2PC
ESR-2105 ESR-2523
FL10852
HST3PC
ESR-2105 ESR-2523
FL10852
HST5PC
ESR-2105 ESR-2523
FL10852
HST6PC
ESR-2105 ESR-2523
FL10852
HSTPC
See specific model numbers for code listings.
PS218PC
No load capacity: Products not tested or submitted because they are not load rated and code approval not required.
PS418PC
No load capacity: Products not tested or submitted because they are not load rated and code approval not required.
PS720PC
No load capacity: Products not tested or submitted because they are not load rated and code approval not required.
PSPC
No code listing. Please contact us for test data.

ESR-2523 is an Index of many of Simpson Strong-Tie Stamped and Welded Cold-formed Steel Products for Wood or Cold-formed Steel Construction
Drawings
| Part | Orthographic | Perspective |
| --- | --- | --- |
| HST2PC | None | None |
| HST3PC | None | None |
| HST5PC | None | None |
| HST6PC | None | None |
| HSTPC | None | None |
| PS218PC | None | None |
| PS418PC | None | None |
| PS720PC | None | None |
| PSPC | None | None |