KST
Speed Wall Ties (Kwik Strip)
On This Page
This product is only available in Canada
The KST is designed to support concrete formwork and prevent bowing or collapsing while concrete is being poured. The speed wall tie easily installs between two pieces of plywood formwork for accurate spacing to create the correct dimension of a poured concrete wall. Made from 16-gauge steel with a galvanized finish, the KST provides added durability and stability.
Key Features
Speed prongs for quick and easy installation into wooden formwork
Accurately spaces the formwork for a true and exact concrete wall width
Ideal for residential or for lower height foundation wall applications
Related Literature
Product Information Tables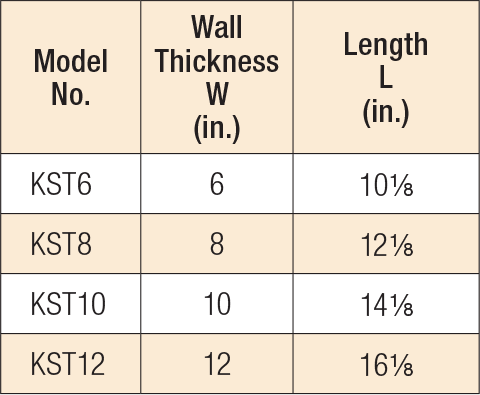 The Factored Tensile Resistance for all models is 1410 lb. (6.27 kN).
Formwork designer to specify tie spacing and concrete pour rate to ensure that Factored Resistances are not exceeded.
Code Reports & Compliance