On This Page
CS coiled utility straps are an ideal solution when it is desired to brace wall studs via the flanges with strap. These products are packaged in lightweight cartons (about 40 pounds) and can be cut to length on the job site.
Installation
Use all specified fasteners. See General Notes.
Refer to the applicable code for minimum edge and end distance.
The table shows the maximum allowable loads and the screws required to obtain them. See footnote #1. Fewer screws may be used as given by footnote #3.
Related Links
Wood Construction
Cold-Formed Steel Construction
Related Literature
Load Tables
These products are available with additional corrosion protection. Additional products on this page may also be available with this option, check with Simpson Strong-Tie for details.
These models are approved for installation with the Strong-Drive® SD Connector screw. See the load values below.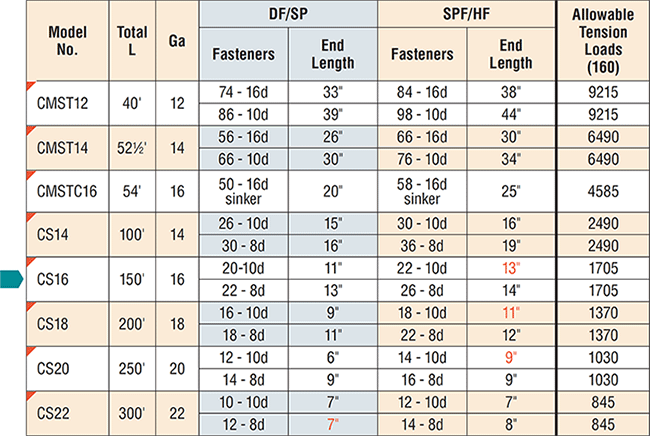 Fastener quantities and end lengths are calculated using an increase for wind or seismic loading.
Use half of the required nails in each member being connected to achieve the listed loads.
Calculate the connector value for a reduced number of nails as follows:

Example: CMSTC16 in DF/SP with 40 nails total. (Half of the nails in each member being connected)

Tension loads apply for uplift when installed vertically.
NAILS: 16d = 0.162" dia. x 3 1/2" long, 16d Sinker = 0.148" dia. x 3 1/4" long, 10d = 0.148" dia. x 3 " long. See other nail sizes and information.
Code Reports
Drawings
Part
Orthographic
Perspective
CS14
None

High Wind Resistant Construction Detail D133: Building Floor-to-Floor Straps - HWRC D133 Building floor to floor straps

DWG DXF

CS16
CS18
CS18S
None
CS20
CS22

High Wind Resistant Construction Detail D133: Building Floor-to-Floor Straps - HWRC D133 Building floor to floor straps

DWG DXF