SCB/MSCB
Bypass Framing Slide-Clip Connectors
On This Page
The SCB/MSCB slide-clip connectors are high-performance connectors for bypass framing applications designed to reduce design time and overall installed cost. Various anchorage methods have been tested, and the resulting allowable loads eliminate the need to design connector anchorage. The SCB/MSCB can accommodate applications that typically require two parts with a single connector, reducing material and labor cost. These connectors are manufactured in five different lengths to accommodate a variety of standoff conditions and steel-stud sizes.
Key Features
Provides a full 1" of both upward and downward movement
The precision-manufactured shouldered screws provided with the SCB/MSCB connector are designed to prevent overdriving and to ensure the clip functions properly
Strategically placed stiffeners, embossments and anchor holes maximize connector performance
Simpson Strong-Tie No-Equal® stamps mark the center of the slots to help ensure correct shouldered-screw placement
Material
SCB — 54 mil (16 ga.); MSCB — 68 mil (14 ga.)
Installation
Use the specified type and number of anchors.
Use the specified number of XLSH34B1414 #14 shouldered screws (included). Install shouldered screws in the slots adjacent to the No-Equal stamp.
Use a maximum of 1 screw per slot.
For installations to wood framing, see Simpson Strong-Tie engineering letter Deflection Connectors for Wood Framing (L-CF-DEFCLIPW)
Ordering Information
SCB43.5-KT contains:
25 connectors
(55) XLSH34B1414 #14 shouldered screws
SCB45.5-KT, MSCB45.5-KT, SCB47.5-KT, MSCB47.5-KT, SCB49.5-KT, and SCB411.5-KT contain:
25 connectors
(83) XLSH34B1414 #14 shouldered screws
Note: Replacement #14 shouldered screws for SCB/MSCB connectors are XLSH34B1414-RP83
Related Literature
Load Tables
SCB/MSCB Allowable Connector Loads (lb.)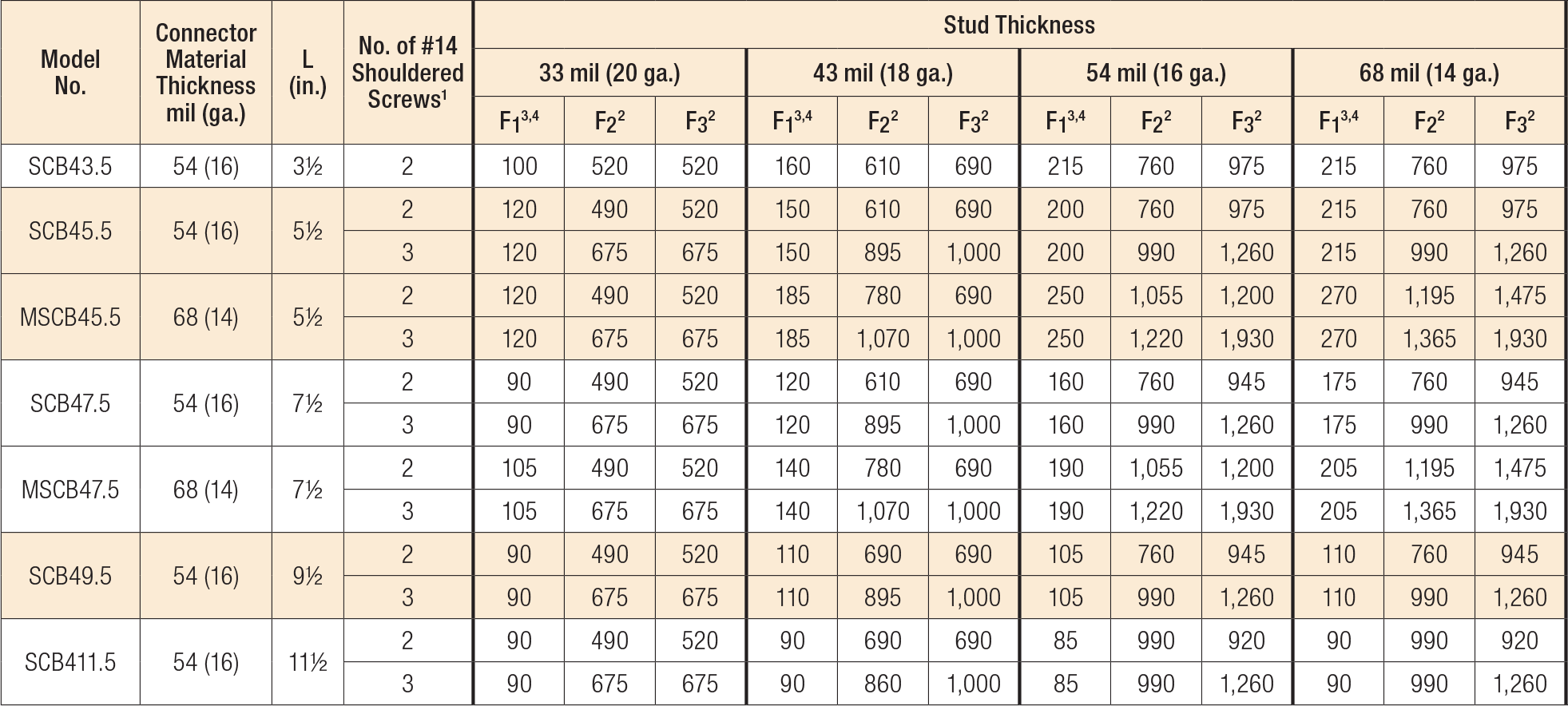 When the SCB or MSCB connector is used with two shouldered screws, the screws may be installed in any two slots.
Allowable loads are based on clips installed with (4) #12–14 screws in the anchor leg. For other anchorage installations, the capacity of the connection system will be the minimum of the tabulated value and the allowable load from the SCB/MSCB Allowable Anchorage Loads table below.
Anchorage to the supporting structure using welds or a minimum of (2) fasteners is required.
Tabulated F1 loads are based on assembly tests with the load through the centerline of stud. Tested failure mode due to screw pullout; therefore compare F1 against Fp calculated per ASCE 7-16 Chapter 13 with ap = 1.25 and Rp = 1.0.
SCB/MSCB Standoff Distances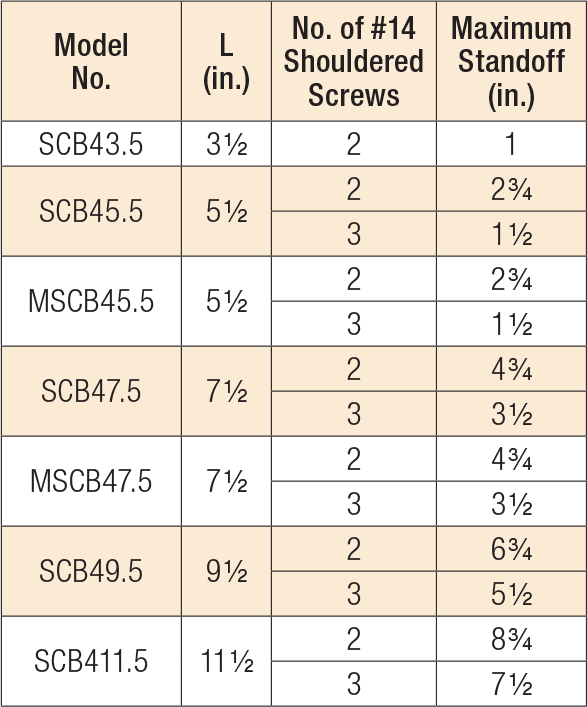 SCB/MSCB Allowable Anchorage Loads (lb.)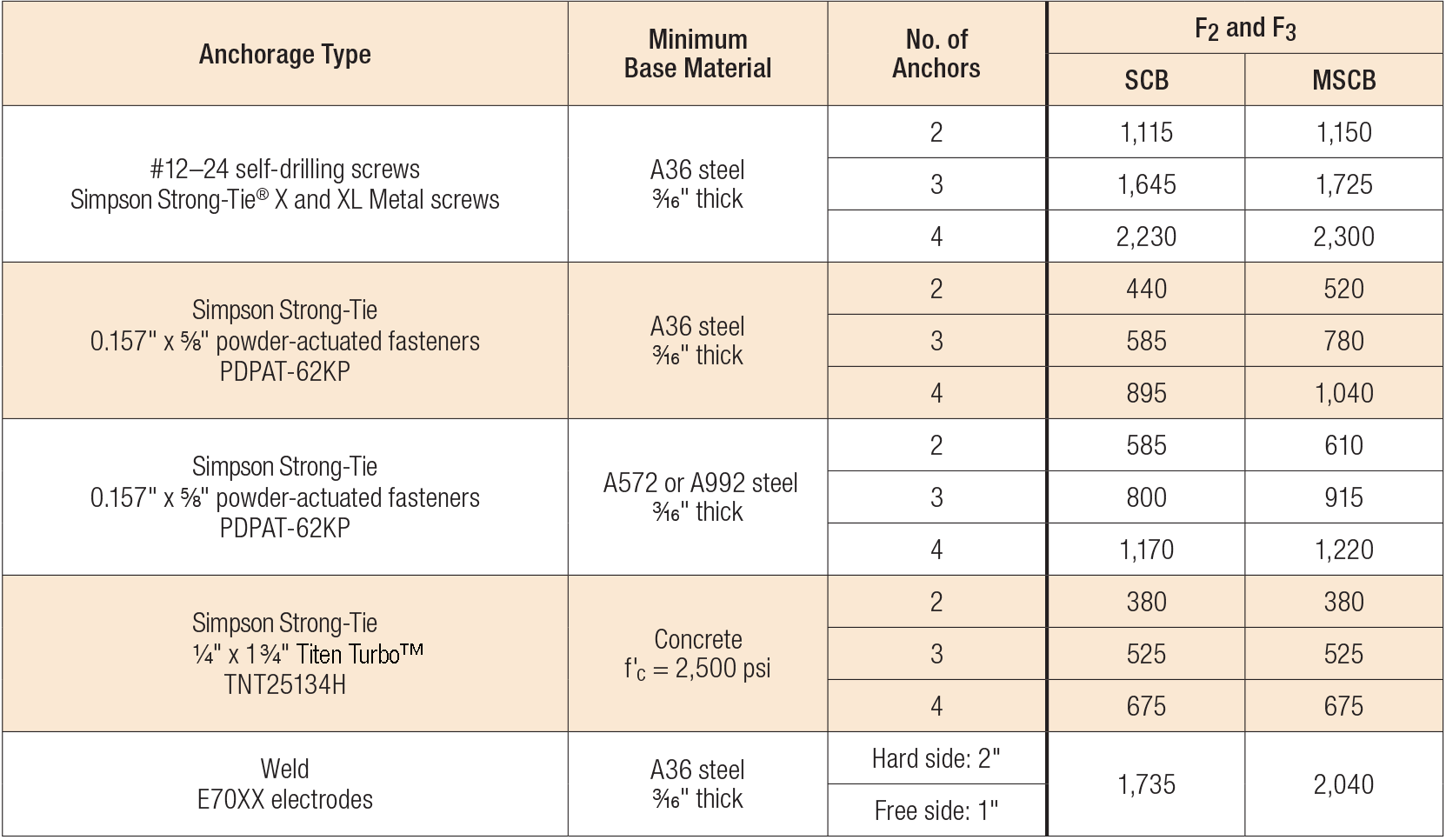 For additional important information, see Innovative Solutions for Curtain-Wall Framing.
Allowable loads are for clip anchorage only. The capacity of the connection system will be the minimum of the tabulated allowable anchorage loads the allowable load from the SCB/MSCB Allowable Connector Load table above.
Allowable loads for #12–24 self-drilling screws and PDPAT powder-actuated fasteners are based on installation in minimum 3/16" thick structural steel with Fy = 36 ksi. PDPAT values are also provided for A572 steel. Values listed above may be used where other thicknesses of steel are encountered or other manufacturers are used, provided that the fastener has equal or better tested values. It is the responsibility of the designer to select the proper length fasteners based on the steel thickness installation.
For screw fastener installation into steel backed by concrete, predrilling of both the steel and the concrete is suggested. For predrilling use a maximum 3/16"–diameter drill bit.
Code Reports & Compliance