On This Page
This concealed-flange hanger can be welded to structural steel members to support CFS joists.
Installation
HUC series hangers may be welded to supporting structural steel members
Use 1" weld segments equally spaced top and bottom, with half the segments on each side of hanger
Welds may be either lap joint (on outside edge of flanges) or flare-bevel groove (on flange bend line)
Related Literature
Product Information Tables
Maximum Skew Degree for Skewed HUC Hangers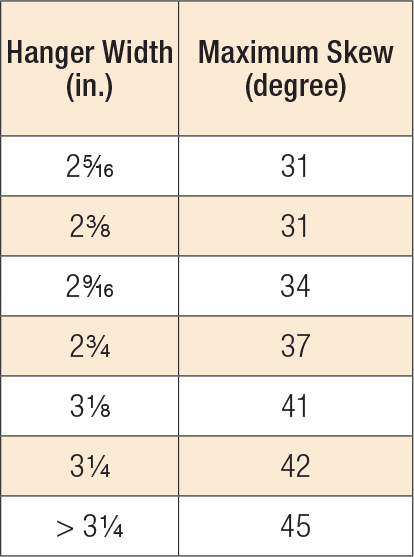 Load Tables
U/HU/HUC Series Modifications and Associated Load Reduction Factors

Modified seat is sloped, skewed, or both. If sloped only or skewed only, use a smooth-shank stainless-steel reduction of 0.65.
For hanger applications with both flanges concealed, W must be at least 2 5/16". To order, ask for HUCXXX. For skewed HUC, only flange on acute side is concealed.
Skews over 50° require a square-cut joist.
Reduction Factor Instructions
Allowable Download =
Seat x Flange x Stainless Steel Nails x Other Fastener Substitutions x (Table Load)
Allowable Uplift =
0.75 x Face Fastener Type x (Table Load) for skewed or sloped
1.00 x Face Fastener Type x (Table Load) for non-skewed or non-sloped
Code Reports
Drawings
| Part | Orthographic | Perspective |
| --- | --- | --- |
| HUC410 | | |
| HUC410-2 | None | |
| HUC412 | | |
| HUC412-2 | None | |
| HUC414-2 | None | |
| HUC416 | None | |
| HUC48 | | |
| HUC5.31/11 | None | |
| HUC5.31/14 | None | |
| HUC5.31/16 | None | |
| HUC5.31/9 | None | |
| HUC610 | | |
| HUC612 | | |
| HUC616 | None | |
| HUC68 | | |