LSSR
Slopeable/Skewable Rafter Hanger
On This Page
Face-Mount Hangers for Engineered Wood
This product's information may differ depending on the category of use. You are currently viewing details related to Face-Mount Hangers for Engineered Wood. You can also view product information related to the category: Face-Mount Hangers for Solid Sawn Lumber
The patent-pending LSSR light slopeable/skewable rafter hanger is the next generation of a field-adjustable rafter hanger. One of its key features is that it can be installed after all of the rafters have been tacked into place. A versatile hanger, it is field adjustable for skew up to 45° and features an innovative hinged swivel seat to adjust for up to a 45° slope.
Key Features
Makes it possible to install after the rafters are already in place
Flange design allows for easy skew adjustment, from 0° to 45°
Swivel seat adjusts easily and supports joist
Installation
Use all specified fasteners; see General Notes.
For a common rafter:

Slide hanger into position; adjust seat and install seat nails
Make sure side stirrups are snug close to the joist, bend lines are plumb
Install a face nail on each side to hold in place
Install all round and obround holes on the header and joist
For jack rafters:

Fold acute side forward
Slide hanger into position; adjust seat and install seat nails
Make sure hanger is snug close to the joist, bend line is plumb
Install obround nails on acute side, both header and joist
Make sure hanger is snug close to the joist and header; bend line is plumb
Install joist nails on obtuse side
Bend obtuse side flange back so that header flange is flush against header
Install header nails
Related Links
Catalog Pages
Featured Video
Related Literature
Load Tables
These products are available with additional corrosion protection. Additional products on this page may also be available with this option, check with Simpson Strong-Tie for details.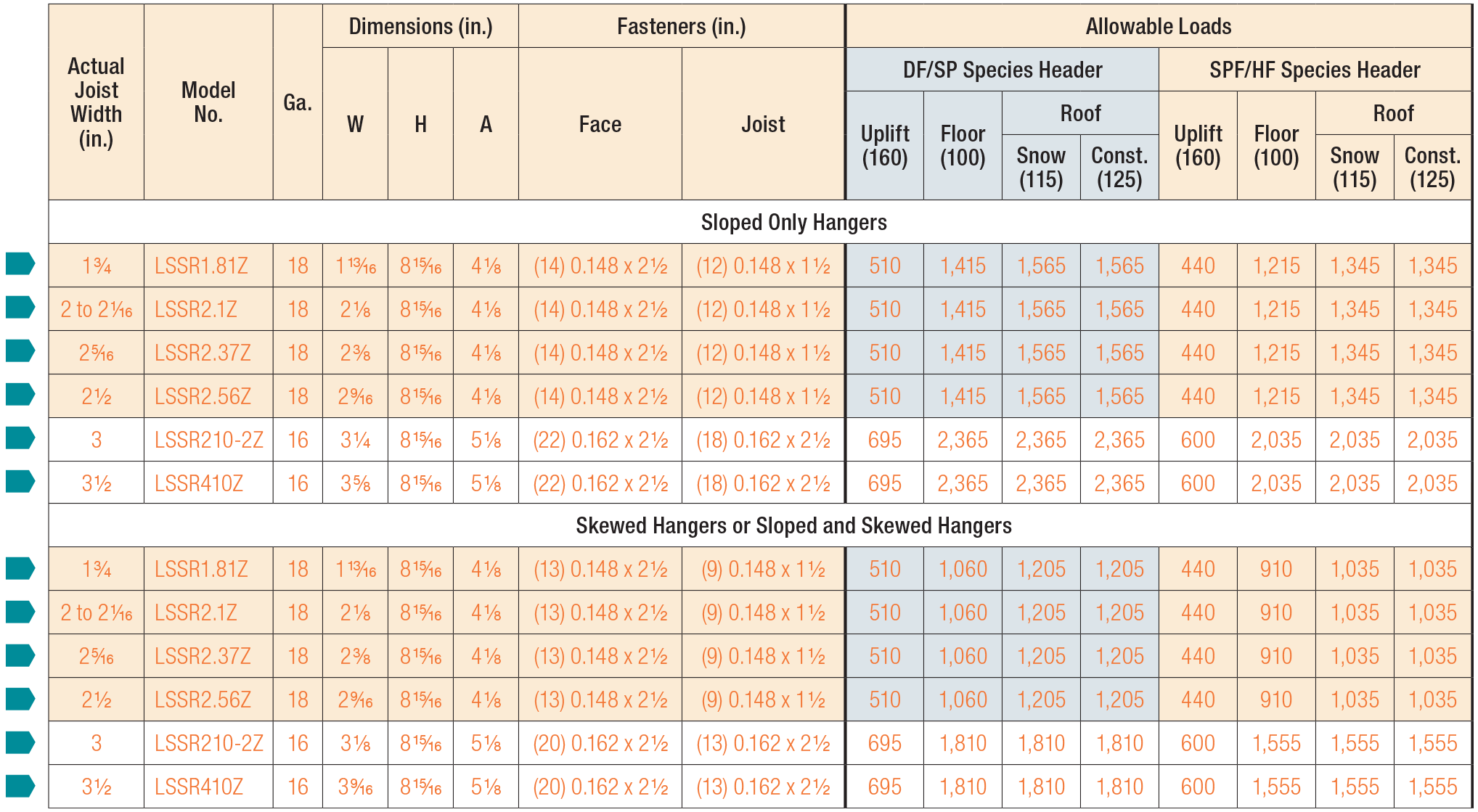 Uplift loads have been increased for earthquake or wind loading with no further increase allowed. Reduce where other loads govern.
For slope-only installations, the four triangle holes may be filled for an allowable roof download of 3,015 lb. for DF/SP and 2,595 lb. for SPF/HF for LSSR 16GA.
Roof loads are 125% of floor loads unless limited by other criteria.
Minimum 9 1/2" joist height for LSSR.
On the acute side of the skewed LSSR hangers, fill obround holes only.
Fasteners: Nail dimensions in the table are listed diameter by length. For additional information, see Fastener Types and Sizes Specified for Simpson Strong-Tie Connectors.
Code Reports & Compliance