THGB/THGBH/THGW
Truss Girder Hangers
High-capacity, welded hangers for multi-ply girder trusses. The THGB series offers optional installation with Simpson Strong-Tie® Strong-Drive® SDS Heavy-Duty Connector screws, and the bolted THGBH and THGW hangers offer higher design loads. For a lower-cost alternative that uses Strong-Drive SDS Heavy-Duty Connector screws instead of bolts and offers high load capacities, see the THGQ/THGQH series.
Finish
Simpson Strong-Tie® gray paint
Installation
Use all specified fasteners; see General Notes
All multiple members must be fastened together to act as a single unit
Maximum 11 7/8" bottom chord in the carrying member to allow for the minimum bolt end distance
Bolts must be installed symmetrically when using less than 8 bolts on the 8-bolt backplate
Girders must be adequately laterally braced to prevent excessive displacement due to secondary torsional stresses (Ref ANSI/TPI 1-2014 Section 7.5.3.5)
Options
See Hanger Options information.
Skewed Seat
THGB/THGBH/THGBV/THGBHV hangers can be skewed to a maximum of 45°.
The maximum allowable down load and uplift load for skew is 0.87 of the table load.
Dropped Bucket
THGBV/THGBHV backplates can be extended to allow for up to a 6" dropped bucket.
Allowable loads are 100% of the table loads.
Order as "X" version, specify the total backplate height, BK_PLT, equal to the hanger height (H) plus the dropped bucket amount (db). Ex: a THGBV3.62/9 with a 4" dropped bucket would have a total backplate height of 27 1/4".
Related Literature
Load Tables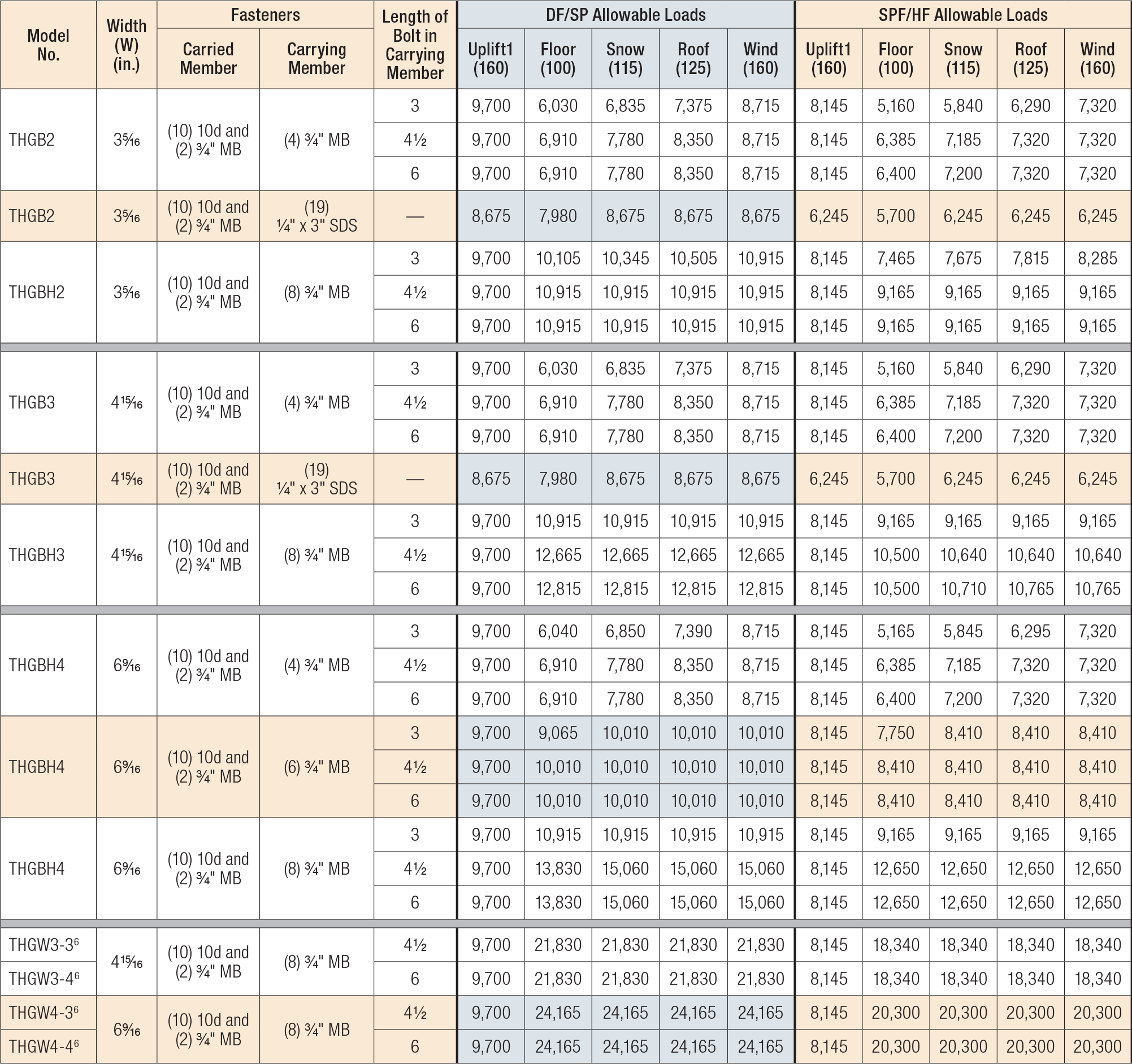 Uplift loads have been increased for wind or earthquake loading with no further increase allowed; reduce where other loads govern.
A 3-ply carrying member is required for the THGW3-3 and THGW4-3; a 4-ply carrying member is required for the THGW3-4 and THGW4-4. For all other models, a minimum 2-ply carrying member is required.
Simpson Strong-Tie® Strong-Drive® SDS Heavy-Duty Connector screws require a minimum 2-ply (3") carrying member.
Bolts and Simpson Strong-Tie Strong Drive screws are permitted to be installed through metal truss connector plates as approved by the Truss Designer, provided the requirements of ANSI/TPI 1-2014 Sections 7.5.3.4 and 8.9.2 are met.
10-10d nails for the carried member will achieve the maximum down loads. Uplift loads are 2570 lbs. for DF/SP and 2210 lbs. for SPF/HF. To achieve maximum uplift, install nails and bolts listed in the table.
Loads for THGW models require that the supported member have minimum 2x6 end verticals to ensure end-grain bearing. Contact Simpson Strong-Tie for loads when horizontal members are bearing in the hanger seat.
Wind (160) is a download rating.
To achieve published loads, machine bolts (MB) into the girder truss shall be installed with the nut on the opposite side of the hanger with a standard cut washer (except THGW's). Standard cut washers are required for THGB and THGBH.
NAILS: 10d = 0.148" dia. x 3" long. See other nail sizes and information.
Code Reports
Part
IAPMO UES ER
ICC-ES ESR
City of Los Angeles
State of Florida
THGB
See specific model numbers for code listings.
THGB2
FL11468
THGB3
FL11468
THGBH
See specific model numbers for code listings.
THGBH2
FL11468
THGBH3
FL11468
THGBH4
FL11468
THGW
See specific model numbers for code listings.
THGW3
No code listing. Please contact us for test data.
THGW3-3
FL11468
THGW3-4
FL11468
THGW4-3
FL11468
THGW4-4
FL11468
Drawings
| Part | Orthographic | Perspective |
| --- | --- | --- |
| THGB2 | | |
| THGB3 | | |
| THGBH2 | | None |
| THGBH3 | | None |
| THGBH4 | | None |
| THGW3 | None | None |
| THGW3-3 | | |
| THGW3-4 | | |
| THGW4-3 | | |
| THGW4-4 | | |