LGU/MGU/HGU/HHGU
High-Capacity Girder Hangers for Glulam
The GU hangers are a high-capacity girder hangers designed for situations where the header and joist are flush at top. These products can be used for retrofit on the framing members after they are temporarily placed in position. Simpson Strong-Tie® Strong-Drive® SDS Heavy-Duty Connector screws make make installation fast and easy, with no pre-drilling required.
Finish
Galvanized, HHGU—Simpson Strong-Tie® gray paint. Available in hot-dip galvanized, order as "X" version and specify HDG.
Installation
Use all specified fasteners. See General Notes.
Install with 1/4"x2 1/2" Strong-Drive SDS Heavy-Duty Connector screws, which are provided with the GUs. (Note: lag screws will not achieve the same loads.)
All multiple members must be fastened together to act as a single unit.
Multiple member headers may require additional fasteners at the hanger locations. The quantity and location of the additional fasteners must be determined by the Designer.
For installation to concrete or masonry walls, see LGUM and HGUM hangers.
Options
Other seat widths available. Order as "X" version, specify width.
See Hanger Options for one flange concealed option. MGU with W 4" or less and HGU with W 4 11/16" or less cannot be concealed.
LGU, MGU and HGU hangers may be skewed up to 45°.
Related Literature
Load Tables
These products are available with additional corrosion protection. Additional products on this page may also be available with this option, check with Simpson Strong-Tie for details.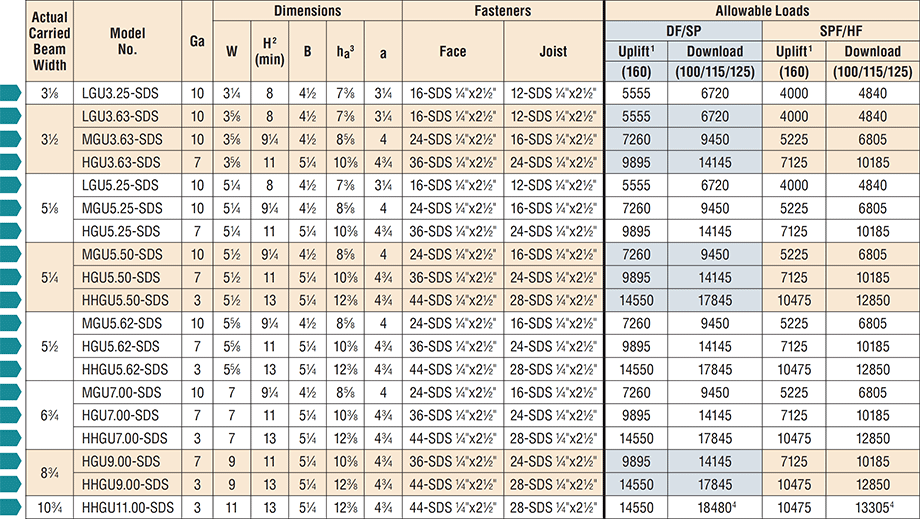 Uplift loads have been increased for wind or earthquake loading with no further increase allowed.
Specify H dimension. Maximum H = 30".
Header height must be at least as tall as the flange height (ha).
Where noted, allowable loads may be increased for duration of load up to 20455 lbs. for DF/SP and 14725 lbs. for SPF/HF.
Code Reports
Drawings
| Part | Orthographic | Perspective |
| --- | --- | --- |
| HGU | | None |
| HGU3.63 | None | None |
| HGU5.25 | None | None |
| HGU5.50 | None | None |
| HGU5.62 | None | None |
| HGU7.00 | None | None |
| HGU9.00 | None | None |
| HHGU | | None |
| HHGU11.00 | None | None |
| HHGU5.50 | None | None |
| HHGU5.62 | None | None |
| HHGU7.00 | None | None |
| HHGU9.00 | None | None |
| LGU | | None |
| LGU3.25 | None | None |
| LGU3.63 | None | None |
| LGU5.25 | None | None |
| MGU | | None |
| MGU3.63 | None | None |
| MGU5.25 | None | None |
| MGU5.50 | None | None |
| MGU5.62 | None | None |
| MGU7.00 | None | None |