On This Page
The HUC is a concealed flange (face flanges turned in) version of the HU. This heavy-duty, concealed-flange connector is designed for schools and other structures requiring additional strength, longevity and safety factors. Most models have triangle and round holes. To achieve maximum loads, fill both round and triangle holes with common nails.
Installation
For attachment to wood use all specified fasteners in the allowable load tables; see General Notes.
Can be installed filling round holes only, or filling round and triangle holes for maximum load capacity.
Joists sloped up to 1/4:12 achieve table loads.
When nailing into carrying member's end grain, the allowable load is adjusted by a factor of 0.67.
HUC hangers can be welded to a steel member. Allowable loads are the lesser of the values in the Face-Mount Hanger Load Tables or the weld capacity — refer to technical bulletin T-C-HUHUC-W.
For I-joist installation: web stiffeners are required for all I-joists used with these hangers.
For attachment to masonry/concrete, see HUC in Face-Mount Masonry Hangers.
For attachment to cold-formed steel, see HUC in Joist Framing Connectors for Cold-Formed Steel Construction.
Options
When the HUC is skewed, the header flange opposite the skew direction is not concealed
See modifications table below for available options and associated load capacities
For ease of ordering, refer to technical bulletin T-U-HU-WS
Related Literature
Product Information Tables
Maximum Skew Degree for Skewed HUC Hangers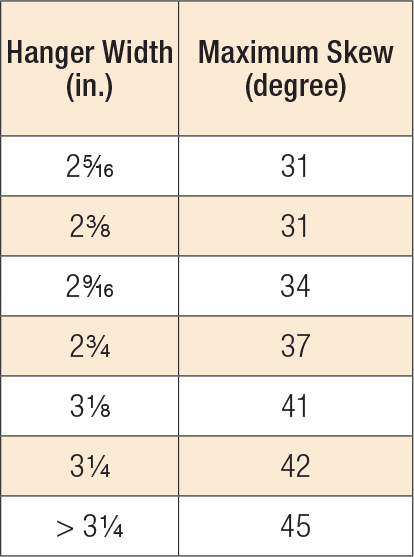 Load Tables
U/HU/HUC Series Modifications and Associated Load Reduction Factors

Modified seat is sloped, skewed, or both. If sloped only or skewed only, use a smooth-shank stainless-steel reduction of 0.65.
For hanger applications with both flanges concealed, W must be at least 2 5/16". To order, ask for HUCXXX. For skewed HUC, only flange on acute side is concealed.
Skews over 50° require a square-cut joist.
Reduction Factor Instructions
Allowable Download =
Seat x Flange x Stainless Steel Nails x Other Fastener Substitutions x (Table Load)
Allowable Uplift =
0.75 x Face Fastener Type x (Table Load) for skewed or sloped
1.00 x Face Fastener Type x (Table Load) for non-skewed or non-sloped
Code Reports
Drawings
Part
Orthographic
Perspective
HUC210-2

High Wind Resistant Construction Detail D123: Increased Uplift Capacity - HWRC D123 Hanger Uplift Considerations

DWG DXF

HUC210-2SS
None

High Wind Resistant Construction Detail D123: Increased Uplift Capacity - HWRC D123 Hanger Uplift Considerations

DWG DXF

HUC210-2Z
None

High Wind Resistant Construction Detail D123: Increased Uplift Capacity - HWRC D123 Hanger Uplift Considerations

DWG DXF

HUC210-3
None
HUC210-3Z
None
HUC210-4
None
HUC212-2
None
HUC212-3
None
HUC214-2
None
HUC214-3
None
HUC216-2
None
HUC216-3
None
HUC24-2
None
HUC26-2
HUC26-2Z
None
HUC26-3
None
HUC28-2
HUC28-2SS
None
HUC28-2Z
None
HUC28-4
None
HUC310
None
HUC312
None
HUC314
None
HUC316
None
HUC34
None
HUC36
None
HUC38
None
HUC38-2
None
HUC410
HUC410Z
HUC412
HUC412HDG
None
HUC412Z
HUC414
None
HUC416
None
HUC44
HUC44Z
None
HUC46
HUC46Z
HUC48
HUC48Z
HUC610
HUC610Z
None
HUC612
HUC612Z
None
HUC614
None
HUC616
None
HUC66
HUC68
HUC68Z
None
HUC810
None
HUC812
None
HUC814
None
HUC816
None
HUC88
None