SUR/SUL/HSUR/HSUL
Skewed 45° Hangers for Solid Sawn Lumber
On This Page
The SU and HSU series of hangers are skewed 45° left or right. Angled nail slots direct nails for proper installation.
Material
SUR and SUL — 16 gauge; HSUR and HSUL — 14 gauge
Finish
Galvanized. Some products available in ZMAX® coating. See Corrosion Information.
Installation
Use all specified fasteners; see General Notes
These hangers will normally accommodate a 40° to 50° skew
Illustration shows left and right skews SUR/L (SUR = skewed right; SUL = skewed left)
The joist end may be square cut or bevel cut
Options
Available with the A2 flange turned in on the 2-2x and 4x models only (see illustration)
To order, add "C" (for concealed) to the product name
For example, specify HSURC46, HSULC46, SURC46 or SULC46
Related Literature
Load Tables
These products are available with additional corrosion protection. Additional products on this page may also be available with this option, check with Simpson Strong-Tie for details.
These models are approved for installation with the Strong-Drive® SD Connector screw. See the load values below.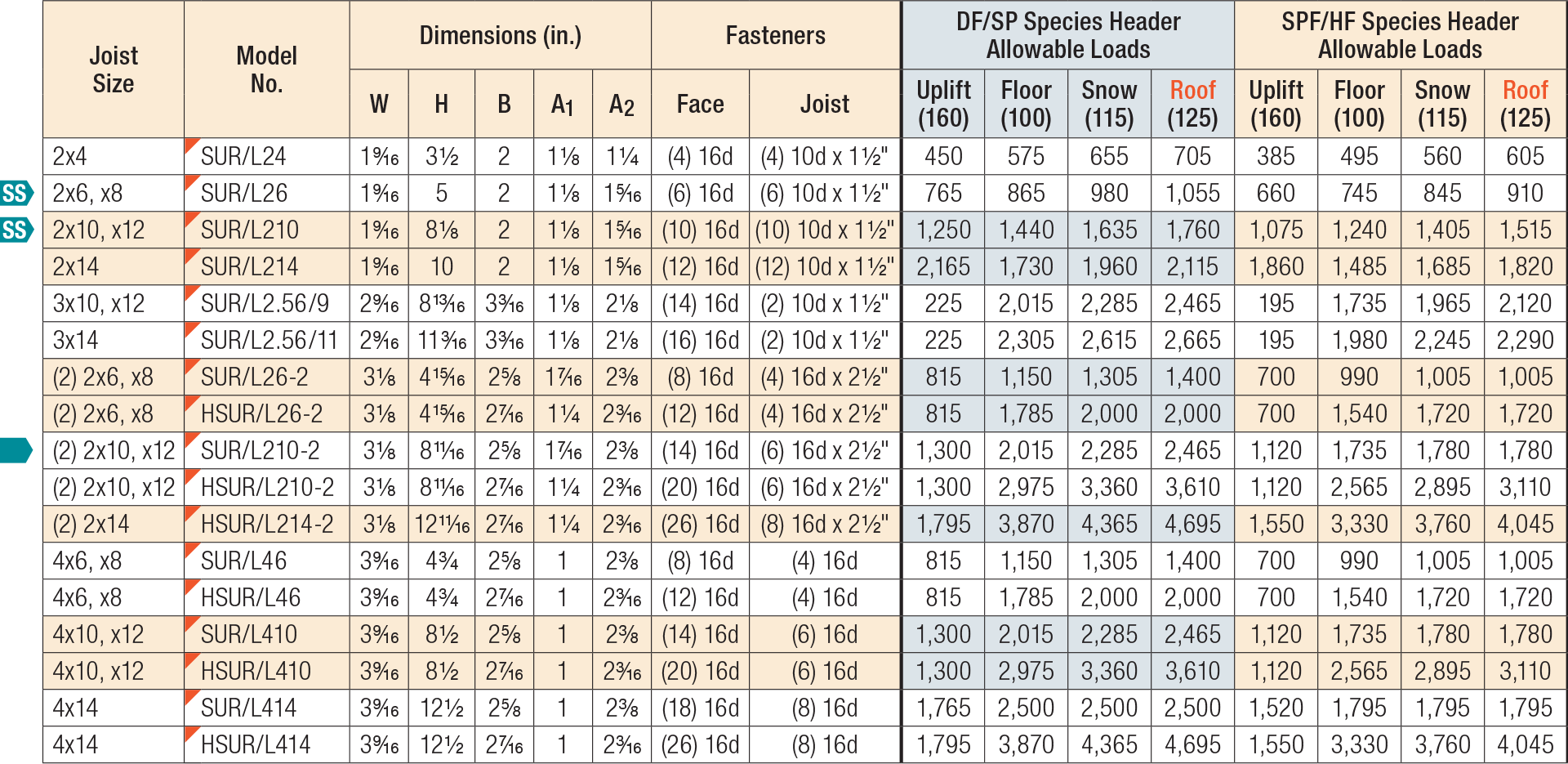 Uplift loads have been increased for wind or earthquake loading with no further increase allowed; reduce where other loads govern.
Roof loads are 125% of floor loads unless limited by other criteria.
Truss chord cross-grain tension may limit allowable loads in accordance with ANSI/TPI 1-2014. Simpson Strong-Tie® Connector Selector® software includes the evaluation of cross-grain tension in its hanger allowable loads. For additional information, contact Simpson Strong-Tie.
NAILS: 16d = 0.162" dia. x 3 1/2" long, 16dx2 1/2 = 0.162" dia. x 2 1/2" long, 10dx1 1/2 = 0.148" dia. x 1 1/2" long.
See other nail sizes and information.
For LSSU installations using the Strong-Drive® SD Connector screw, reference engineering letter L-C-SLSKHGRSD.
Code Reports
Drawings
| Part | Orthographic | Perspective |
| --- | --- | --- |
| HSUL210-2 | None | None |
| HSUL210-2Z | None | None |
| HSUL214-2 | None | None |
| HSUL26-2 | None | None |
| HSUL4.12/11 | | None |
| HSUL4.12/14 | | None |
| HSUL4.12/16 | | None |
| HSUL4.12/9 | | None |
| HSUL4.28/11 | | None |
| HSUL4.28/9 | None | None |
| HSUL4.75/11 | | None |
| HSUL4.75/14 | | None |
| HSUL4.75/16 | | None |
| HSUL4.75/9 | | None |
| HSUL410 | | None |
| HSUL410Z | None | None |
| HSUL414 | None | None |
| HSUL46 | None | None |
| HSUL46Z | None | None |
| HSUL5.12/11 | None | None |
| HSUL5.12/14 | None | None |
| HSUL5.12/16 | None | None |
| HSUL5.12/9 | None | None |
| HSULC210-2 | | None |
| HSULC210-2Z | None | None |
| HSULC214-2 | None | None |
| HSULC26-2 | None | None |
| HSULC410 | None | None |
| HSULC410Z | None | None |
| HSULC414 | None | None |
| HSULC46 | None | None |
| HSULC46Z | None | None |
| HSUR210-2 | None | None |
| HSUR210-2Z | None | None |
| HSUR214-2 | None | None |
| HSUR26-2 | None | None |
| HSUR4.12/11 | | None |
| HSUR4.12/14 | | None |
| HSUR4.12/16 | | None |
| HSUR4.12/9 | | |
| HSUR4.28/11 | | None |
| HSUR4.28/9 | None | None |
| HSUR4.75/11 | | None |
| HSUR4.75/14 | | None |
| HSUR4.75/16 | | None |
| HSUR4.75/9 | | None |
| HSUR410 | | None |
| HSUR410Z | None | None |
| HSUR414 | None | None |
| HSUR46 | None | None |
| HSUR46Z | None | None |
| HSUR5.12/11 | | None |
| HSUR5.12/14 | | None |
| HSUR5.12/16 | | None |
| HSUR5.12/9 | | None |
| HSURC210-2 | | None |
| HSURC210-2Z | None | None |
| HSURC214-2 | None | None |
| HSURC26-2 | None | None |
| HSURC410 | None | None |
| HSURC410Z | None | None |
| HSURC414 | None | None |
| HSURC46 | None | None |
| HSURC46Z | None | None |
| SUL1.81/11 | | None |
| SUL1.81/14 | | None |
| SUL1.81/9 | | None |
| SUL2.06/11 | | None |
| SUL2.06/14 | | None |
| SUL2.06/9 | | None |
| SUL2.1/11 | | None |
| SUL2.1/14 | | None |
| SUL2.1/9 | | None |
| SUL2.37/11 | | None |
| SUL2.37/14 | | None |
| SUL2.37/9 | | None |
| SUL2.56/11 | | None |
| SUL2.56/14 | | None |
| SUL2.56/9 | | None |
| SUL210 | | None |
| SUL210-2 | | None |
| SUL210-2Z | | None |
| SUL210SS | | None |
| SUL210Z | | None |
| SUL214 | | None |
| SUL214-2 | | None |
| SUL24 | | None |
| SUL26 | | None |
| SUL26-2 | | None |
| SUL26SS | | None |
| SUL26Z | | None |
| SUL410 | | None |
| SUL414 | | None |
| SUL46 | | None |
| SUL5.12/11 | | None |
| SULC210-2 | | None |
| SULC26-2 | None | None |
| SULC410 | None | None |
| SULC414 | None | None |
| SULC46 | None | None |
| SUR1.81/11 | | None |
| SUR1.81/14 | | None |
| SUR1.81/9 | | None |
| SUR2.06/11 | | None |
| SUR2.06/14 | | None |
| SUR2.06/9 | | None |
| SUR2.1/11 | | None |
| SUR2.1/14 | | None |
| SUR2.1/9 | | None |
| SUR2.37/11 | | None |
| SUR2.37/14 | | None |
| SUR2.37/9 | | None |
| SUR2.56/11 | | None |
| SUR2.56/14 | | None |
| SUR2.56/9 | | None |
| SUR210 | | None |
| SUR210-2 | | None |
| SUR210-2Z | | None |
| SUR210SS | | None |
| SUR210Z | | None |
| SUR214 | | None |
| SUR214-2 | | None |
| SUR24 | | None |
| SUR26 | | None |
| SUR26-2 | | None |
| SUR26SS | | None |
| SUR26Z | | None |
| SUR410 | | None |
| SUR414 | | None |
| SUR46 | | None |
| SUR5.12/11 | | None |
| SURC210-2 | | None |
| SURC26-2 | None | None |
| SURC410 | None | None |
| SURC414 | None | None |
| SURC46 | None | None |