HUC
Heavy Concealed-Flange Face-Mount Joist Hanger
On This Page
The HUC is a concealed flange (face flanges turned in) version of the HU. This heavy-duty, concealed-flange connector is designed for schools and other structures requiring additional strength, longevity and safety factors. HUC hangers may be installed on a masonry/concrete wall as described below.
Key Features
Extra optional triangle holes for additional load
HUC-series hangers are tested, load rated and code compliant
Installation
Attach the hangers to concrete or GFCMU walls using hex-head Titen Turbo screws. Titen Turbo screw anchors for GFCMU (1/4" x 2 3/4" — Model TNT25234H) and for concrete (1/4" x 1 3/4" — Model TNT25134H) are not provided with the hangers.
Drill and prep the holes according to the Installation Instructions provided with the packaging for Titen Turbo screw anchors.
Caution: Oversized-diameter holes in the base material will reduce or eliminate the mechanical interlock of the threads with the base material and will reduce the anchor's load capacity.
Titen Turbo Installation Kits are available (Model TNTINSTALLKIT). A 3/16" x 6" SDS-plus drill bit is also available (Model MDPL01860SH).
Installation on GFCMU — A minimum edge distance of 1 1/2" and a minimum end distance of 3 7/8" is required as shown in Figure 1 for full load. Where no uplift is required, a minimum end distance of 1 1/2" is permitted.
Installation on Concrete — A minimum end and edge distance of 3" is required for table loads. For edge distances of 1 3/4" minimum and a minimum end distance of 3", allowable download is 0.90 of table loads with no reduction for uplift loads.
Related Links
Catalog Pages
Related Literature
Load Tables
These products are available with additional corrosion protection. Additional products on this page may also be available with this option, check with Simpson Strong-Tie for details.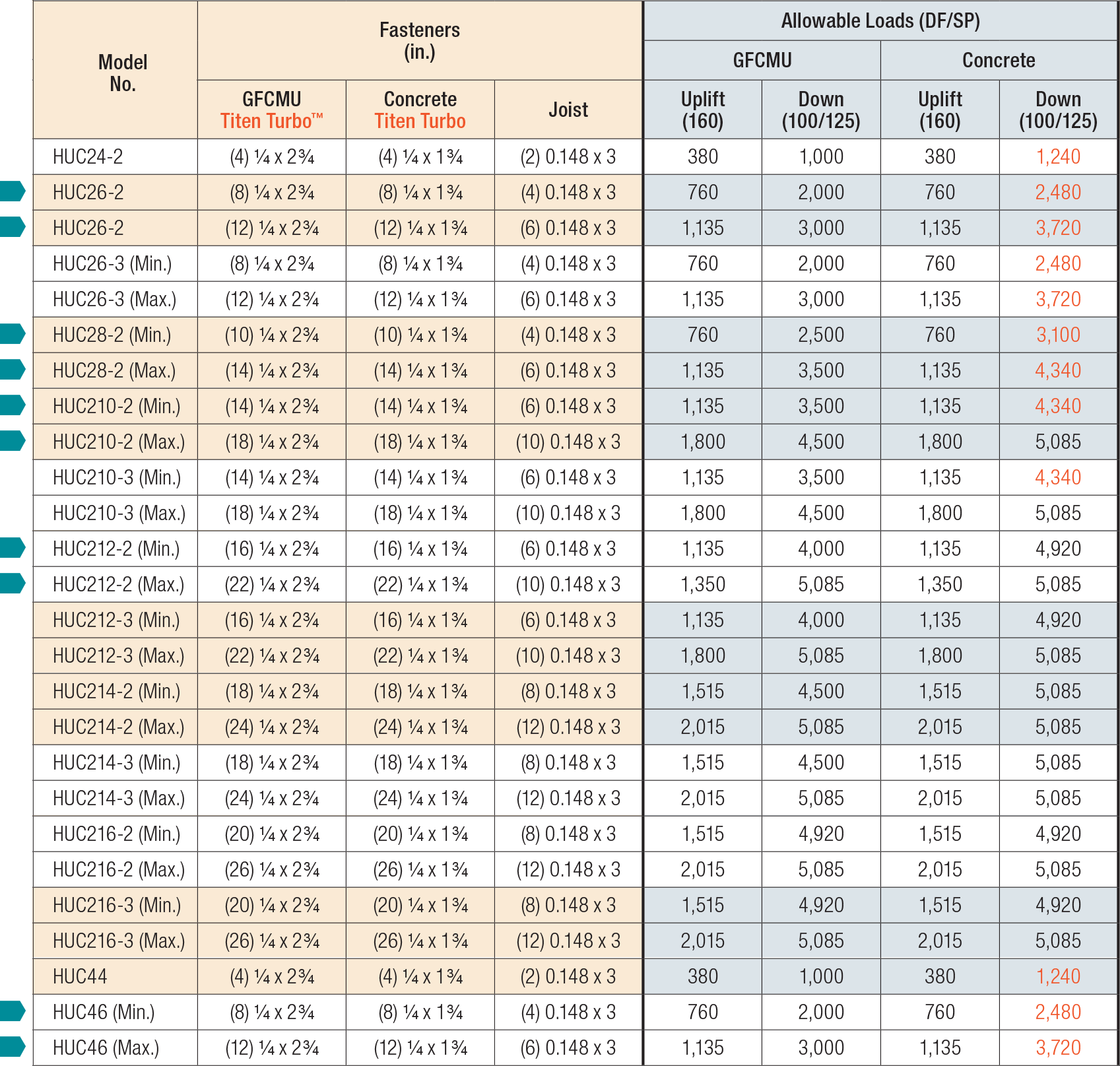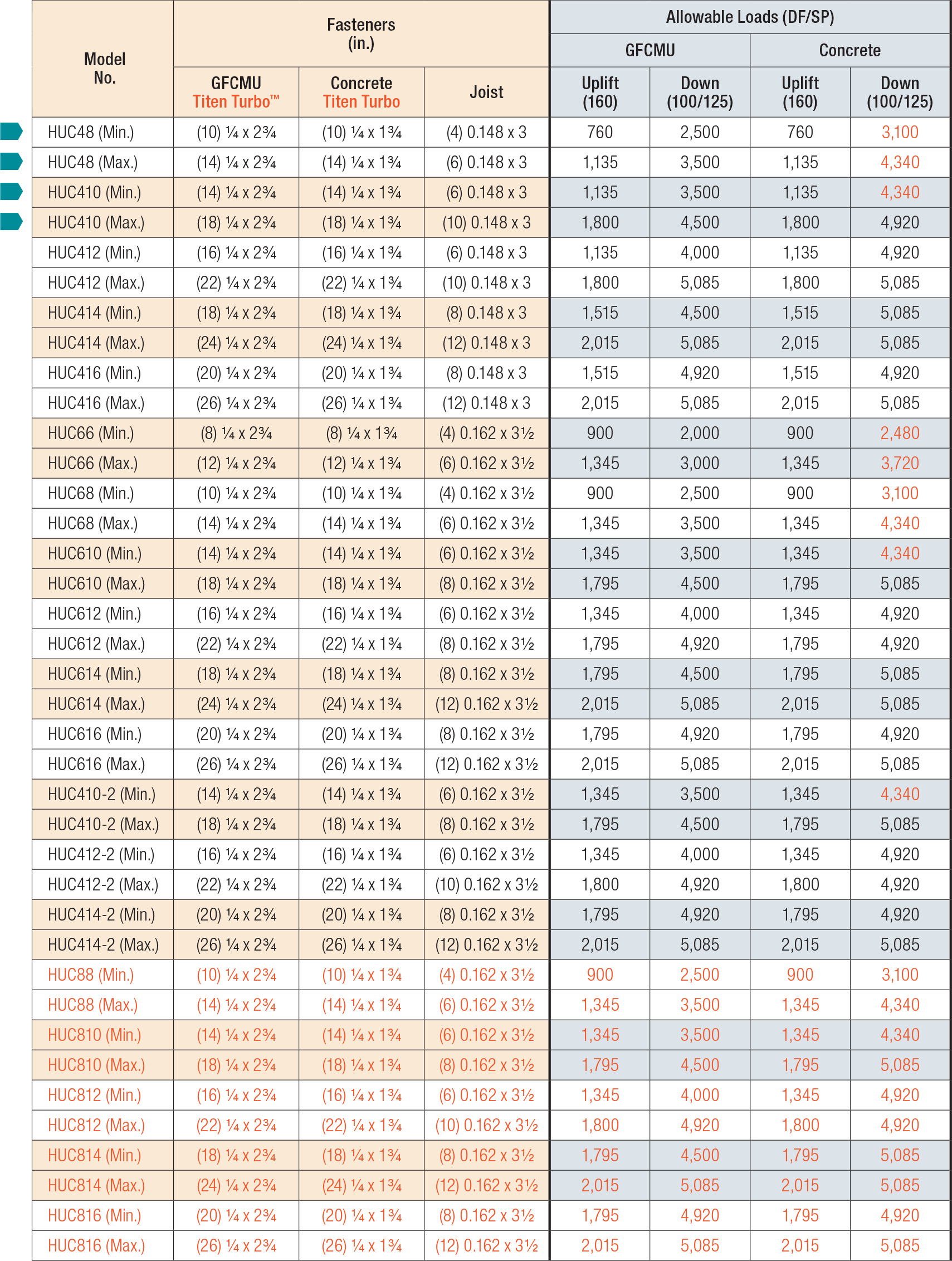 Uplift loads have been increased for earthquake or wind loading with no further increase allowed. Reduce where other loads govern.
For hanger applications with both flanges concealed, W must be at least 2 5/16". To order, ask for HUCXXX. For skewed HUC, only flange on acute side is concealed.
Concrete shall have a minimum compressive strength of f'c = 2,500 psi.
Grout-filled CMU (GFCMU) shall have a minimum compressive strength of f'm = 1,500 psi.
When only one flange is concealed, specify whether the right or the left is the concealed flange.
Products shall be installed such that Titen Turbo screws are not exposed to the weather.
Fasteners: Nail dimensions are listed diameter by length. Titen Turbo screws are Simpson Strong-Tie concrete and masonry screws (hex-head model required). For additional information, see Fastener Types and Sizes Specified for Simpson Strong-Tie Connectors.
Code Reports & Compliance