DG/DGH/DGB
Fire Wall Hangers
On This Page
The DG fire wall hanger is ideal for multi-family, multi-level building construction and easily installs on a two-hour wood stud fire wall (e.g., Type III construction) during framing. The series features three models of top-flange hangers that connect floor trusses and joists to wood stud walls. The hangers feature enough space for two layers of 5/8" gypsum board (drywall) to be slipped into place after the framing is complete.
All three fire wall hangers are code listed under ICC-ES ESR-2553. They have been tested according to ASTM E814 and received F (flame) and T (temperature) ratings for use on one or both sides of the wall. These ratings verify that the DG/DGH/DGB hangers do not reduce the two-hour, fire wall assembly rating.
Key Features
Fire-resistant F (flame) and T (temperature) rated in Intertek Design No. SST/WPCF 120-01
No need for additional restraint against rotation of the wall top plates
DG, DGH and DGB hangers can be used on both sides of a 2x6 wall
Material
DGB — 7 gauge; DG — 12 gauge; DGH — 10 gauge
Finish
DG — G90; DGH and DGB — gray paint
Installation
Use all specified fasteners.
DG/DGH/DGB hangers are mounted like a standard top-flange hanger.
Stud wall-plate splices must occur at a stud location.
I-joists require web stiffeners for full table loads. I-joists without web stiffeners have reduced loads shown in table.
DG welded to steel header with four 2" fillet welds and (6) joist nails achieves a download of 1,650 lb.
DGH and DGB welded to steel header with two 2" fillet weld and (8) 0.148" x 1 1/2" joist nails achieve a download of 3,000 lb.
Weld size to match hanger thickness.
Table uplift loads apply to welded applications.
DGB only — apply two 1/4" beads of fire-resistant mortar caulk directly to top-of-wall plates for the first 6" on either side of top flange. See Intertek design listing for detail.
DGB only — locate double stud below hanger.
Gap at the face of the hanger allows two layers of 5/8" gypsum board to be installed after the hanger is in place.
Options
All models of the DGH hanger may be ordered with a skew angle of up to 45° or with the top flange offset left or right. To order, add "X" to the model number.
Related Literature
Product Information Tables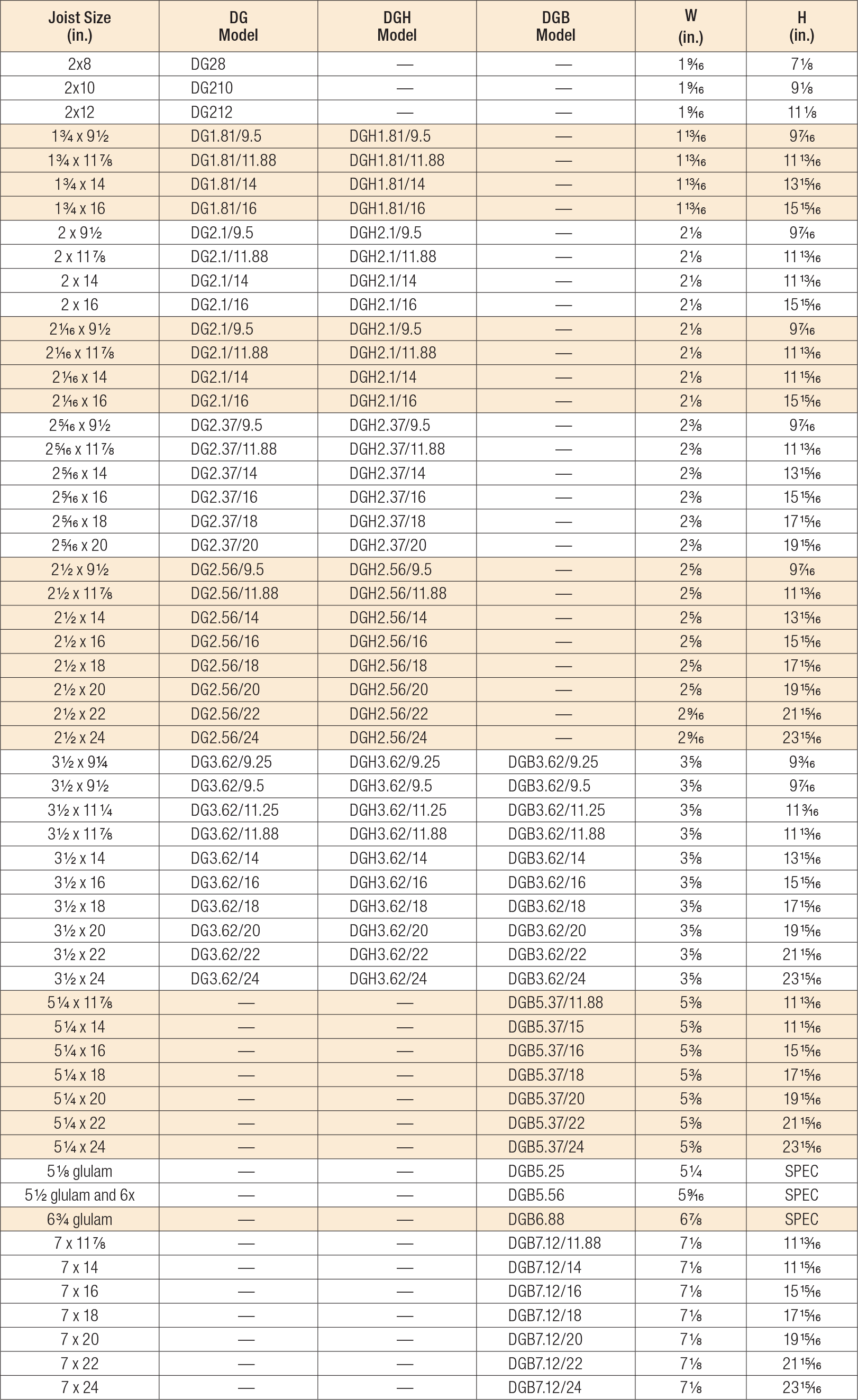 Load Tables
Allowable Loads on 2x4 or 2x6 Wall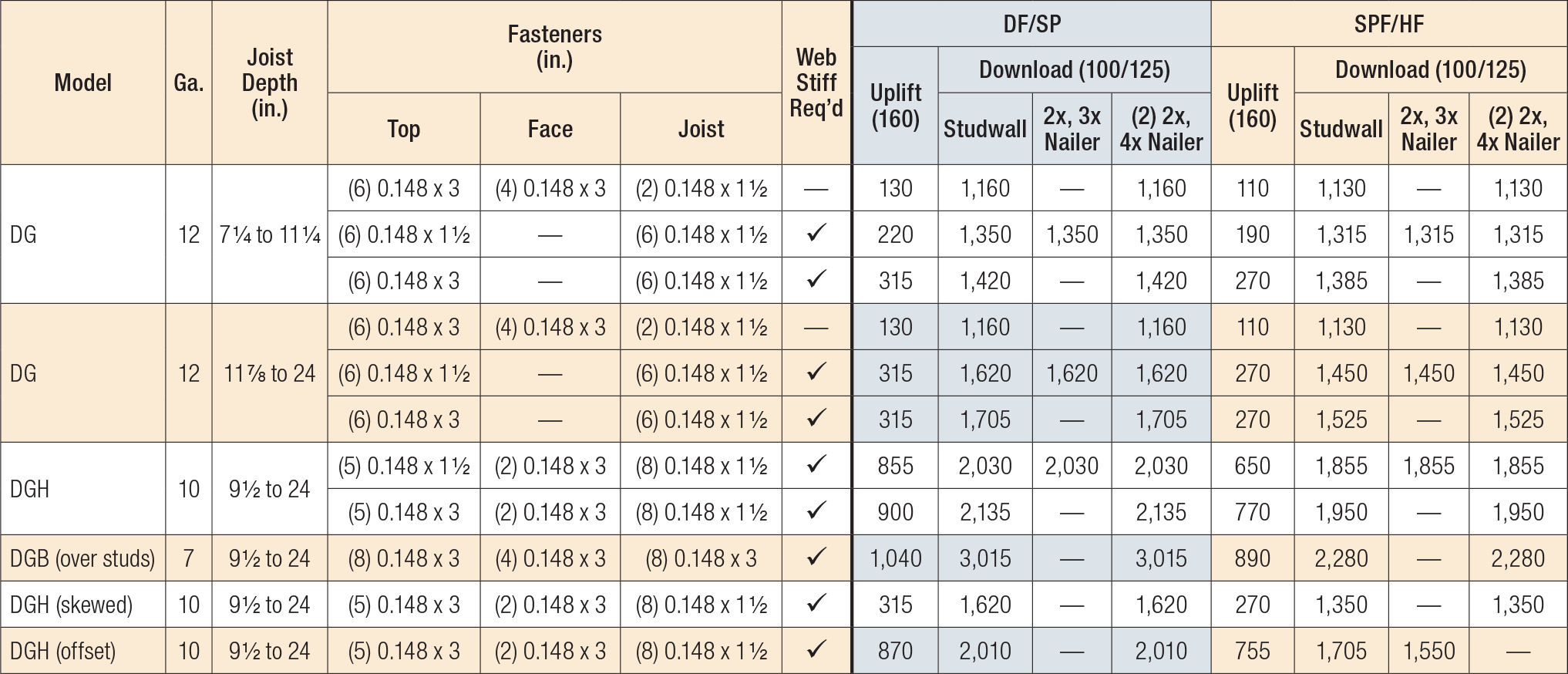 Uplift loads have been increased for earthquake or wind loading with no further increase allowed. Reduce where other loads govern.
Allowable loads are for 2x4 minimum stud wall or nailer. Back-to-back installations require a minimum 2x6. Wall design by Designer.
Hangers spaced closer than 16" o.c. shall reduce allowable load proportionately.
DGB installation requires a minimum (2) 2x4 stud or post in the wall at hanger location. Post design by Designer.
DGH hangers may be skewed up to 45°. Skew and offset options cannot be combined.
Face nails for DGH (offset) may be installed in any two holes.
Fasteners: Nail dimensions in the table are listed diameter by length. For additional information, see Fastener Types and Sizes Specified for Simpson Strong-Tie Connectors.
Code Reports
Drawings
| Part | Orthographic | Perspective |
| --- | --- | --- |
| DG1.81/11.88 | | |
| DG1.81/14 | | |
| DG1.81/16 | | |
| DG1.81/9.5 | | |
| DG2.1/11.88 | | |
| DG2.1/14 | | |
| DG2.1/16 | | |
| DG2.1/9.5 | | |
| DG2.37/11.88 | | |
| DG2.37/14 | | |
| DG2.37/16 | | |
| DG2.37/18 | | |
| DG2.37/20 | | |
| DG2.37/9.5 | | |
| DG2.56/11.25 | | |
| DG2.56/11.88 | | |
| DG2.56/14 | | |
| DG2.56/16 | | |
| DG2.56/18 | | |
| DG2.56/20 | | |
| DG2.56/22 | | |
| DG2.56/24 | | |
| DG2.56/9.25 | | |
| DG2.56/9.5 | | |
| DG210 | | |
| DG212 | | |
| DG28 | | |
| DG3.62/11.25 | | |
| DG3.62/11.88 | | |
| DG3.62/14 | | |
| DG3.62/16 | | |
| DG3.62/18 | | |
| DG3.62/20 | | |
| DG3.62/22 | | |
| DG3.62/24 | | |
| DG3.62/9.25 | | |
| DG3.62/9.5 | | |
| DGB3.62/11.88 | | |
| DGB3.62/14 | | |
| DGB3.62/16 | | |
| DGB3.62/18 | | |
| DGB3.62/20 | | |
| DGB3.62/22 | | |
| DGB3.62/24 | | |
| DGB3.62/9.25 | | |
| DGB3.62/9.5 | | |
| DGB5.25 | | |
| DGB5.37/11.88 | | |
| DGB5.37/14 | | |
| DGB5.37/16 | | |
| DGB5.37/18 | | |
| DGB5.37/20 | | |
| DGB5.37/22 | | |
| DGB5.37/24 | | |
| DGB5.56 | | |
| DGB6.88 | | |
| DGB7.12/11.88 | | |
| DGB7.12/14 | | |
| DGB7.12/16 | | |
| DGB7.12/18 | | |
| DGB7.12/20 | | |
| DGB7.12/22 | | |
| DGB7.12/24 | | |
| DGH1.81/11.88 | | |
| DGH1.81/14 | | |
| DGH1.81/16 | | |
| DGH1.81/9.5 | | |
| DGH2.1/11.88 | | |
| DGH2.1/14 | | |
| DGH2.1/16 | | |
| DGH2.1/9.5 | | |
| DGH2.37/11.88 | | |
| DGH2.37/14 | | |
| DGH2.37/16 | | |
| DGH2.37/18 | | |
| DGH2.37/20 | | |
| DGH2.37/9.5 | | |
| DGH2.56/11.25 | | |
| DGH2.56/11.88 | | |
| DGH2.56/14 | | |
| DGH2.56/16 | | |
| DGH2.56/18 | | |
| DGH2.56/20 | | |
| DGH2.56/22 | | |
| DGH2.56/24 | | |
| DGH2.56/9.25 | | |
| DGH2.56/9.5 | | |
| DGH3.62/11.25 | | |
| DGH3.62/11.88 | | |
| DGH3.62/14 | | |
| DGH3.62/16 | | |
| DGH3.62/18 | | |
| DGH3.62/20 | | |
| DGH3.62/22 | | |
| DGH3.62/24 | | |
| DGH3.62/9.25 | | |
| DGH3.62/9.5 | | |