Our line of angles provides a way to make a wide range of 90° connections.
Material
A21 and A23 — 18 ga.; all other A angles—12 ga.
Finish
Galvanized. Some products available in stainless steel or ZMAX® coating. See Corrosion Information.
Installation
Use all specified fasteners; see General Notes.
Some products may be installed with the Strong-Drive® SD Connector screw. See model table.
Related Literature
Load Tables
Load Values with Nails
These products are available with additional corrosion protection. Additional products on this page may also be available with this option, check with Simpson Strong-Tie for details.
These models are approved for installation with the Strong-Drive® SD Connector screw. See the load values below.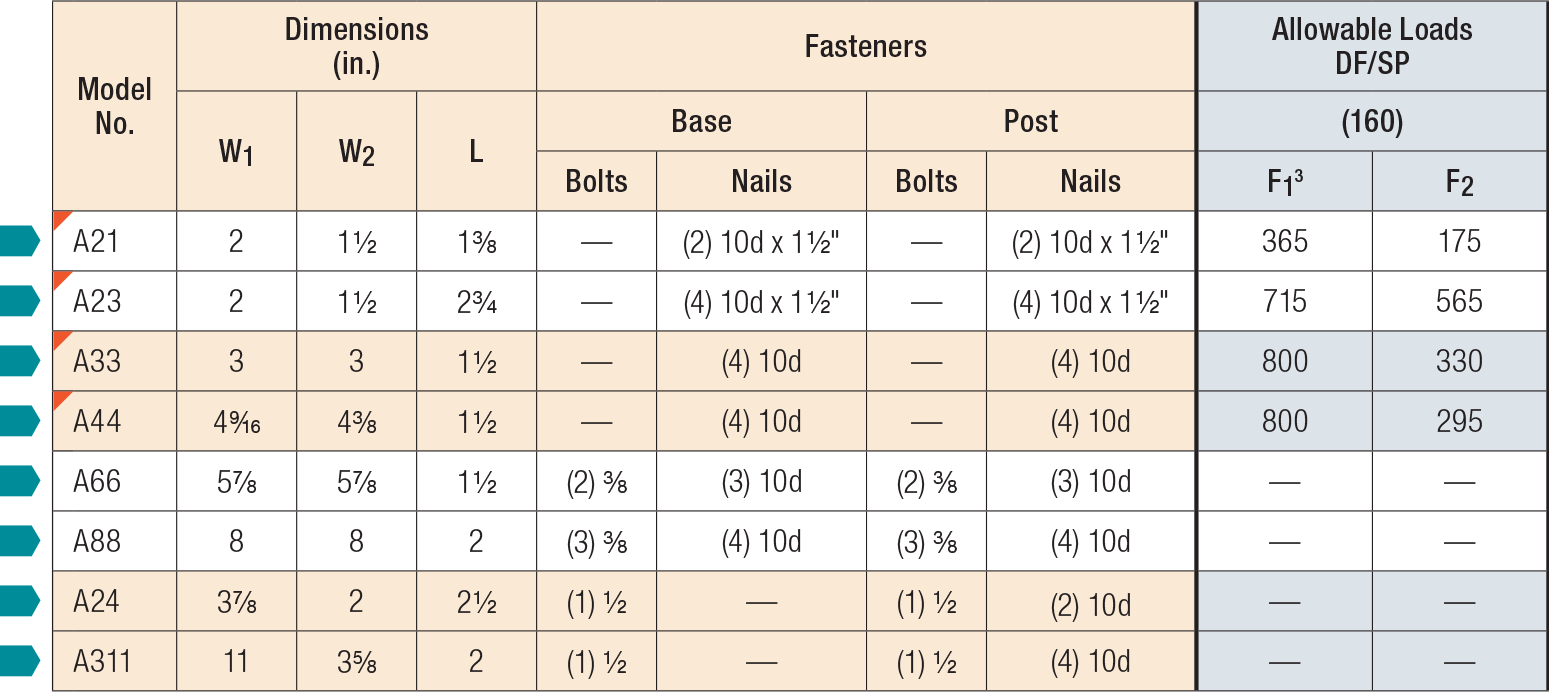 Allowable loads have been increased for wind or earthquake loading with no further increase allowed; reduce where other loads govern.
For SPF/HF lumber use 0.86 of table loads.
Connectors are required on both sides to achieve F1 loads in both directions.
NAILS: 10d x 1 1/2" = 0.148" dia. x 1 1/2" long, 10d = 0.148" dia. x 3" long.
See other nail sizes and information.
Load Values with SD Series Screws
Model No.
Fasteners
DF/SP Allowable Loads
SPF/HF Allowable Loads
To Rafters/ Truss
To Plates/Base
To Studs/Post
Uplift
Lateral
Uplift
Lateral
(160)
F1 (160)
F2 (160)
(160)
F1 (160)
F2 (160)

These products are available with additional corrosion protection. Additional products on this page may also be available with this option, check with Simpson Strong-Tie for details.

H connector loads based on installation to double top plate.
Uplift load for the H4 stud to bottom plate installation is 415 lbs for DF/SP and 355 lbs for SPF/HF.
Uplift load for the H8 stud to bottom plate installation is 380 lbs for DF/SP and 325 lbs for SPF/HF.

A21
-
2-SD9112
2-SD9112
-
430
165
-
360
140
A23
-
4-SD9112
4-SD9112
-
670
560
-
580
480
A33
-
4-SD9112
4-SD9112
-
830
335
-
715
290
A44
-
4-SD9112
4-SD9112
-
805
290
-
695
250
Code Reports
Drawings
| Part | Orthographic | Perspective |
| --- | --- | --- |
| A21 | None | |
| A21Z | None | |
| A23 | | |
| A23Z | | |
| A24 | | |
| A311 | | |
| A33 | | None |
| A44 | | |
| A66 | | None |
| A88 | | |