On This Page
Our line of angles provides a way to make a wide range of 90° connections.
Material
A21 and A23 — 18 ga.; all other A angles—12 ga.
Finish
Galvanized. Some products available in stainless steel or ZMAX® coating. See Corrosion Information.
Installation
Use all specified fasteners; see General Notes
Related Literature
Load Tables
Load Values with Nails
These products are available with additional corrosion protection.
Many of these products are approved for installation with Strong-Drive® SD Connector screws.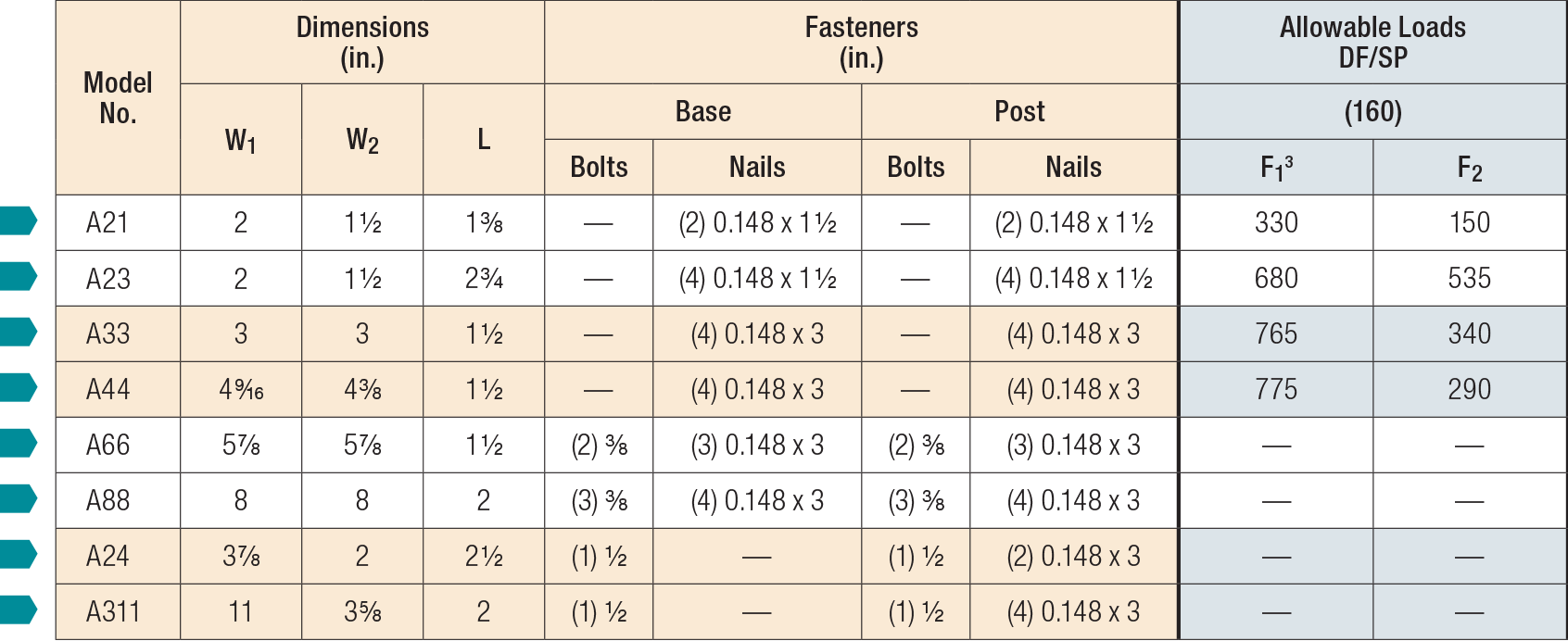 For SPF/HF lumber, use 0.86 x DF/SP allowable loads.
Connectors are required on both sides to achieve F1 loads in both directions.
Fasteners: Nail dimensions in the table are listed diameter by length. For additional information, see Fastener Types and Sizes Specified for Simpson Strong-Tie Connectors.
Load Values with SD Series Screws
Model No.
Fasteners
DF/SP Allowable Loads
SPF/HF Allowable Loads
To Rafters/ Truss
To Plates/Base
To Studs/Post
Uplift
Lateral
Uplift
Lateral
(160)
F1 (160)
F2 (160)
(160)
F1 (160)
F2 (160)

H connector loads based on installation to double top plate.
Uplift load for the H4 stud to bottom plate installation is 415 lbs for DF/SP and 355 lbs for SPF/HF.
Uplift load for the H8 stud to bottom plate installation is 380 lbs for DF/SP and 325 lbs for SPF/HF.

A21
-
2-SD9112
2-SD9112
-
430
165
-
360
140
A23
-
4-SD9112
4-SD9112
-
670
560
-
580
480
A33
-
4-SD9112
4-SD9112
-
830
335
-
715
290
A44
-
4-SD9112
4-SD9112
-
805
290
-
695
250
Code Reports & Compliance