On This Page
The RBC roof boundary clip is designed to aid installation and transfer shear loads between the roof diaphragm and wall. The locator tabs make proper location of the clip easy. The RBC can be used on wood or masonry walls and will handle roof pitches from 0/12 to 12/12. The RBC is available with prongs into one side (RBCP) for pre-attachment of the part to a block at the truss plant.
Installation
Use all specified fasteners; see General Notes
Field bend to desired angle — one time only
RBCP should be pressed on to blocking, not hammered
Patent Information
US Patents 7,549,262; 7,293,390
Related Literature
Load Tables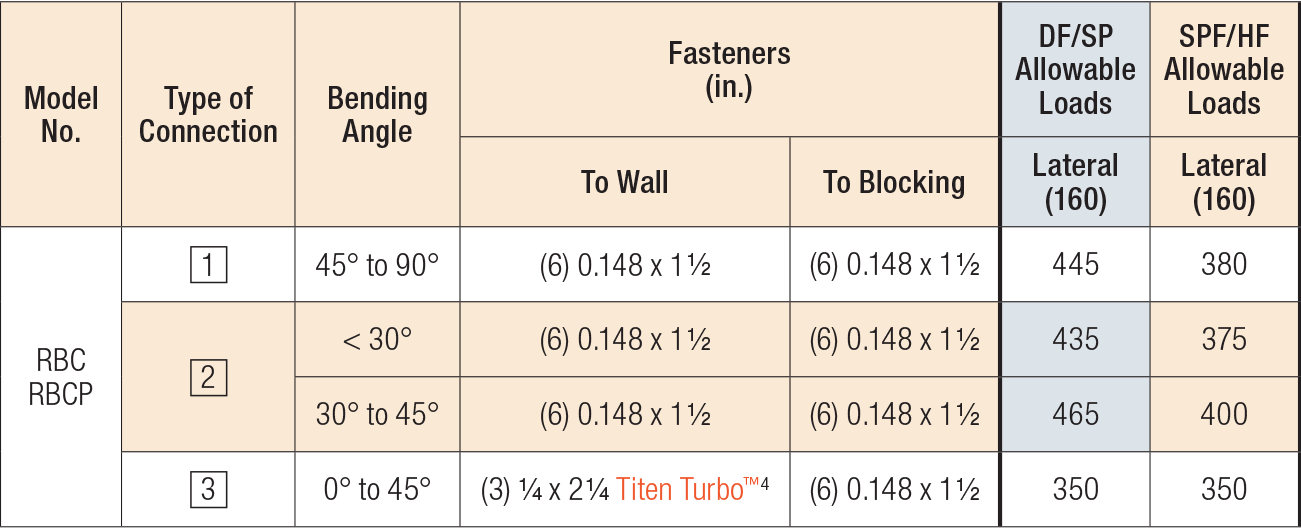 Allowable loads are for one anchor attached to blocking a minimum of 1 1/2" thick.
RBC/RBCP can be installed with up to a 3/4" gap and achieve 100% of the listed load.
When attaching to concrete, use three 1/4" x 1 3/4" TNT25134H Titen Turbo™ screw anchors.
RBC/RBCP installed over 1" foam board has a load of 395 lb. (160) in a parallel-to- wall (F1) load direction for Douglas fir. For SPF, the load is 340 lb.
RBC/RBCP may be installed over 1/2" structural sheathing using 0.148" x 1 1/2" nails with no load reduction.
Fasteners: Nail dimensions in the table are listed diameter by length. Titen Turbo screws are Simpson Strong-Tie® concrete and masonry screws. For additional information, see Fastener Types and Sizes Specified for Simpson Strong-Tie Connectors.
Code Reports & Compliance