A girder-to-foundation wall connection.
Finish
Simpson Strong-Tie® gray paint, hot-dip galvanized, specify HDG. See Corrosion Information.
Installation
Use all specified fasteners. See General Notes.
Insert four 16d commons into girder.
H = girder height – mudsill thickness. Measurement is top of steel to top of steel.
1 1/2" clearance hole accommodates rebar or anchor. This is not required.
Options
GH hangers may be skewed to a maximum of 45° with no load reduction; bevel cut required.
Specify GHD for saddle-style hangers. GHD may not be skewed.
Related Literature
Load Tables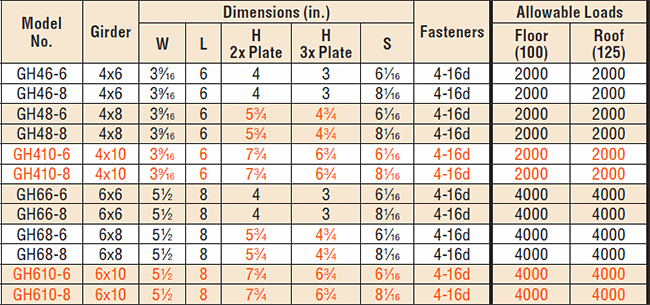 Loads may not be increased for short-term loading.
A mudsill on top of the GH is required to achieve the table loads.
Models listed are for a 2x plate, specify "H" dimension when ordering for use with a 3x plate.
Uplift loads do not apply for this hanger.
NAILS: 16d = 0.162" dia. x 3 1/2" long. See nail sizes and information.
Code Reports