Hinge connectors are designed to transfer loads between two beams aligned end-to-end through a combination of bearing plates, side plates and bolts. In addition to supporting vertical loads, hinge connectors can also be specified with additional slotted bolt holes to resist horizontal loads as part of a continuous load path.
Material
Side plates — 7 gauge; top and bottom plates — see PT dimensions in Allowable Download table
Finish
Simpson Strong-Tie® gray paint
Installation
Use all specified fasteners; see General Notes
Bolt holes shall be a minimum of 1/32" and a maximum of 1/16" larger than the bolt diameter (per 2015 NDS 12.1.2.2)
The model size (suffix) column in the Allowable Download Table gives the basic HCA model with two rotation bolts
Contact Simpson Strong-Tie for heights greater than 60"
Position 3/4"-dia. machine bolts in slots away from bearing seat to allow for wood shrinkage
Options
The Horizontal Load Table gives other bolt options
Ordering Information
To order, add the width (W) and bearing plate size (PD) designation after the model name. Specify the H dimension. For dapped beams, reduce the H dimension by the PT dimension for each dap.
Specify model no., model size and height H. Ordering Example: HC4C3TA5-6 H = 18".
Related Literature
Load Tables
Horizontal Load Table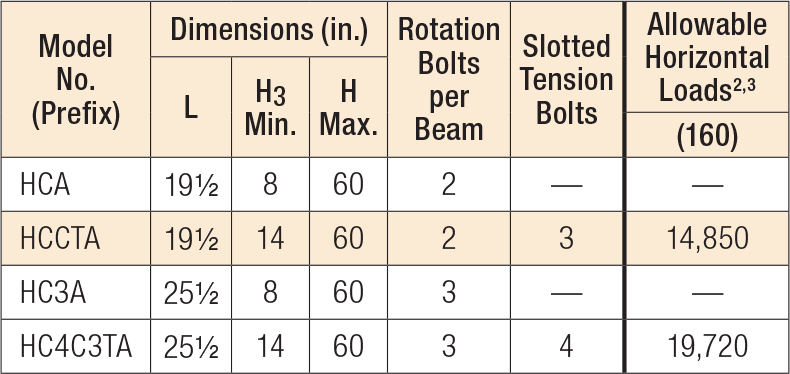 Loads have been increased for wind or earthquake loading with no further increase allowed.
Horizontal loads are for Douglas Fir-larch glulams minimum W = 3 1/8". For other wood types, adjust the load according to the code.
H min. is the absolute minimum height. Reduce downloads according to footnote 1 in the Allowable Download table.
Allowable Download Table
Allowable loads have been increased for roof live loads with no further increase allowed. Reduce where other loads govern.
Loads are based on 560 psi perpendicular to grain bearing stress.
H1 is the minimum dimension required to achieve full load for the hinge connector. For H dimensions between H1 and Minimum H, loads may be linearly interpolated.
See Horizontal Load table for models available with three rotation bolts.
Beams must be the same width for both members in the connection.
Code Reports
Drawings
| Part | Orthographic | Perspective |
| --- | --- | --- |
| HC3A | None | None |
| HC3A11-5 | None | None |
| HC3A11-6 | None | None |
| HC3A11-7 | None | None |
| HC3A11-9 | None | None |
| HC3A3-5 | None | None |
| HC3A3-6 | None | None |
| HC3A3-7 | None | None |
| HC3A3.62 | None | None |
| HC3A4.50 | None | None |
| HC3A5-5 | None | None |
| HC3A5-6 | None | None |
| HC3A5-7 | None | None |
| HC3A5-9 | None | None |
| HC3A5.37 | None | None |
| HC3A7-5 | None | None |
| HC3A7-6 | None | None |
| HC3A7-7 | None | None |
| HC3A7-9 | None | None |
| HC3A7.12 | None | None |
| HC3A9-5 | None | None |
| HC3A9-6 | None | None |
| HC3A9-7 | None | None |
| HC3A9-9 | None | None |
| HC4C3TA | None | None |
| HC4C3TA11-5 | None | None |
| HC4C3TA11-6 | None | None |
| HC4C3TA11-7 | None | None |
| HC4C3TA11-9 | None | None |
| HC4C3TA3-5 | None | None |
| HC4C3TA3-6 | None | None |
| HC4C3TA3-7 | None | None |
| HC4C3TA3.62 | None | None |
| HC4C3TA4.50 | None | None |
| HC4C3TA5-5 | None | None |
| HC4C3TA5-6 | None | None |
| HC4C3TA5-7 | None | None |
| HC4C3TA5-9 | None | None |
| HC4C3TA5.37 | None | None |
| HC4C3TA7-5 | None | None |
| HC4C3TA7-6 | None | None |
| HC4C3TA7-7 | None | None |
| HC4C3TA7-9 | None | None |
| HC4C3TA7.12 | None | None |
| HC4C3TA9-5 | None | None |
| HC4C3TA9-6 | None | None |
| HC4C3TA9-7 | None | None |
| HC4C3TA9-9 | None | None |
| HCA | None | None |
| HCA11-5 | None | None |
| HCA11-6 | None | None |
| HCA11-7 | None | None |
| HCA11-9 | None | None |
| HCA3-5 | None | None |
| HCA3-6 | None | None |
| HCA3-7 | None | None |
| HCA3-9 | None | None |
| HCA3.62 | None | None |
| HCA4.50 | None | None |
| HCA5-5 | None | None |
| HCA5-6 | None | None |
| HCA5-7 | None | None |
| HCA5-9 | None | None |
| HCA5.37 | None | None |
| HCA7-5 | None | None |
| HCA7-6 | None | None |
| HCA7-7 | None | None |
| HCA7-9 | None | None |
| HCA7.12 | None | None |
| HCA9-5 | None | None |
| HCA9-6 | None | None |
| HCA9-7 | None | None |
| HCA9-9 | None | None |
| HCCTA | None | None |
| HCCTA11-5 | None | None |
| HCCTA11-6 | None | None |
| HCCTA11-7 | None | None |
| HCCTA11-9 | None | None |
| HCCTA3-5 | None | None |
| HCCTA3-6 | None | None |
| HCCTA3-7 | None | None |
| HCCTA3.62 | None | None |
| HCCTA4.50 | None | None |
| HCCTA5-5 | None | None |
| HCCTA5-6 | None | None |
| HCCTA5-7 | None | None |
| HCCTA5-9 | None | None |
| HCCTA5.37 | None | None |
| HCCTA7-5 | None | None |
| HCCTA7-6 | None | None |
| HCCTA7-7 | None | None |
| HCCTA7-9 | None | None |
| HCCTA7.12 | None | None |
| HCCTA9-5 | None | None |
| HCCTA9-6 | None | None |
| HCCTA9-7 | None | None |
| HCCTA9-9 | None | None |