S/LTT, S/DTT and HTT
Tension Ties
On This Page
The HTT is a single-piece formed tension tie — no rivets, and a 4-ply formed seat. No washers are required.
S/DTT2Z tension tie is suitable for lighter-duty hold-down applications on single or back-to-back studs, and installed easily with #14 self-drilling screws.
The HTT, S/DTT and S/LTT tension ties are ideal for retrofit or new construction projects. They provide high-strength, post-pour, concrete-to-steel connections.
Material
HTT — 111 mil (11 ga.); DTT1Z, S/DTT2Z — 68 mil (14 ga.); S/LTT20B — strap: 97 mil (12 ga.), plate: 229 mil (3 ga.)
Finish
HTT, S/LTT — galvanized; DTT1Z, S/DTT2Z — ZMAX® coating
Installation
Use all specified fasteners.
Use the specified number of type of screws to attach the strap portion to the steel stud. Bolt the base to the wall or foundation with a suitable anchor; see table for the required bolt diameter.
S/DTT2Z requires a standard-cut washer (included) be installed between the nut and the seat.
Do not install S/LTT20B raised off of the bottom track.
See SB and SSTB anchor bolts for anchorage options.
See SET-XP® and AT-XP® adhesive products for anchor bolt retrofit options.
Related Literature
Load Tables
These products are available with additional corrosion protection. Additional products on this page may also be available with this option, check with Simpson Strong-Tie for details.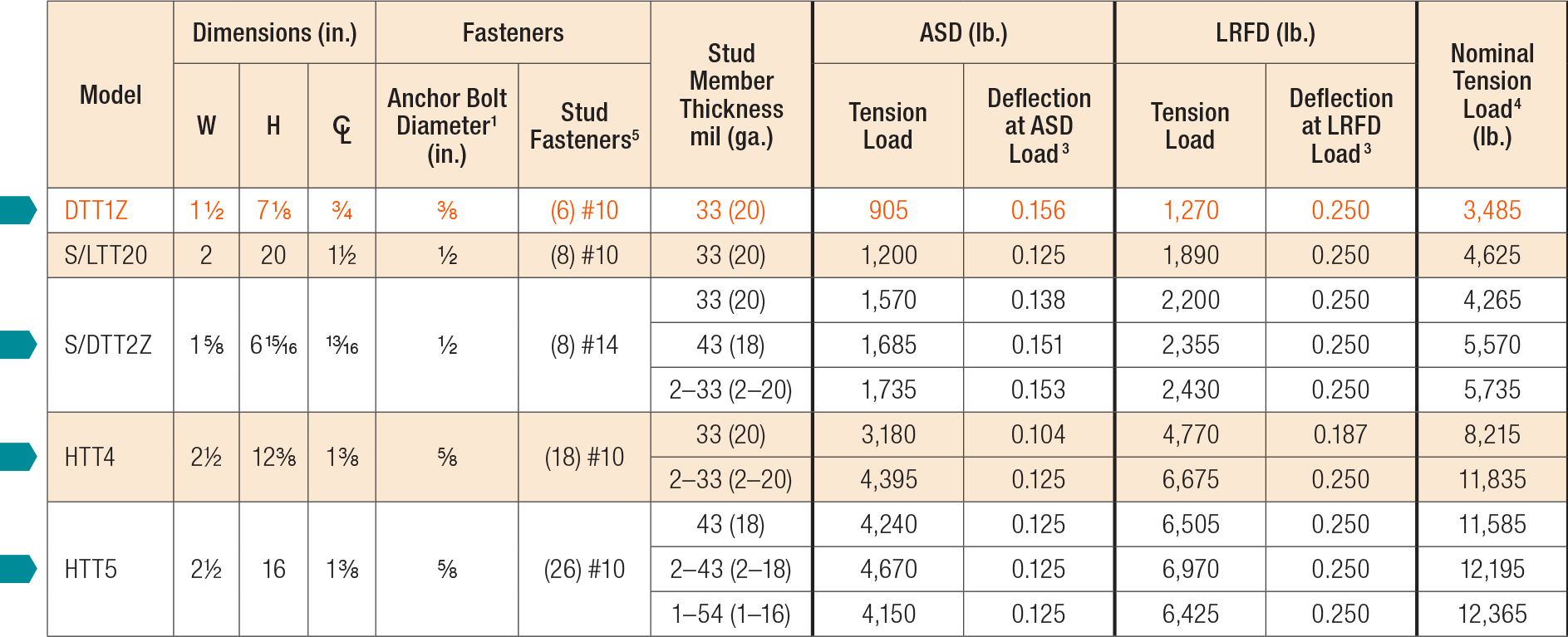 The Designer shall specify the foundation anchor material type, embedment and configuration.
Stud design by Specifier. Tabulated loads are based on a minimum stud thickness for fastener connection.
Deflection at ASD or LRFD includes fastener slip, holdown deformation and anchor rod elongation for holdowns installed up to 4" above top of concrete. Holdowns may be installed raised, up to 18" above top of concrete, with no load reduction provided that additional elongation of the anchor rod is accounted for.
The Nominal Tension Load is based on the tested average ultimate (peak) load and is provided for design in accordance with section C5 of AISI S213 that requires a tension tie to have a nominal strength to resist the lesser of the amplified seismic load or the maximum force the system can deliver.
Code Reports
Drawings
| Part | Orthographic | Perspective |
| --- | --- | --- |
| HTT4 | | |
| HTT5 | | |
| S/HTT14 | None | None |
| S/LTT20 | | None |