The S/HDS is designed to provide loads for high-load shearwalls, braced-wall panels and lateral applications. The holdown features a unique seat that greatly minimizes deflection under load. The S/HDS has been designed to utilize fewer fasteners and reduce installation time.
Key Features
Can be installed directly on the base track or raised above it and is suitable for back-to-back applications where eccentricity is a concern.
Features a unique seat that greatly minimizes deflection under load.
The S/HDS model is designed for installation with screws. Refer to S/HDB for attachment to post/column with bolts.
Finish
Simpson Strong-Tie® gray paint. Hot-dip galvanized available; see Corrosion Information.
Installation
Use all specified fasteners; some models have extra fastener holes. See General Notes.
Anchor bolt washer is not required.
Thin wall socket (OD = 2" maximum) is required for S/HD15 to tighten the 1" anchor bolt.
Use A307 stud bolts.
Design of boundary members (back-to-back studs) shall be by designer.
Holdowns can be welded per designer's recommendation and specification. To tie back-to-back stud members together, the designer must determine the fasteners required to bind members to act as one unit. Welders and welding procedures shall be qualified as specified in AWS D1.3. Welded connections used for cold-formed steel structural members in which the thickness of the thinnest connected part is 0.18" or less shall comply with AISI S100 Specification Section E2.
See SB and SSTB anchor bolts for anchorage options.
See SET-3G™ and AT-XP® adhesive products for anchor bolt retrofit options.
Related Literature
Product Information Table
Fastener Production Information and Stuff & Things

| Model No. | Thickness (mil) | Ga. | W (in.) | H (in.) | Coating/Material | Packaging Qty. |
| --- | --- | --- | --- | --- | --- | --- |
| S/HD10S | 118 | 10 | 2 5/16 | 13 1/2 | Simpson Strong-Tie Gray Paint | 1 |
| S/HD15S | 118 | 10 | 2 5/16 | 17 | Simpson Strong-Tie Gray Paint | 1 |
| S/HD8S | 171 | 7 | 2 5/16 | 11 | Simpson Strong-Tie Gray Paint | 1 |
Load Tables
These products are available with additional corrosion protection.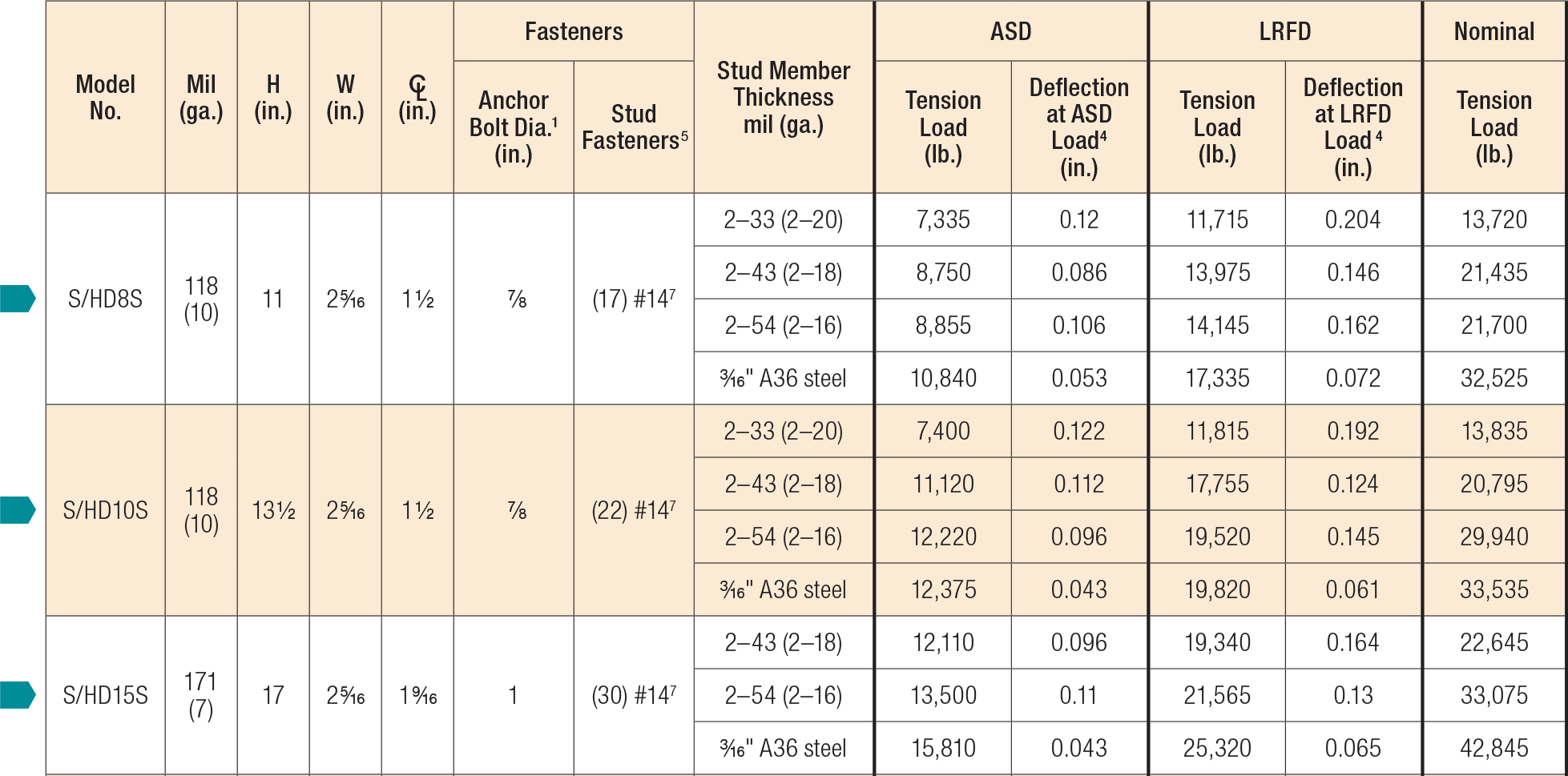 The designer shall specify the foundation anchor material type, embedment and configuration. Some of the tabulated holdown tension loads exceed the tension strength of typical ASTM A36 or A307 anchor bolts.
Stud design by specifier. Tabulated loads are based on a minimum stud thickness for fastener connection.
1/4" self-drilling screws may be substituted for #14 self-tapping screws.
Deflection at ASD or LRFD includes fastener slip, holdown deformation and anchor rod elongation for holdowns installed up to 4" above top of concrete. Holdowns may be installed raised, up to 18" above top of concrete, with no load reduction provided that additional elongation of the anchor rod is accounted for. See S/HDU for installation detail.
The Nominal Tension Load is based on the tested average ultimate (peak) load and is provided for design in accordance with section C5 of AISI S213 that requires a holdown to have a nominal strength to resist the lesser of the amplified seismic load or the maximum force the system can deliver.
Not all fastener holes for S/HDS holdowns need to be filled, as additional fastener holes provided. Install fasteners symmetrically.
It is acceptable to use the capacity listed for 2-54 (2-16) member for thicker stud members in the same configuration.
See Fastening Systems for more information on Simpson Strong-Tie fasteners.
Code Reports & Compliance