H
Hurricane and Seismic Ties
The hurricane tie series features various configurations of wind and seismic ties for trusses and rafters.
The H10S provides a high-capacity connection from truss/rafter to wall. Also suitable for wood-to-wood applications.
The HM9 is designed to retrofit roof truss/rafters for block construction. The HM9 hurricane tie provides high uplift and lateral capacity using Simpson Strong-Tie® Titen® 2 concrete and masonry screws.
The presloped seat of the H16 provides for a tight fit and reduced deflection. The strap length provides for various truss height up to a maximum of 13 1/2". Minimum heel height for H16 series is 4".
Finish
Galvanized. Some models available in stainless steel or ZMAX® coating. See Corrosion Information.
Installation
Use all specified fasteners; see General Notes
Connectors attached using hex-head Simpson Strong-Tie® Titen® screws
Attach to grouted concrete block with a minimum one #5 rebar horizontal in the course
Hurricane ties do not replace solid blocking
Options
H2.5T, H3 and H6 ties are shipped in equal quantities of right and left versions.
HGA10KT: sold as a kit with (10) HGA10 connectors. Simpson Strong-Tie® Strong-Drive® SDS Heavy-Duty Connector screws are included.
Additional screws sold separately to install with all SDS25112 screws.
Related Links
Wood Construction
Cold-Formed Steel Construction
Corrosion Information
Catalog Pages
Related Literature
Load Tables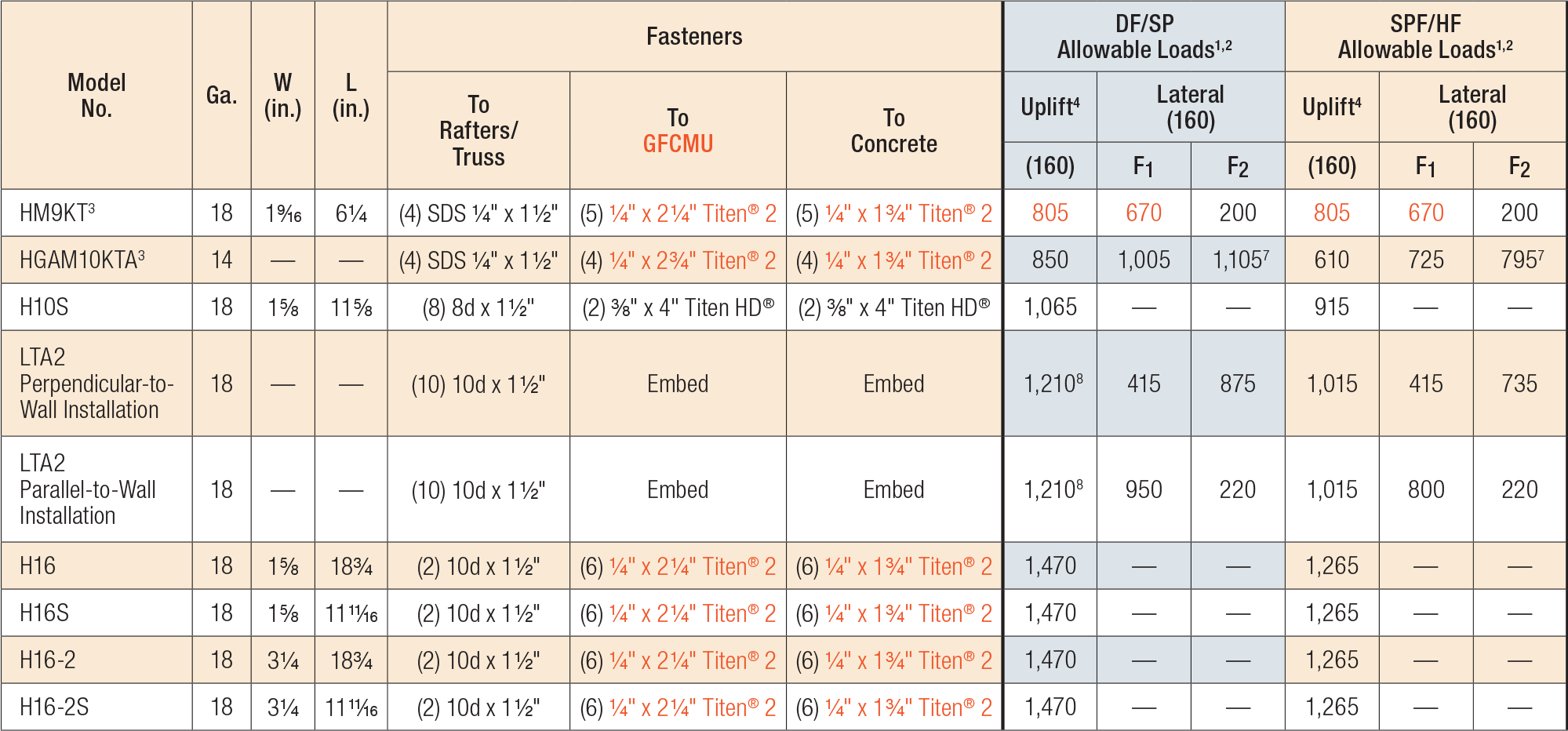 Loads have been increased for wind or earthquake loading with no further increase allowed. Reduce where other loads govern.
Allowable loads are for one anchor. A minimum rafter thickness of 2 1/2" must be used when framing anchors are installed on each side of the joist and on the same side of the plate.
Minimum f'c = 2,500 psi and minimum f'm = 1,500 psi.
The HM9KT and HGAM10KTA are kits with (20) HM9 and (10) HGAM10 connectors packaged with Simpson Strong-Tie Strong-Drive® SDS Heavy-Duty Connector screws and 2 1/4" and 2 3/4" Titen® 2 screws, respectively. (1 3/4" Titen® 2 screws for concrete installations sold separately.)
See Titen® 2 screw information
Products shall be installed such that the Titen 2 screws and Titen HD® anchors are not exposed to the weather.
HGAM10 F2 loads are for forces into the connector. See illustration 2 "HGAM10 Installed into Masonry" for loads away from the connector.
LTA2 allowable uplift on SP is 1,425 lb. for perpendicular to wall installation and 1,390 lb. for parallel to wall installation.
Fasteners: 10d x 1 1/2" = 0.148" dia. x 1 1/2" long; 8d x 1 1/2" = 0.131" dia. x 1 1/2" long;
TTN2-25214H = 1/4" x 2 1/4" Titen 2;
TTN2-25234H = 1/4" x 2 3/4" Titen 2.
TTN25214H = Titen 1/4" x 2 1/4" and TTN25234H = Titen 1/4" x 2 3/4" may also be used at full table loads.
See other nail sizes and information.
Moisture barrier not shown (typ.)
Code Reports
Drawings
Part
Orthographic
Perspective
H10S
H16
None
H16-2
None
H16-2S
None
H16S
None
HGAM10KTA
None

High Wind Resistant Construction Detail D117: Gable End to Wall Framing - HWRC D117 Gable End to Wall Framing

DWG DXF

HM9KT
None

High Wind Resistant Construction Detail D20: Post-Installed Truss/Rafter to Masonry/Concrete - HWRC D20 Post Installed TrussRafter to MasonryConcrete

DWG DXF