On This Page
The S/B installs to structural steel or cold-formed steel members for support of cold-formed steel joists. The design provides dimensional accuracy and helps to ensure proper bearing area and connection. These modifiable, high-capacity, top-flange hangers are manufactured with precision forming and quality control.
Key Features
Attaches to cold-formed steel members with screws or to structural steel with powder-actuated fasteners or welds
Can be skewed to a maximum of 45°
These load-rated hangers have been tested and code listed
Installation
Cold-Formed Steel:
May be attached to cold-formed steel supporting members with screws to the face and top flanges and provide capacities for downward and uplift.
Structural Steel:
May be attached to structural steel support members with powder-actuated fasteners or welds. For powder-actuated fasteners use PDPAT-62KP (0.157" x 5/8") and provide full penetration as required. For welds, use a minimum of 1/8" x 2" fillet weld on each top flange as required. Distribute the weld equally on both flanges. Capacities are provided for downward loads.
Options
Skew hanger limitations:
May be skewed up to a maximum of 45º. Widths for skewable sections are limited to a maximum of 5 1/4" (specify right or left skew).
Related Literature
Product Information Tables
Standard Hanger Sizes

Standard size ordering:
Joist 800S162-54 using an S/B hanger.
Hanger Modification Options: Custom Width, Height and Skew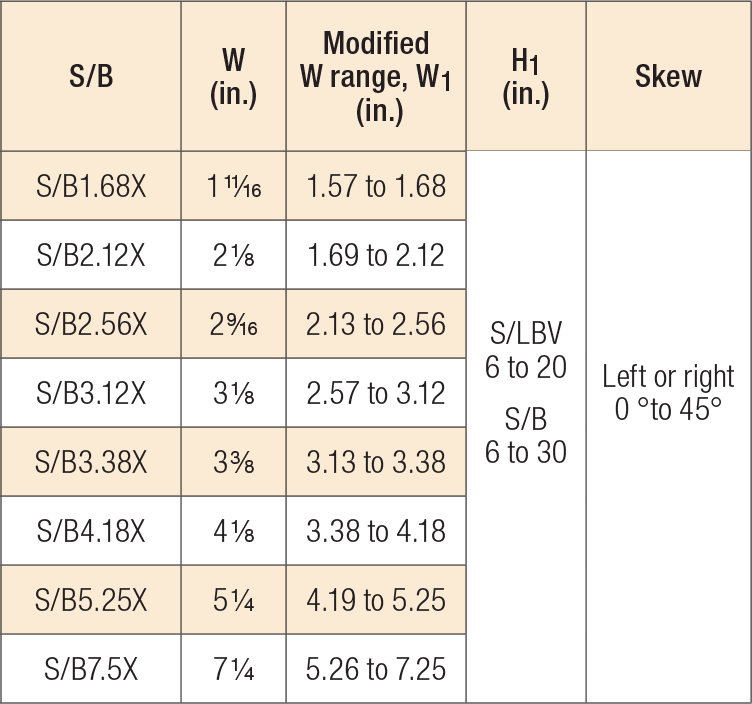 Custom ordering example:
Joist 800S162-54 using S/B hanger skewed right 20°.
Load Tables
S/B Hanger Allowable Loads (lb.)

Designer shall ensure that the joist member adequately transfers load to hanger. Header must be braced to prevent buckling per designer specification.
Load is based on the Simpson Strong-Tie PDPAT-62KP (0.157" x 5/8") powder-actuated fasteners. Steel headers with thicknesses between 1/4" and 3/4" having minimum Fy = 36 ksi. A Red (level 5) or Purple (level 6) powder load may be required to achieve specified penetration.
Tabulated loads are based on testing with full bearing of 2 1/2" flange-depth minimum with 97 mil (12 ga.) CFS for S/B hanger.
See Fastening Systems for more information on Simpson Strong-Tie fasteners.
Code Reports & Compliance