TB and LTB bridging are a cost effective way to provide bracing between floor joists when compared with field fabricated blocking and clip angles with multiple fasteners.
TB – Tension-type bridging with maximum fastener flexibility. Use two #10 screws of the seven screw holes at each end.
LTB – Staggered fastener pattern accommodates 6" to 12" web height. Use two #10 Screw of the holes at each end.
Material
LTB — 27 mil (22 ga.); TB — 33 mil (20 ga.)
Installation
Use (2) #10 screws at each end.
The LTB can be utlized with 3 5/8", 6", 8", and 10" studs at 16" o.c.
LTB works only in tension, so must be used in cross pairs.
Install briding tightly, loose installation may allow stud movement.
Related Literature
Product Information Tables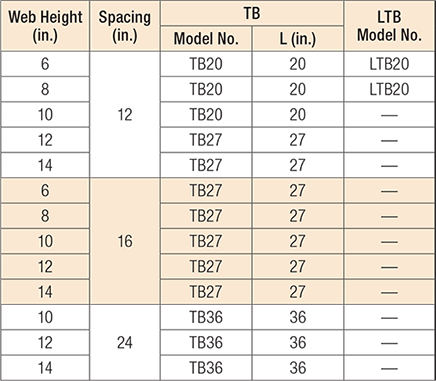 Code Reports