Product Information Tables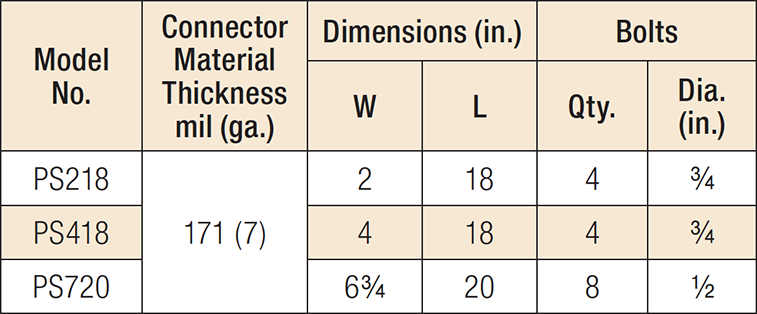 PS strap design loads must be determined by the Designer for each illustration. Hole diameter in the part may be oversized to accommodate the HDG. Designer must determine if the oversize creates an unacceptable installation.
Load Tables
These products are available with additional corrosion protection. Additional products on this page may also be available with this option, check with Simpson Strong-Tie for details.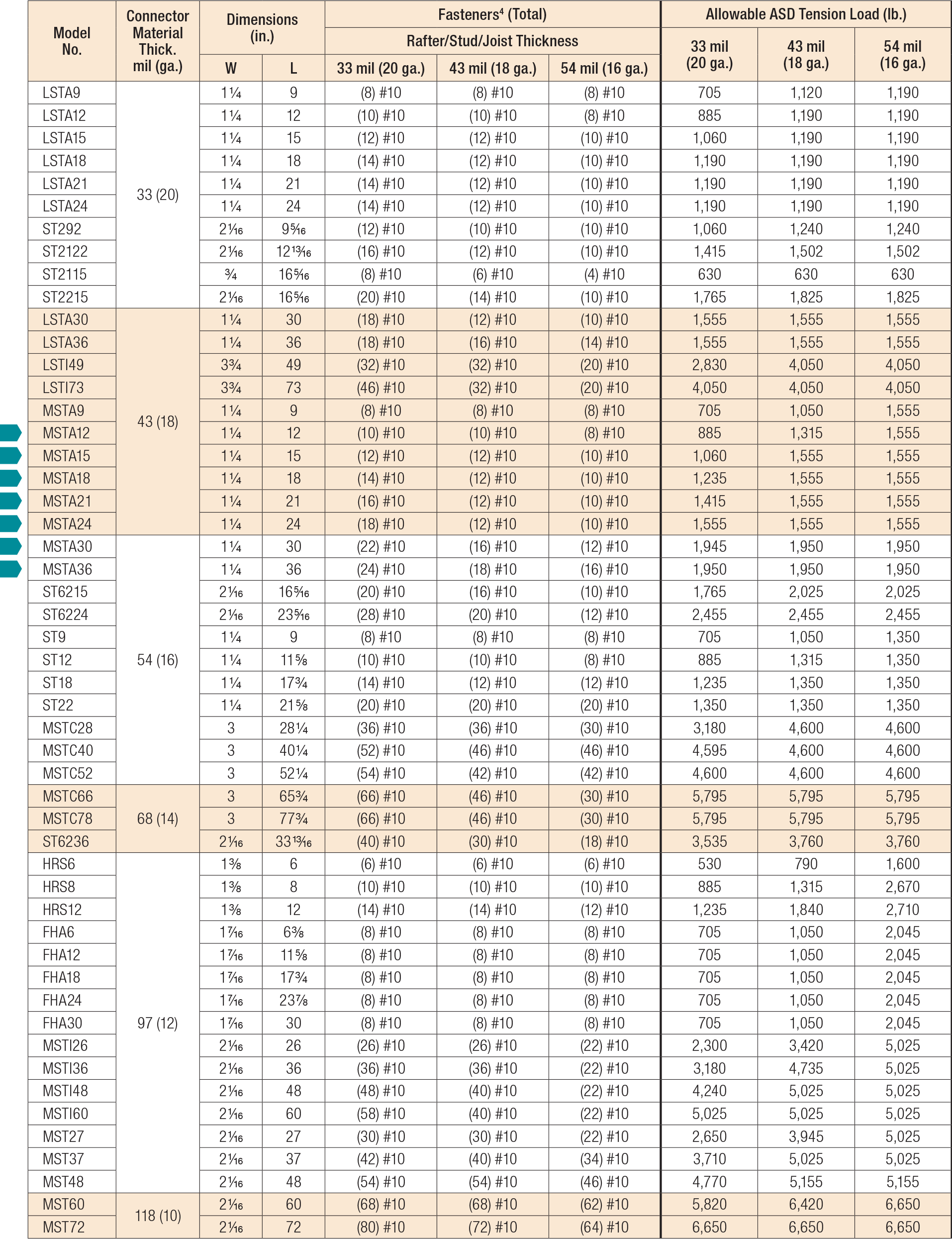 Use half of the fasteners in each member being connected to achieve the listed loads.
Loads are based on lesser of steel capacity or fastener calculation.
Not all fastener holes need to be filled as additional fastener holes are provided. Install fasteners symmetrically.
See more on Simpson Strong-Tie fasteners.
Code Reports
Drawings
Part
Orthographic
Perspective
FHA12
None
None
FHA18
None
FHA24
None
None
FHA30
None
None
FHA6
None
None
FHA9
None
None
HRS12
None
HRS6
None
HRS8
LSTA12

High Wind Resistant Construction Detail D136: Cross-Grain Tension - HWRC D136 Cross grain tension

DWG DXF

LSTA15
LSTA18

High Wind Resistant Construction Detail D45: Stud to Band Joist - HWRC D45 Stud to Band Joist

DWG DXF

LSTA21
None
LSTA24
LSTA30
None
LSTA36
None
LSTA9
LSTI49
LSTI73
None
MSTA12
None

High Wind Resistant Construction Detail D133: Building Floor-to-Floor Straps - HWRC D133 Building floor to floor straps

DWG DXF

MSTA15
None

High Wind Resistant Construction Detail D133: Building Floor-to-Floor Straps - HWRC D133 Building floor to floor straps

DWG DXF

MSTA18

High Wind Resistant Construction Detail D133: Building Floor-to-Floor Straps - HWRC D133 Building floor to floor straps

DWG DXF

MSTA21
None

High Wind Resistant Construction Detail D133: Building Floor-to-Floor Straps - HWRC D133 Building floor to floor straps

DWG DXF

MSTA24
None

High Wind Resistant Construction Detail D133: Building Floor-to-Floor Straps - HWRC D133 Building floor to floor straps

DWG DXF

MSTA30
None

High Wind Resistant Construction Detail D133: Building Floor-to-Floor Straps - HWRC D133 Building floor to floor straps

DWG DXF

MSTA36
None

High Wind Resistant Construction Detail D133: Building Floor-to-Floor Straps - HWRC D133 Building floor to floor straps

DWG DXF

High Wind Resistant Construction Detail D79: Post/Column to Beam - HWRC D79 PostColumn to Beam

DWG DXF

MSTA49
None

High Wind Resistant Construction Detail D133: Building Floor-to-Floor Straps - HWRC D133 Building floor to floor straps

DWG DXF

High Wind Resistant Construction Detail D79: Post/Column to Beam - HWRC D79 PostColumn to Beam

DWG DXF

MSTA9
None

High Wind Resistant Construction Detail D133: Building Floor-to-Floor Straps - HWRC D133 Building floor to floor straps

DWG DXF

MSTC28
MSTC40
MSTC52
MSTC66
MSTC78
MSTI26
None
MSTI36
None
MSTI48
None
MSTI60
None
MSTI72
None
PS218
PS418

High Wind Resistant Construction Detail D72: Wall to Pile/Girder - HWRC D72 Wall to PileGirder

DWG DXF

PS720

High Wind Resistant Construction Detail D72: Wall to Pile/Girder - HWRC D72 Wall to PileGirder

DWG DXF

High Wind Resistant Construction Detail D74: Wall to Pile/Girder - HWRC D74 Wall to PileGirder

DWG DXF

S/MST27
None
None
S/MST37
None
None
S/MST48
None
None
S/MST60
None
None
S/MST72
None
None
ST12
None
ST15
None
None
ST18
None
ST2115
None
ST2122
None
ST22
None
ST2215
None
ST292
None
ST6215
None
ST6224
None
ST6236
None
None
ST9
None