LGUM/HGUM
High-Capacity Beam/Girder Hangers for Concrete and GFCMU
Masonry Hangers for Plated Truss
This product's information may differ depending on the category of use. You are currently viewing details related to Masonry Hangers for Plated Truss. You can also view product information related to the category: Face-Mount Masonry Hangers
High-capacity beam or girder hangers for concrete or masonry applications. Installation is made easier using Simpson Strong-Tie® Strong-Drive® SDS Heavy-Duty Connector screws (provided) into the wood member and Titen HD® anchors (provided) into the masonry.
Installation
Use all specified fasteners (included).
Attach hanger to a concrete or grout-filled CMU wall using Titen HD anchors. Note the following:
— Drill holes using drill bits equal in diameter to the specified Titen HD anchor.
— Holes shall be drilled 1/2" deeper than the specified Titen HD length (i.e. 4 1/2" for a 4" long Titen HD anchor).
— Caution: Oversized holes in the base material will reduce or eliminate the mechanical interlock of the threads with the base material and will reduce the anchor's load capacity.
Titen HD is not recommended for exposed exterior applications.
Provide moisture barrier between beam and wall per jurisdictional requirements.
Options
For HGUM only — Other seat widths available. Order as "X" version.
HGUM available with one flange concealed. See tables for reduced load at end of wall and outside corner.
LGUM/HGUM available in skews up to 45°. See Hanger Options.
Related Literature
Load Tables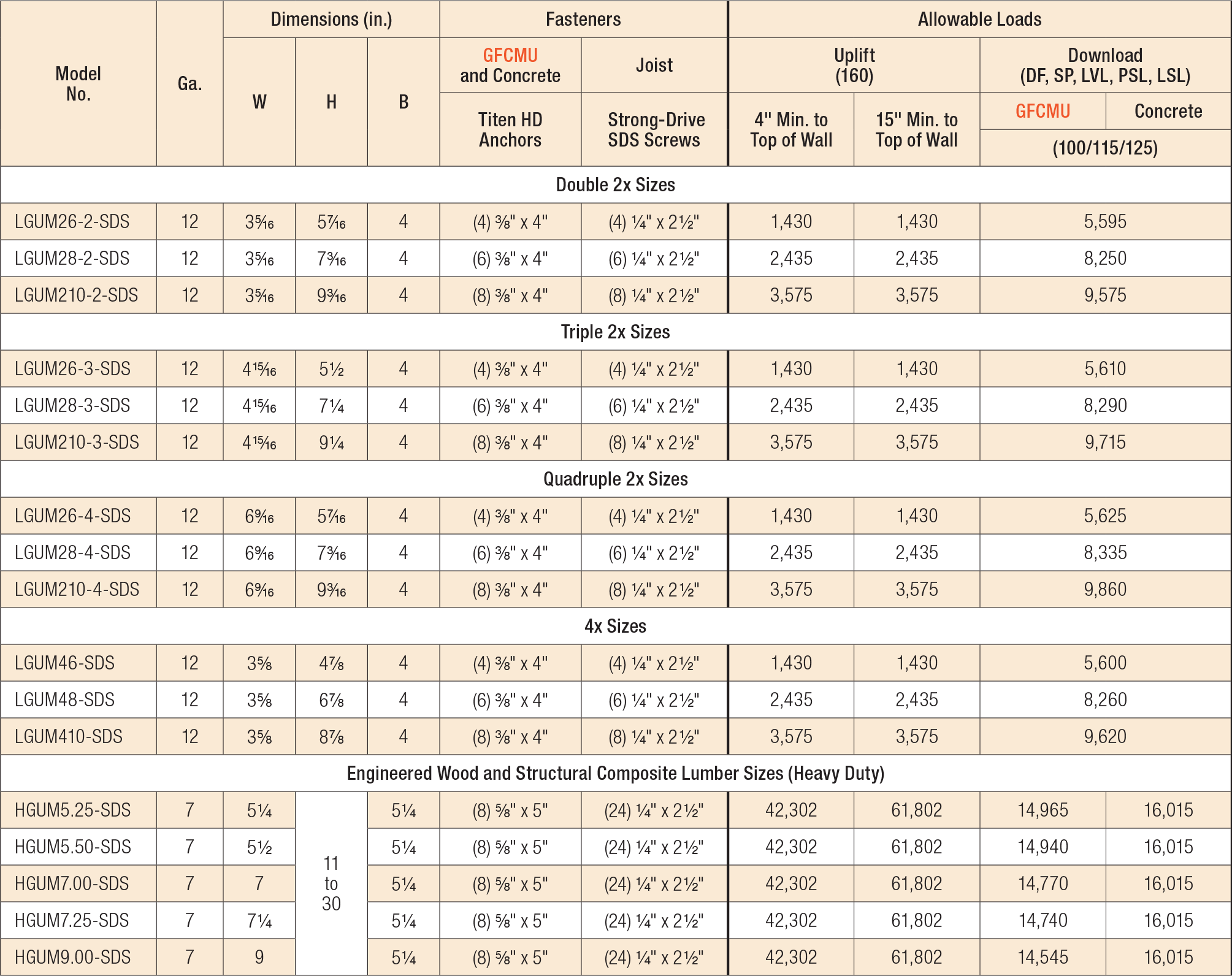 Uplift loads have been increased for wind or earthquake loading with no further increase allowed; reduce when other loads govern.
HGUM uplift loads for concrete applications are 5,840 lbs. with a 4" min. distance to top of wall and 6,960 lbs. with a 15" min. distance to top of wall.
Minimum f'm = 1,500 psi and f'c = 2,500 psi.
LGUM must be installed on minimum 6" thick wall and HGUM on minimum 8" thick wall. (Nominal values for GFCMU)
Titen HD anchors may be installed into the head or bed joints.
Simpson Strong-Tie® Strong-Drive® SDS Heavy-Duty Connector screws are permitted to be installed through metal truss plates as approved by the Truss Designer, provided the requirements of ANSI/TPI 1-2014 Sections 7.5.3.4 and 8.9.2 are met (pre-drilling required through the plate using a maximum of 5/32" bit).
Concealed Flange - Allowable Loads with One Flange Concealed

LGUM/HGUM Allowable Loads for Skewed (L/R) Applications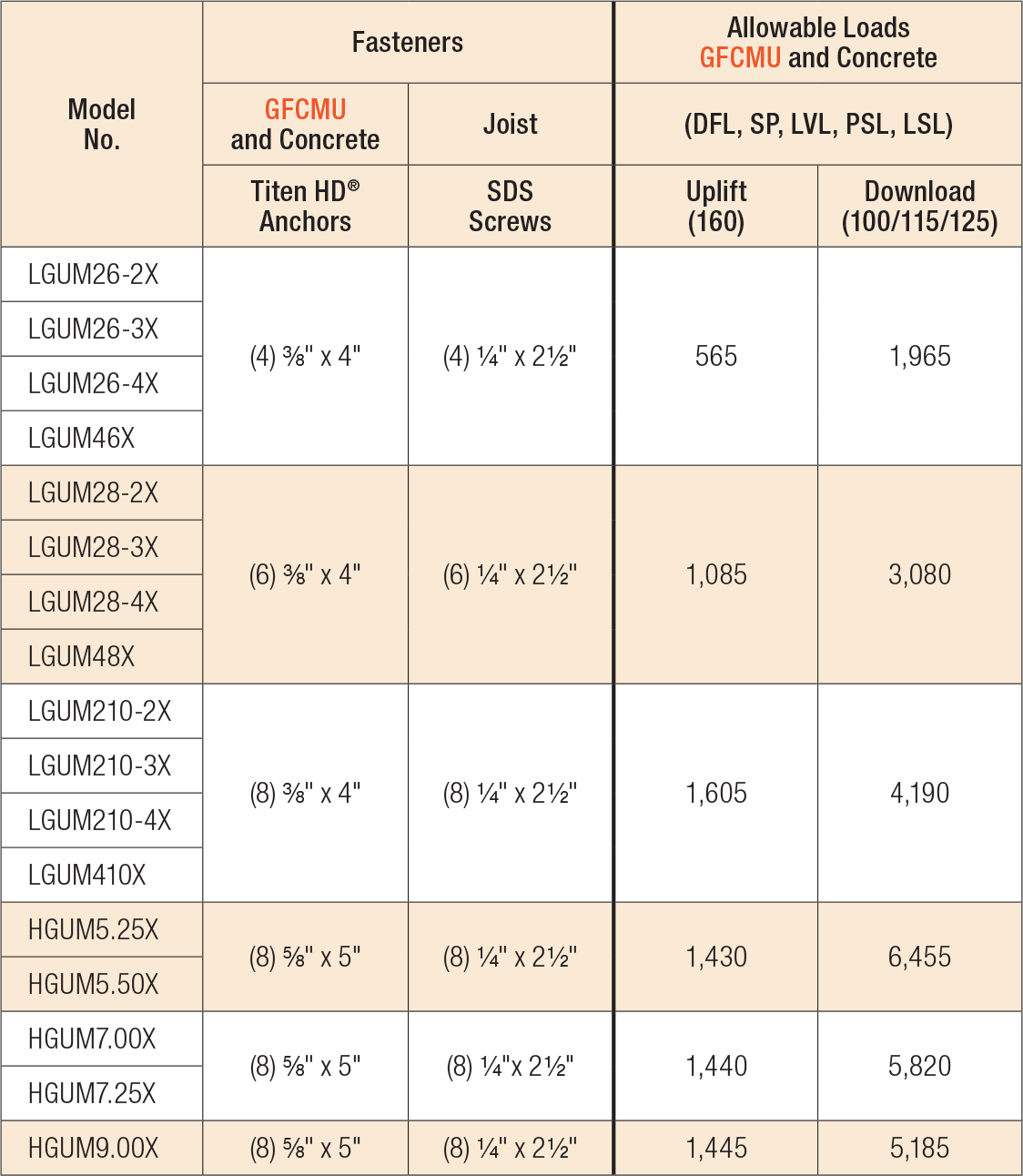 Code Reports
Drawings
| Part | Orthographic | Perspective |
| --- | --- | --- |
| HGUM5.25-SDS | | None |
| HGUM5.25X-SDS | | None |
| HGUM5.50-SDS | | None |
| HGUM5.50X-SDS | | None |
| HGUM7.00-SDS | None | None |
| HGUM7.00X-SDS | None | None |
| HGUM7.25-SDS | None | None |
| HGUM7.25X-SDS | None | None |
| HGUM9.00-SDS | None | None |
| HGUM9.00X-SDS | None | None |
| LGUM210-2-SDS | | None |
| LGUM210-3-SDS | None | None |
| LGUM210-4-SDS | None | None |
| LGUM26-2-SDS | | None |
| LGUM26-3-SDS | None | None |
| LGUM26-3X | None | None |
| LGUM26-4-SDS | None | None |
| LGUM28-2-SDS | | None |
| LGUM28-3-SDS | None | None |
| LGUM28-4-SDS | None | None |
| LGUM410-SDS | | None |
| LGUM46-SDS | | None |
| LGUM48-SDS | | None |