Misc. Connectors for Engineered Wood
This product's information may differ depending on the category of use. You are currently viewing details related to Misc. Connectors for Engineered Wood. You can also view product information related to the category: Girder Hangers/Beam Seats
The GLB is designed to support and connect glulam, sawn lumber or engineered wood beams to structural concrete or concrete masonry unit (CMU) pilasters. The rectangular, steel-plate seat features two vertical plates that secure the beam with one or two bolts and has two #6 by 12"-long rebar for placement in forms before concrete is poured. This glulam beam seat provides necessary bearing capacity at structural walls.
Key Features
Designed for cast-in-place applications
Provides additional bearing for beam connections
Steel plate provides barrier for wood from masonry
Finish
Simpson Strong-Tie gray paint. Hot-dip galvanized available; specify HDG.
Installation
Use all specified fasteners; see General Notes
Bolt hole diameters in wood shall be a minimum of 1/32" to a maximum of 1/16" larger than the bolt diameter (per the 2015/2018 NDS)
Check the rebar spacing requirements on all installations
Options
Beam seats for sawn timber and other sizes may be ordered by specifying special dimensions; use the letter designations shown on the illustrations
Specify if two-bolt GLB model is desired; see illustration
Related Literature
Load Tables
These products are available with additional corrosion protection. Additional products on this page may also be available with this option, check with Simpson Strong-Tie for details.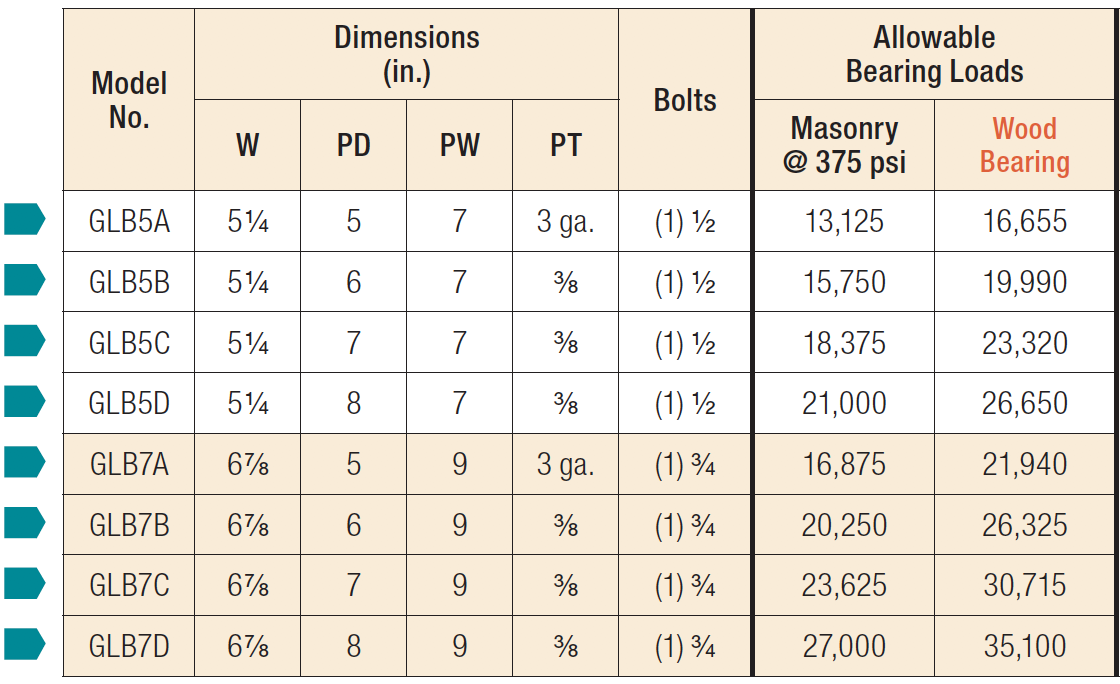 Allowable bearing stress for masonry is based on an f'c of 1,500 psi using the IBC (ACI 530) Allowable Stress Design. Wood bearing is based on an f'c-perp of 650 psi.
When installing on masonry, use the lesser of the masonry or the wood allowable load values. When installing on concrete, use a minimum f'c = 2,500 psi and use the wood values as the limiting allowable bearing load values.
Allowable horizontal loads are bolt values and include increase for wind or earthquake loading. Loads must be reduced if stresses in masonry or concrete are limiting.
Beams must fully bear on base plate.
Specify "W" dimension when ordering.
Uplift loads do not apply for this connector.
Code Reports & Compliance