On This Page
Stud shoes reinforce studs notched in construction. They are not a total replacement of removed material. Installs over pipe up to 2 3/8" outside diameter.
HSS stud shoes provide tension load capacity as well as increased compression loads. Flared flange provides greater strength.
Installation
Use all specified fasteners; see General Notes
HSS — Bend flanges at 90° angle during installation, then bend back and screw into position (screws supplied)
Bend flanges one cycle only
Codes
International Residential Code® — 2012/2015 R602.6 and P2603.2.1
International Building Code® — 2012 2308.9.10 and 2308.9.11; 2015 2308.5.9 and 2308.5.10
International Plumbing Code — 2009 305.8; 2012 305.6
Also see Code Reports table below
Related Links
Catalog Pages
Related Literature
Load Tables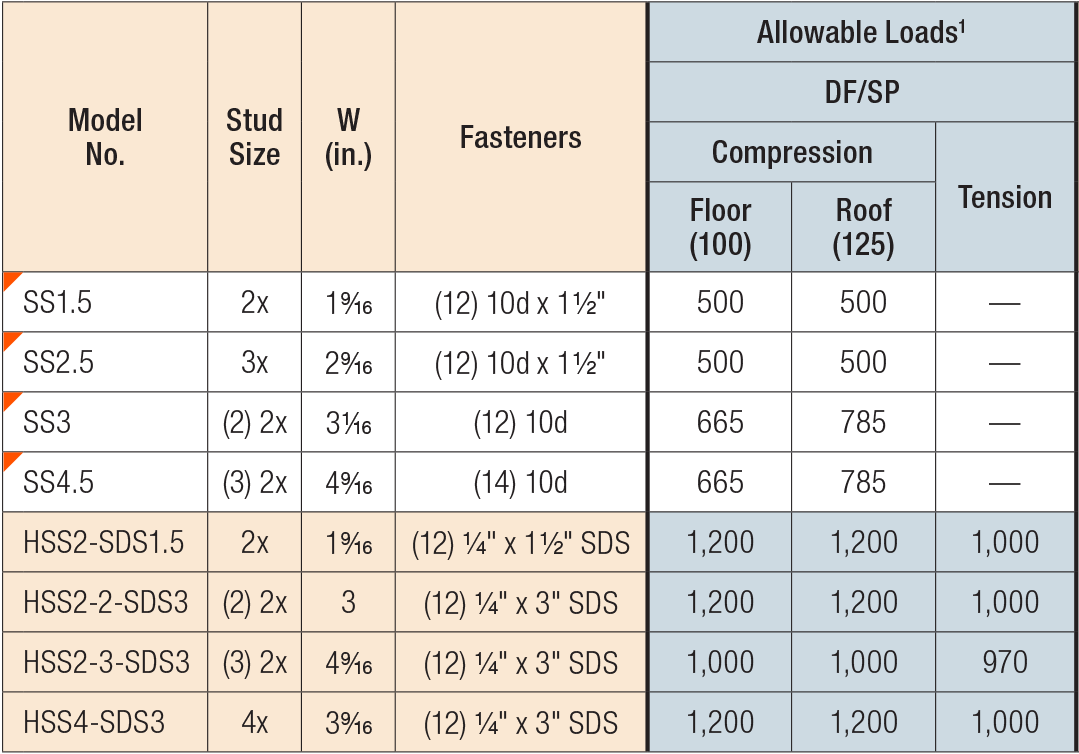 Roof loads are 125% of floor loads unless limited by other criteria. Floor loads may be adjusted for other load durations according to the code, provided they do not exceed roof loads.
NAILS: 10d = 0.148" dia. x 3" long, 10dx1 1/2 = 0.148" dia. x 1 1/2" long.
See other nail sizes and information.
Code Reports
Drawings
| Part | Orthographic | Perspective |
| --- | --- | --- |
| HSS2 | | |
| HSS2-2 | None | None |
| HSS2-3 | None | None |
| HSS4 | | None |
| SS1.5 | | |
| SS2.5 | | None |
| SS3 | | |
| SS4.5 | | |