On This Page
Jack piers and standard floor beam levelers offer unique leveling simplicity during and after construction.
Material
12-gauge plates; 3/4" threaded rod; 1 1/16" O.D. steel pipe
Installation
Use all specified fasteners; see General Notes
Holes are provided for installation with (4) 0.148" x 1 1/2" nails
Do not use J/JPs for dynamic jacking of structures, such as houses
Related Literature
Load Tables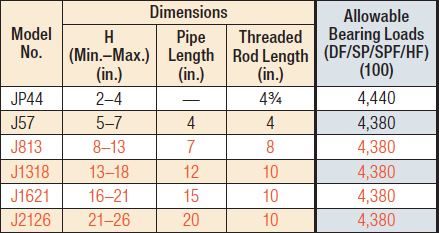 Post design by designer. See post allowable loads.
Loads may not be increased for duration of load.
Fasteners: Nail dimensions in the table are listed diameter by length. For additional information, see Fastener Types and Sizes Specified for Simpson Strong-Tie Connectors.
Code Reports & Compliance