On This Page
The CB column base helps connect posts to the concrete for a broad range of members. The bottom of its base plate is designed to be flush with the concrete. CB bases accommodate glulam and solid sawn members ranging from 4x4 up to 12x12.
Material
Strap: CB4x, CB5x, CB6x — 7 gauge; CB7x and larger — 3 gauge. Base: CB4x through CB9x — 7 gauge; CB10x — 3 gauge.
Finish
CB44, CB46, CB48, CB66, CB68, CB610 — galvanized; all other CB — Simpson Strong-Tie gray paint or HDG. Some products available in HDG, stainless steel or black powder coat. (Note: When ordering powder coat, model number is CBxxPC.)
Options
CB is available in rough sizes. Other sizes available for CB; specify W1 and W2 dimensions. Consult Simpson Strong-Tie for bolt sizes and allowable loads.
Related Literature
Load Tables
These products are available with additional corrosion protection. Additional products on this page may also be available with this option, check with Simpson Strong-Tie for details.
For stainless-steel fasteners, see Fastener Types and Sizes Specified for Simpson Strong-Tie Connectors.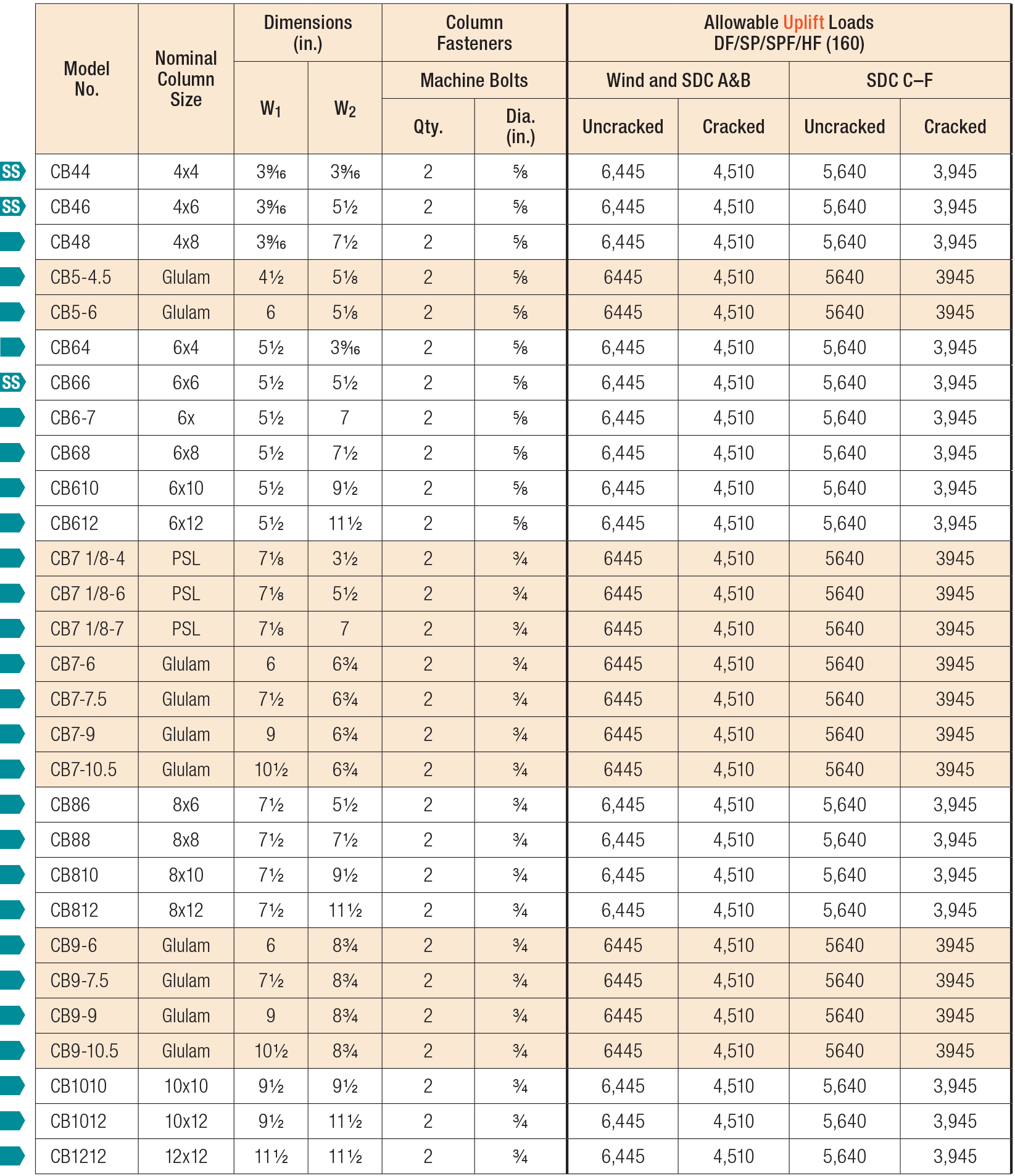 Loads may not be increased for duration of load.
Concrete shall have a minimum compressive strength of f'c = 2,500 psi.
To obtain LRFD values, multiply ASD seismic load values by 1.4 and wind load values by 1.67 (1.6 for 2012 IBC).
In accordance with IBC, Section 1613.1, detached one- and two-family dwellings in Seismic Design Category (SDC) C may use "Wind and SDC A&B" allowable loads.
Downloads shall be reduced where limited by capacity of the post.
Designer is responsible for concrete design.
Code Reports & Compliance