On This Page
This product is only available in Canada
The CBGT is designed to connect posts to concrete foundations for a wide range of lumber sizes. The bottom of the base plate sits flush with the concrete while its rebar posts are concealed inside the concrete. This cast-in-place (wet-set) or post-installed column base is ideal for columns that require high structural values and rugged performance.
Key Features
Increased uplift resistance for wind or seismic loading
Cast-in-place or post-installed
Rebar feature requires smaller concrete edge distance
Material
Strap and Base: 7 gauge or 3 gauge (depending on model)
Finish
Simpson Strong-Tie gray paint, or hot-dip galvanized (custom order)
Installation
Use all specified fasteners; see General Notes.
Install all models with bottom of base plate flush with concrete.
Post bases do not provide adequate resistance to prevent members from rotating about the base and therefore are not recommended for non-top-supported installations (such as fences or unbraced carports).
Contact engineered wood manufacturers for connections that are not installed through the wide face of the lumber.
Install 1/4" x 2" Strong-Drive® SDS Heavy-Duty Connector screws, which are provided with the column base. (Lag screws will not achieve the same load.)
Minimum 3" side cover on concrete is required.
Related Literature
Load Tables
These products are available with additional corrosion protection. Additional products on this page may also be available with this option, check with Simpson Strong-Tie for details.
For stainless-steel fasteners, see Fastener Types and Sizes Specified for Simpson Strong-Tie Connectors.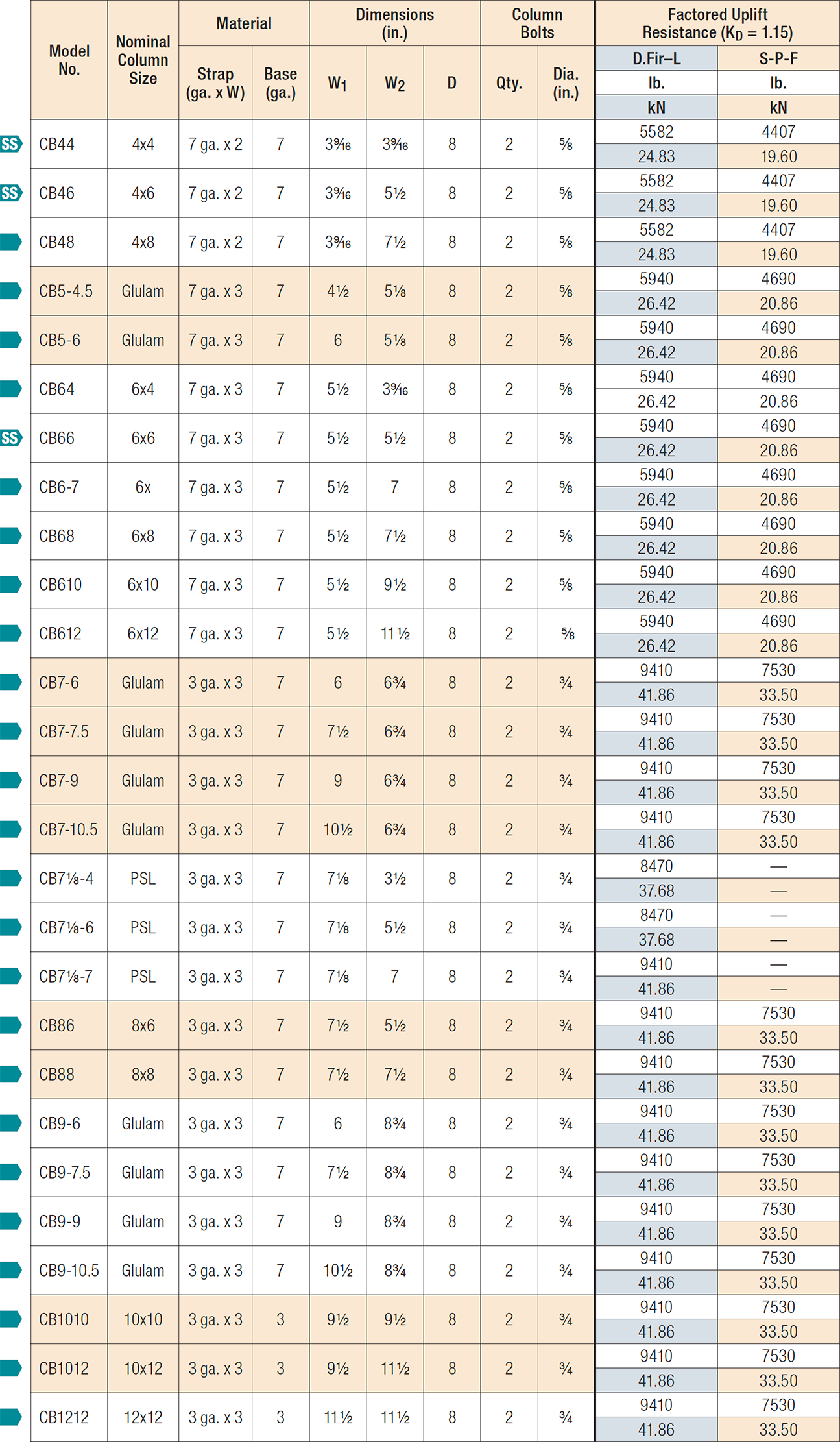 Factored uplift resistances have been increased 15% for earthquake or wind loading, with no further increase allowed; reduce where other loads govern.
PSL is parallel strand lumber.
Factored resistances shown assume dry service condition (KSF = 1.00). Multiply table values by 0.67 for uplift under wet service conditions.
Factored uplift resistance for CBGT option is 4350 lb. (19.35 kN).
LCB products must be installed with bolts to achieve table values.
Designer is responsible for concrete design.
Structural composite lumber columns have sides that show either the wide face or the edges of the lumber strands/veneers. Values in the tables reflect installation into the wide face.
f'c shall be 20 MPa minimum.
Nails: 16d = 0.162" dia. x 3 1⁄2" long. See Fastener Types and Sizes Specified for Simpson Strong-Tie Connectors.
Code Reports & Compliance