On This Page
The 12-gauge PB post base provides a connection between a post (or column) for decks, patio covers and other top-supported structures. Available with standard or ZMAX® galvanization, which offers extra corrosion resistance for outdoor or treated-wood applications.
Finish
Galvanized. Some products available in ZMAX or HDG coating. See Corrosion Information.
Installation
Use all specified fasteners; see General Notes.
Install either nails or bolts; see General Notes, note d.
Post bases do not provide adequate resistance to prevent members from rotating about the base and therefore are not recommended for non-top-supported installations (such as fences or unbraced carports).
Holes are provided for installation with either 16d commons or 1/2" bolts for PB66 and PB66R; all other models use 16d commons only. A 2" minimum sidecover is required to obtain the full load.
Related Literature
Load Tables
These products are available with additional corrosion protection. Additional products on this page may also be available with this option, check with Simpson Strong-Tie for details.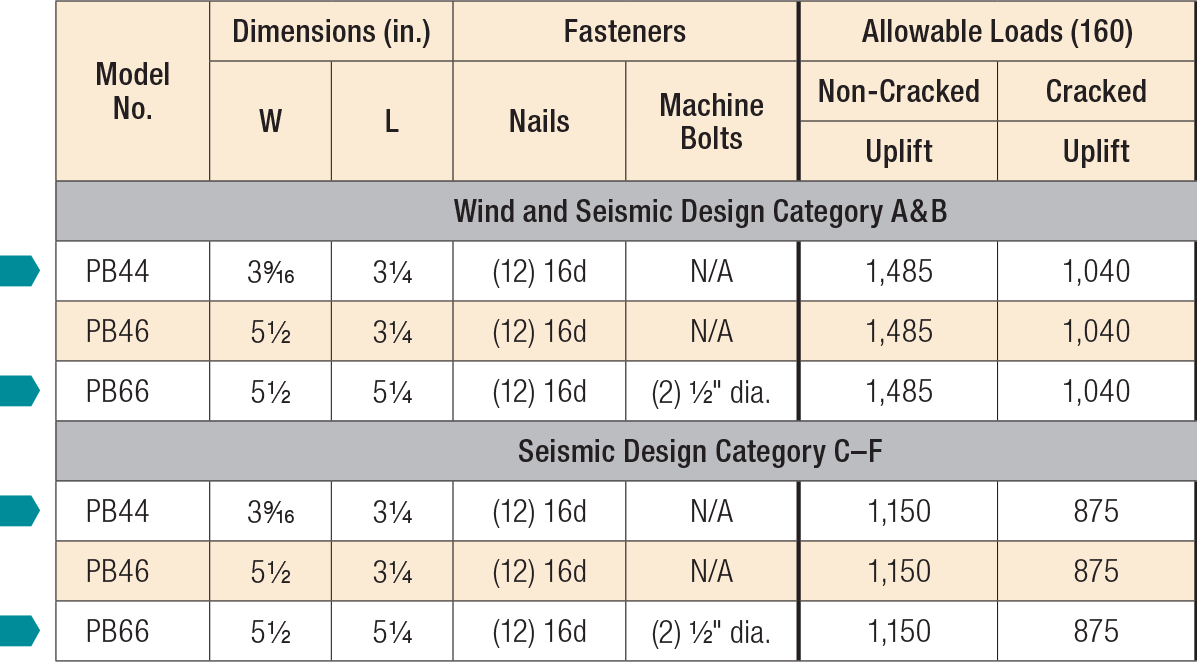 Loads may not be increased for short-term loading.
Concrete shall have a minimum compressive strength, f'c = 2500 psi.
Multiply Seismic and Wind ASD load values by 1.4 or 1.6 respectively to obtain LRFD capacities.
In accordance with IBC Section 1613.1, detached one- and two-family dwellings in Seismic Design Category (SDC) may use "Wind and SDC A&B" allowable loads.
Download shall be limited by the design capacity of the post. See Post Capacities for common post allowable loads.
For lateral loads for all PB models: F1 allowable = 765 lbs. F2 allowable = 1325 lbs.
Designer is responsible for concrete design.
Structural composite lumber columns have sides that either show the wide face or the edges of the lumber strands/veneers known as the narrow face. Values in the tables reflect installation into the wide face. See technical bulletin T-C-SCLCLM for load reductions due to narrow face installations.
NAILS: 16d = 0.162" dia. x 3 1/2" long. See other nail sizes and information.

Code Reports
Drawings
Part
Orthographic
Perspective
PB44
PB44R
None
None
PB44Z

High Wind Resistant Construction Detail D92: Post/Column to Foundation - HWRC D92 PostColumn to Foundation

DWG DXF

PB46
None
PB46R
None
None
PB66
None
PB66R
None
PB66Z