RCPS
Rebar Carport Saddle
This product is only available in Canada
The popular RCPS rebar carport saddle works as a cast in place or post-installed saddle for connecting posts to concrete. Now it has been redesigned with added features that offer greater installation flexibility and strength. Along with these design improvements, the RCPS is also available in a black powder-coat for applications that call for a more finished look.
Key Features
Meets the intent of 9.23.6.2.1 of the National Building Code of Canada 2015 for resisting uplift and lateral movement
Hot-dip galvanization provides additional corrosion protection
Chamfered corners create a sleeker-looking product
Steel embossments provide added strength
Drainage outlets help reduce the possibility of water accumulation that can potentially rot the post
Material
RCPS — 14 gauge; RCPS7.5HDG, RCPS8HDG — 12 gauge
Finish
RCPS — HDG
RCPSxxHDGPC — Black, powder-coat finish over HDG; available in 3.5, 4, 5.5 and 6 sizes
Installation
Use all specified fasteners; see General Notes.
Post bases do not provide adequate resistance to prevent members from rotating about the base and therefore are not recommended for non-top-supported installations (such as fences or unbraced carports).
Related Literature
Load Tables
These products are available with additional corrosion protection. Additional products on this page may also be available with this option, check with Simpson Strong-Tie for details.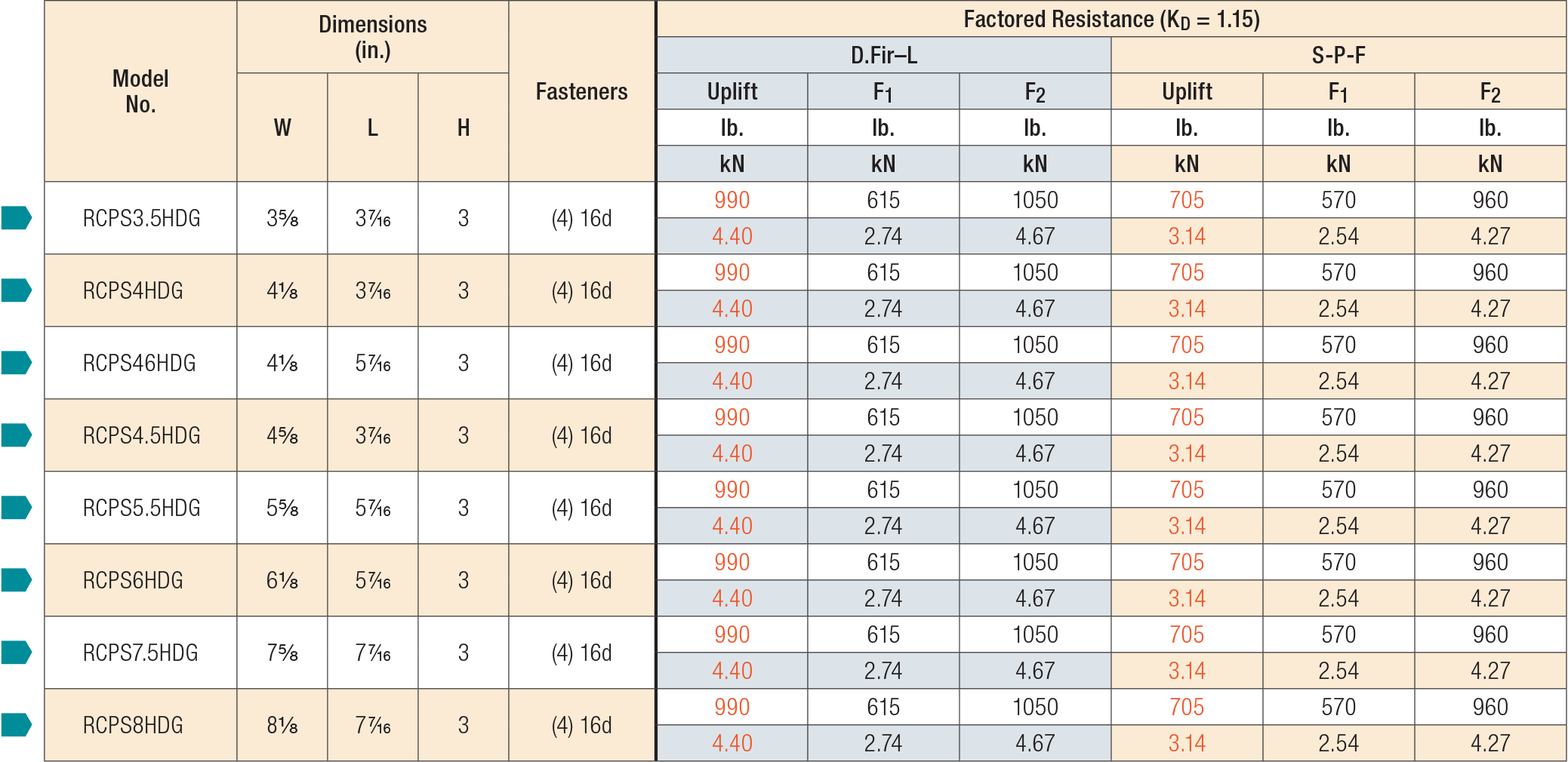 Factored resistances have been increased 15% for seismic or wind loading with no further increase allowed; reduce where other loads govern.
Structural composite lumber columns have sides that show either the wide face or the edges of the lumber strands/veneers. Values in the table reflect installation into the wide face (see technical bulletin T-C-SCLCLMCAN in Related Literature above for details).
Factored resistances shown assume dry service condition (KSF = 1.00). Multiply table values by 0.67 under wet service conditions.
Nails: 16d = 0.162" dia. x 3 1/2" long. See other nail sizes and information.
Code Reports & Compliance