The BCS allows for the connection of 2-2x's to a 4x post or 3-2x's to a 6x post. Double shear nailing between beam and post gives added strength! The BC series offers dual purpose post cap/base for light cap or base connections.
Finish
Galvanized. Some products available in ZMAX® coating. See Corrosion Information.
Installation
Use all specified fasteners. See General Notes.
Use hot-dip galvanized (HDG) nails with ZMAX and HDG connector products. Use Type 316 stainless-steel nails with our stainless-steel connector products.
Do not install bolts into pilot holes.
BCS: install dome nails on beam; drive nails at an angle through the beam into the post below to achieve the table loads.
BC: install with 16d commons or 16dx2 1/2" joist hanger nails.
Post bases do not provide adequate resistance to prevent members from rotating about the base and therefore are not recommended for non top-supported installations (such as fences or unbraced carports).
To tie multiple 2x members together, the Designer must determine the fasteners required to join members to act as one unit without splitting the wood.
Some products may be installed with the Strong-Drive® SD Connector screw. See model table.
View step-by-step installation instructions in the Installer's Pocket Guide (S-C-INSTALL).
Related Literature
Load Tables
Load Values with Carbon Steel Nails
These products are available with additional corrosion protection. Additional products on this page may also be available with this option, check with Simpson Strong-Tie for details.
These models are approved for installation with the Strong-Drive® SD Connector screw. See the load values below.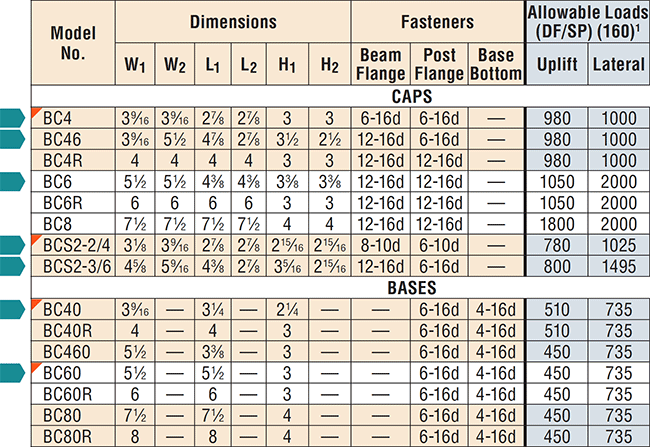 Allowable loads have been increased 60% for wind or earthquake loading with no further increase allowed; reduce where other loads govern.
Structural composite lumber columns have sides that show either the wide face or the edges of the lumber strands/veneers. Values in the tables reflect installation into the wide face. See technical bulletin T-C-SCLCLM for values on the narrow face (edge).
Base allowable loads assumes nails have full penetration into supporting member. Loads do not apply to end grain post installations.
NAILS: 16d = 0.162" dia. x 3 1/2" long, 10d = 0.148" dia. x 3" long. See other nail sizes and information.
Load Values with Stainless Steel Nails
Model No.
Fasteners
Allowable Loads (160)
To Beam
To Post
Uplift
Lateral

SSA10d, SSA16d nails are Simpson Strong-Tie® stainless steel ring shank nails.
NAILS: SSA10d and SS10d = 0.148" dia. X 3" long. SSA16d and SS16d = 0.162" dia. X 3 1/2" long. See other nail sizes and information.

BCS2-2/4SS
8-SS10d
6-SS10d
575
850
8-SSA10d
6-SSA10d
780
1025
BCS2-3/6SS
12-SS16d
6-SS16d
525
1055
12-SSA16d
6-SSA16d
800
1495
Load Values with Strong-Drive® SD Connector Screws
ModelNo.
Nominal Post Size
Fasteners
Allowable Loads
Beam Flange
Post Flange
Uplift
Lateral F1
CAPS

These products are available with additional corrosion protection. Additional products on this page may also be available with this option, check with Simpson Strong-Tie for details.

Must be installed in pairs.

BCS2-2/4
4x
8-SD9212
6-SD9212
840
1115
ModelNo.
Nominal Post Size
Fasteners
Allowable Loads
Post Flange
Base Bottom
Uplift
Lateral F1
Lateral F2
Download
BASES

These products are available with additional corrosion protection. Additional products on this page may also be available with this option, check with Simpson Strong-Tie for details.

Load shown for SET epoxy. For AT adhesive use 985 lbs.

BC40
4x
6-SD10112
4-SD10112
805
770
-
-
BC60
6x
6-SD10112
4-SD10112
680
920
-
-
Code Reports
Drawings
| Part | Orthographic | Perspective |
| --- | --- | --- |
| BC | None | None |
| BC4 | | None |
| BC40 | | None |
| BC40R | None | None |
| BC46 | | None |
| BC460 | None | None |
| BC4R | None | None |
| BC6 | | None |
| BC60 | | None |
| BC60R | None | None |
| BC6R | None | None |
| BC8 | | None |
| BC80 | None | None |
| BC80R | None | None |
| BCS | None | |
| BCS2-2/4 | | |
| BCS2-3/6 | | |