PCZ/EPCZ post caps are designed with their post and beam flanges in-line so that one PCZ/EPCZ model can accommodate several post sizes. The PCZ/EPCZ now uses easier-to-install 10d common nails. An alternate choice of fastener is the Strong-Drive® #9 x 1 1/2" SD Connector screw. ZMAX® finish is standard to meet exposure conditions in many environments. See additional corrosion information.
Finish
ZMAX coating; see Corrosion Information
Installation
Use all specified fasteners; see General Notes
Do not install bolts into pilot holes
Options
For end conditions, specify EPCZ post caps
For heavy-duty applications, see CCQ and CC series
For retrofit applications, see AC and LCE Series
Related Literature
Load Tables
These products are available with additional corrosion protection. Additional products on this page may also be available with this option, check with Simpson Strong-Tie for details.
These models are approved for installation with the Strong-Drive® SD Connector screw. See the load values below.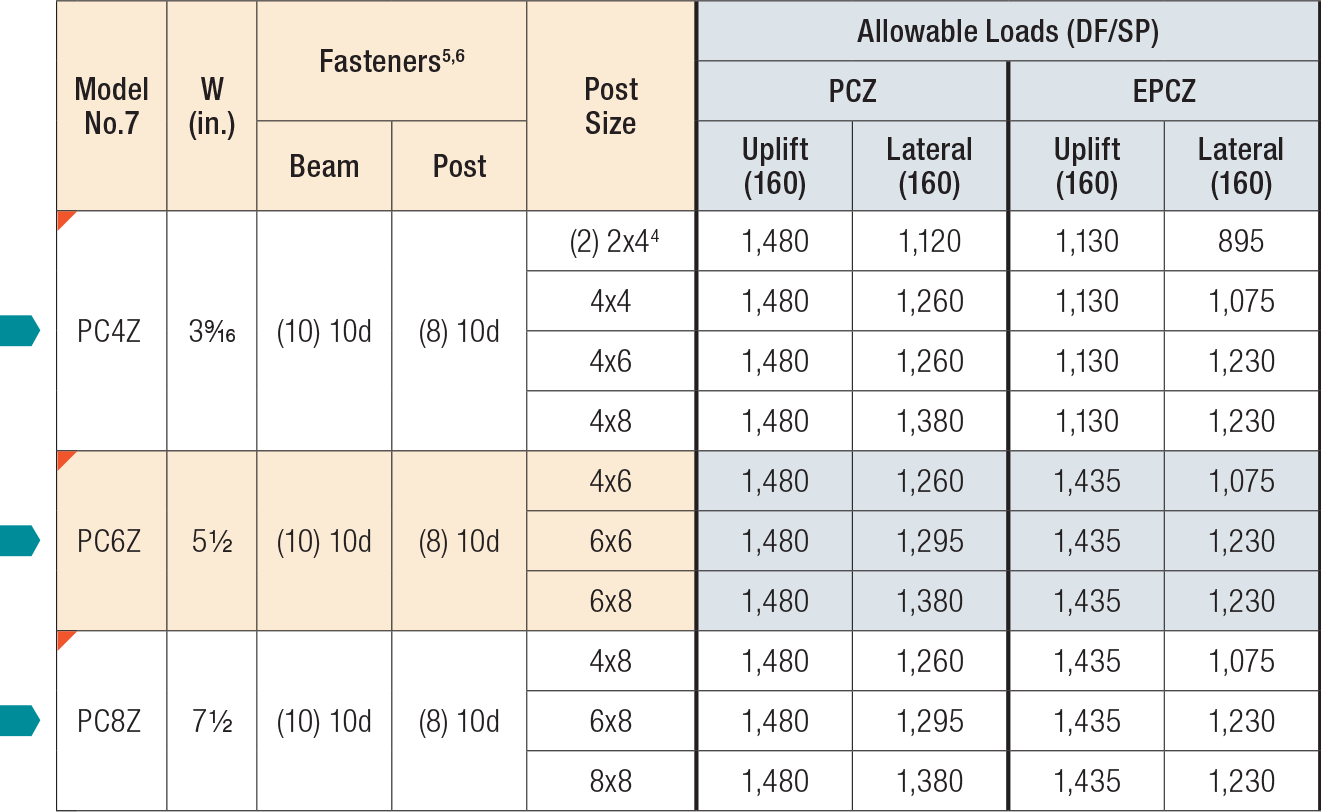 Allowable loads have increased for wind or earthquake with no further increase allowed; reduce where other loads govern.
Uplift loads do not apply to spliced conditions. Spliced conditions must be detailed by the Designer to transfer tension loads between spliced members by means other than the post cap.
Structural composite lumber columns have sides that show either the wide face or the edges of the lumber strands/veneers. Values in the tables reflect installation into the wide face and do not allow for installation into the narrow face.
Post and beam may consist of multiple members provided they are connected independently of the post cap fasteners.
10dx2 1/2 (0.148" dia. x 2 1/2" long) nails may be used with no load reduction for uplift and 0.85 of the table loads for lateral.
Models available for rough size lumber, specify RZ suffix. Ex. PC4RZ.
NAILS: 10d = 0.148" dia. x 3" long. See other nail sizes and information.
SCREWS: SD9112 = 0.131" dia. x 1 1/2" long.
Code Reports
Drawings
| Part | Orthographic | Perspective |
| --- | --- | --- |
| EPC4RZ | | |
| EPC4Z | | |
| EPC6RZ | | |
| EPC6Z | | |
| EPC8RZ | | |
| EPC8Z | | |
| PC4RZ | | |
| PC4Z | | |
| PC6RZ | | |
| PC6Z | | |
| PC8RZ | | |
| PC8Z | | |