HFN/F
Panelized Construction Hangers
The HF24N, HF26N, HF34N and HF36N hangers are designed for panels or components using jigs or similar devices for precision fabrication. Grip-groove feature provides positive lock into the 2x or 3x member without nailing. F-series panel hangers are engineered components for panelized construction only.
Finish
Galvanized. Some products available in ZMAX® coating. See Corrosion Information.
Installation
Standard Installation:
Use all specified fasteners in pre-manufactured holes; see General Notes.
On the F-series hanger, the diamond hole nail is non-structural and does not contribute to the load.
For additional information on retrofit options see flier RUZ/NRUZ Retrofit U Hangers for Panelized Roof Construction (F-RUZNRUZ).
Panelized Installation:
Installing two nails through sheathing in middle of hanger achieves full load. See product illustrations for fastener location requirements. See technical bulletin T-C-HFHANGER for alternate nailing and allowable load adjustments.
Related Literature
Load Tables
These products are available with additional corrosion protection. Additional products on this page may also be available with this option, check with Simpson Strong-Tie for details.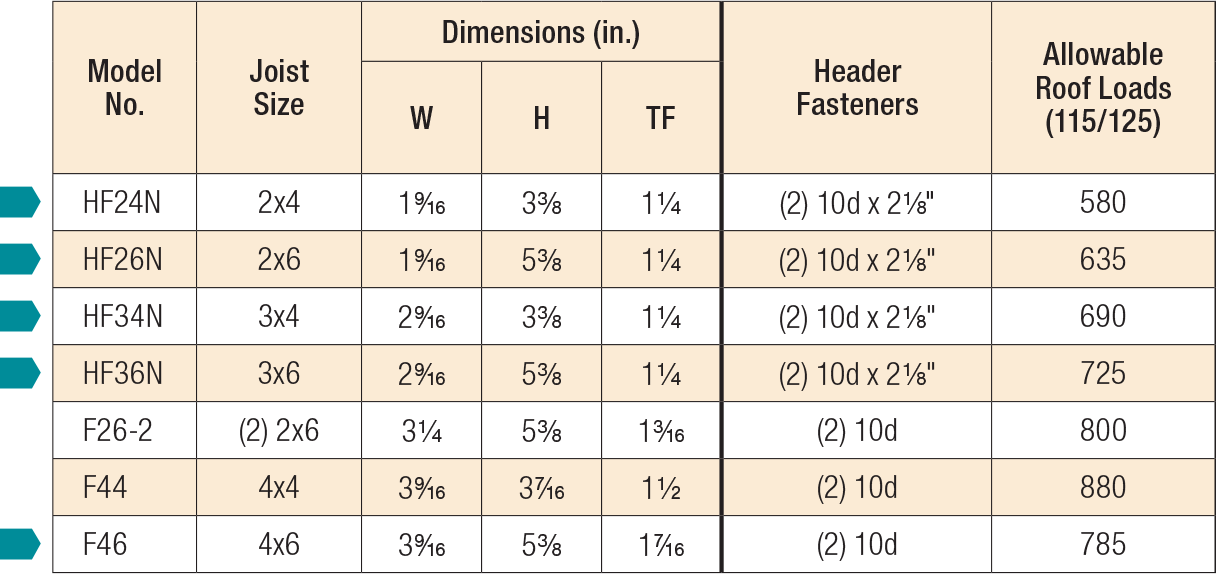 10d common nails can be used for specified 10d x 2 1/8" nails.
Nails: 10d = 0.148" dia. x 3" long, 10d x 2 1/8" = 0.148" dia. x 2 1/8" long.
See other nail sizes and information.
Code Reports
Drawings
| Part | Orthographic | Perspective |
| --- | --- | --- |
| F24-2 | None | None |
| F24-2Z | None | None |
| F26-2 | None | None |
| F26P | None | None |
| F44 | | None |
| F44Z | None | None |
| F46 | | None |
| F46Z | | None |
| HF24N | | |
| HF24NZ | | |
| HF26N | | None |
| HF26NZ | | None |
| HF34N | | None |
| HF34NZ | | None |
| HF36N | | None |
| HF36NZ | | None |
| HFN | None | None |