On This Page
The RUZ Retrofit U Hanger is designed specifically to fit around existing Simpson panelized roof hangers such as the F or HFN series.
Also see the NRUZ series of retrofit hangers, which are designed specifically for use on nailers on steel trusses.
In some cases, existing panelized roof hangers may need replacement due to excessive gapping, damage incurred during field erection or corrosion from roof leaks or condensation. The RUZ allows you to quickly and effectively match the capacity of these hangers without having to remove the original connectors or disassemble the roof.
When installed with no more than a 1/8" gap between the original hanger and the purlin, the RUZ series provides equal or greater capacity than Simpson's F, HF and HFN series hangers. See load table for data on gaps greater than 1/8".
Finish
ZMAX® coating (G185); see Corrosion Information
Installation
Use all specified fasteners. See General Notes.
Tightly install RUZ hanger around existing panelized roof hanger.
Install fasteners as referenced in load tables.

If retrofitting corroded hangers, the cause of moisture intrusion into the roof system must be determined and resolved before the hangers are installed.
Related Literature
Load Tables
RUZ Retrofit U Hanger Loads

All RU series hangers require a minimum 3x6 or double 2x6 purlin of Douglas Fir Larch or Southern Pine Lumber.
10dx2 1/8" nails are 0.148" dia. x 2 1/8" long. 10d common nails (0.148" dia. x 3" long) are also acceptable as header fasteners. 10dx1 1/2" nails are 0.148" dia. x 1 1/2" long.
Uplift has been increased 33% and 60% for wind or earthquake loading with no further increase allowed; reduce where other loads govern.
Existing Panelized Hanger Loads (for comparison)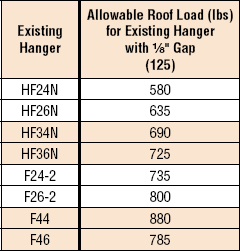 Code Reports & Compliance