Fastener Types and Sizes Specified for Simpson Strong-Tie Connectors
Many Simpson Strong-Tie connectors have been designed and tested for use with specific types and sizes of fasteners. The specified quantity, type and size of fastener must be installed in the correct holes on the connector to achieve published loads. Other factors such as fastener material and finish are also important. Incorrect fastener selection or installation can compromise connector performance and could lead to failure. For more information Fastening Systems, access our Fastener Finder.
Also see fastening identification on Simpson Strong-Tie connectors and nail information.
Fasteners are drawn to scale. Nail diameter assumes no coating. Screw diameter refers to shank diameter.
The Simpson Strong-Tie Strong-Drive® SD Connector screw is the only screw approved for use with our connectors. See SD Connector screw for more information.
Stainless Steel
The allowable loads of stainless–steel connectors match those of carbon-steel connectors when installed with Simpson Strong-Tie stainless-steel, SCNR ring-shank nails.
Fastener Design Information:
In some cases, it is desirable to install Simpson Strong-Tie face-mount joist hangers and straight straps with nails that are a different type or size than what is called out in the load table. In these cases, these reduction factors must be applied to the allowable loads listed for the connector.
Load Adjustment Factors for Optional Fasteners Used with Face–Mount Hangers and Straight Straps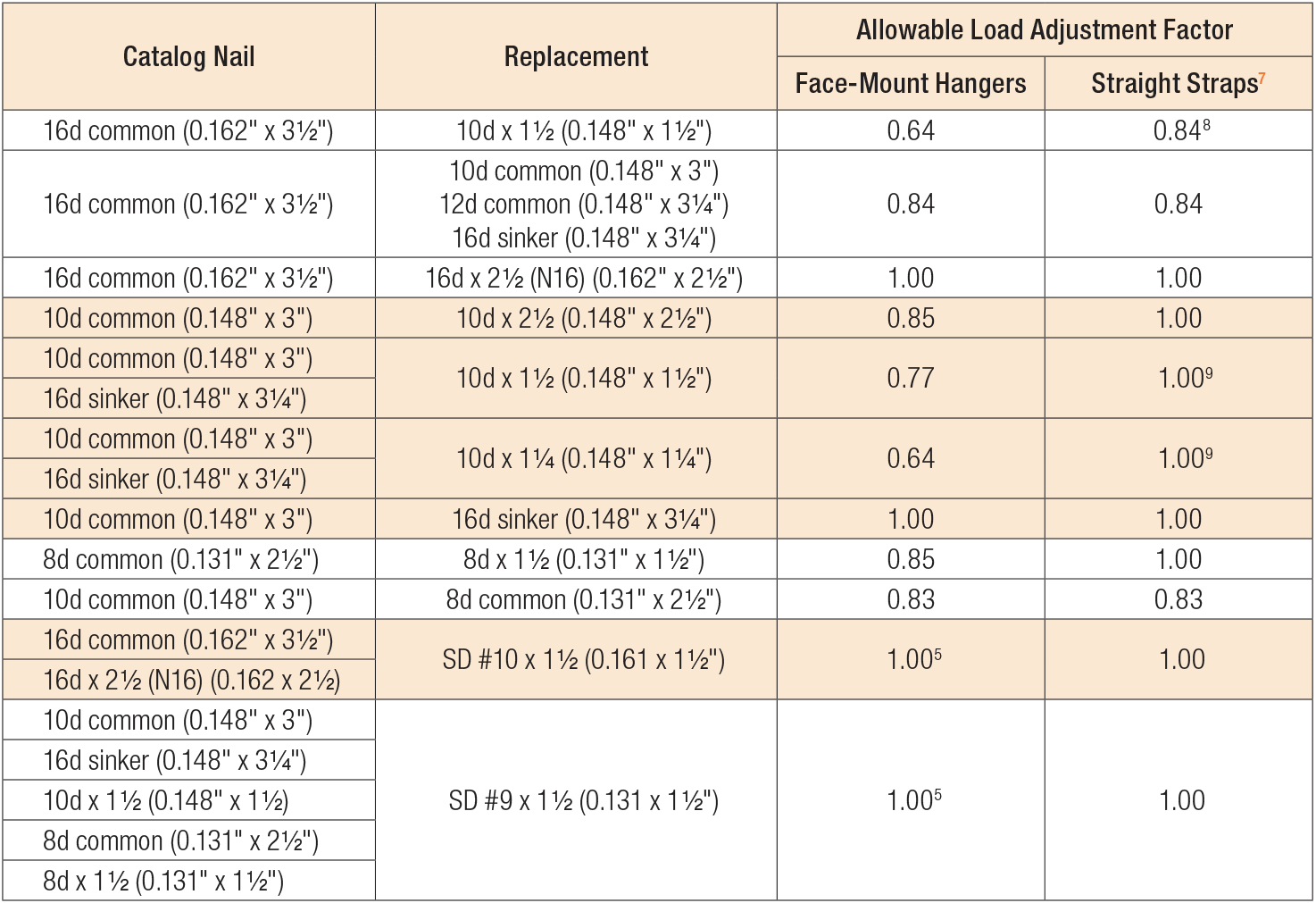 Allowable load adjustment factors shown in the table are applicable for all face-mount hangers and straight straps throughout this catalog, except as noted in the footnotes below.
Some products have been tested specifically with alternate fasteners and have allowable load adjustment factors or reduced capacities published on the specific product page. Those values on the product page may be used in lieu of the values calculated using this table.
This table does not apply to SUR/SUL/HSUR/HSUL hangers or to hangers modified per allowed Hanger Options, or to connectors made from steel thicker than 10 ga.
Strong-Drive SD Connector screw substitutions in this table do not apply to sloped, skewed or double-shear hangers. Allowable loads for SUR/SUL/ HSUR/HSUL hangers installed with Strong-Drive SD Connector screws can be found online in engineering letter L-C-SLSKHGRSD. For additional information and specific allowable loads, see Strong-Drive SD Connector screws.
Nails and Strong-Drive SD Connector screws may not be combined in a connection.
Do not substitute 10d x 1 1/2" nails for face nails on slope and skew combinations or skewed only LSU and LSSU.
For straps installed over sheathing use a 2 1/2" long fastener minimum.
Where noted, use 0.80 for 10 ga., 11 ga., and 12 ga. products when using SPF lumber.
Where noted, use 0.92 for 10 ga., 11 ga., and 12 ga. products when using SPF lumber.
For LUS, MUS, HUS, HHUS and HGUS Hangers