L/LS/GA
Reinforcing and Skewable Angles
L — Staggered nail pattern reduces the possibility for splitting.
LS — Field-adjustable 0° to 135° angles. The GA gusset angles' embossed bend section provides added strength.
Material
L — 16 gauge; GA and LS — 18 gauge
Finish
Galvanized. Some products available in stainless steel or ZMAX® coating. See Corrosion Information.
Installation
Use all specified fasteners; see General Notes.
LS — field skewable; bend one time only.
Joist must be constrained against rotation (for example, with solid blocking) when using a single LS per connection.
Nail the L angle's wider leg into the joist to ensure table loads and allow correct nailing.
Some products may be installed with the Strong-Drive® SD Connector screw. See model table.
Related Literature
Load Tables
Load Values with Nails
These products are available with additional corrosion protection. Additional products on this page may also be available with this option, check with Simpson Strong-Tie for details.
These models are approved for installation with the Strong-Drive® SD Connector screw. See the load values below.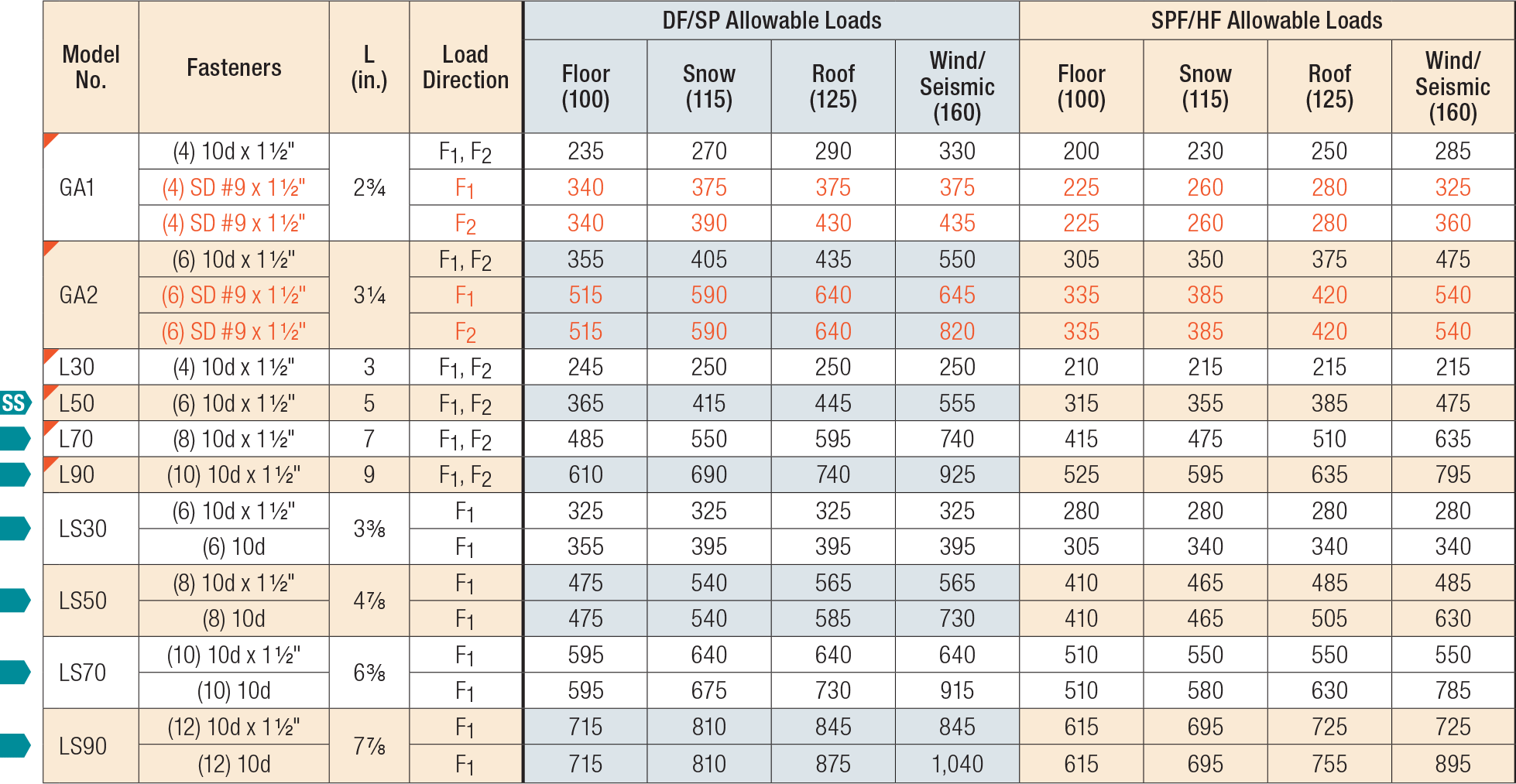 GA angles may be installed with 10d nails.
GA1 uplift is 425 lb. for DF and is 300 lb. for SPF.
GA2 uplift is 370 lb. for DF and is 260 lb. for SPF.
Fasteners: 10d = 0.148" dia. x 3" long; 10d x 1 1/2" = 0.148" dia. x 1 1/2" long;
SD #9 x 1 1/2" = 0.131" dia. x 1 1/2" long.
See other nail sizes and information.
Load Values with Stainless Steel Nails
Model No.
Fasteners
DF/SP Allowable Loads
SPF/HF Allowable Loads
Floor (100)
Snow (115)
Roof (125)
(160)
Floor (100)
Snow (115)
Roof (125)
(160)

SSA10d nails are Simpson Strong-Tie® stainless steel ring shank nails.
NAILS: SS10d and SSA10d = 0.148" dia. X 3" long. See other nail sizes and information.

LS50SS
8-SS10d
355
355
355
355
240
240
240
240
8-SSA10d
475
540
585
730
410
465
505
630
Load Values with Strong-Drive® SD Connector Screws
Model No.
Fasteners
DF/SP Allowable Loads
SPF/HF Allowable Loads
Floor (100)
Snow (115)
Roof (125)
(160)
Floor (100)
Snow(115)
Roof (125)
(160)

These products are available with additional corrosion protection. Additional products on this page may also be available with this option, check with Simpson Strong-Tie for details.

F1 Direction.
F2 Direction.

GA11
4-SD9112
340
375
375
375
225
260
280
325
GA12
4-SD9112
340
395
430
435
225
260
280
360
GA21
6-SD9112
515
590
640
695
335
385
420
540
GA22
6-SD9112
515
590
640
820
335
385
420
540
L301
4-SD9112
290
290
290
290
225
250
250
250
L302
4-SD9112
340
395
430
545
225
260
280
360
L501
6-SD9112
515
535
535
535
335
385
420
460
L502
6-SD9112
515
590
640
820
335
385
420
540
L701
8-SD9112
685
785
855
1015
450
515
560
715
L702
8-SD9112
685
785
855
1095
450
515
560
715
L901
10-SD9112
855
985
1070
1180
560
645
700
895
L902
10-SD9112
855
985
1070
1370
560
645
700
895
Code Reports
Drawings
Part
Orthographic
Perspective
GA
None
None
GA1
None
GA2
L
None
L30
None
L50
L70
L90
None
LS
None
LS30
None
LS50
None
LS70

High Wind-Resistant Construction D124: Hanger Uplift Considerations: Combined-Connector Example

DWG DXF

LS90
None