FC
Bypass Framing Fixed-Clip Connector
On This Page
Ideal for high-seismic areas, Simpson Strong-Tie® FC connectors are the optimal solution for fixed-clip bypass framing. FC clips are often welded to the structure in high-seismic zones, but they also feature anchorage holes so that concrete screws or powder-actuated fasteners can be used to attach the clip to the structure. In addition to its anchorage versatility, the FC clip features prepunched screw holes for the framing attachment, eliminating the need for predrilling holes or worrying that fastener placement doesn't match the Designer specifications. FC connectors are manufactured using heavy-duty 10- and 12-gauge steel to provide exceptional resistance to in-plane seismic load.
Key Features
The clips come in lengths of 3 1/2", 6" and 8" and are intended to be used with 3 5/8", 6" and 8" studs, respectively
The maximum standoff distance is 1" for 3 5/8" studs and 1 1/2" for 6" and 8" studs
Embossments in the bend line provide increased strength and stiffness in the F1 and F2 load directions, but are positioned towards the center of the clip so that 1 1/2"-long welds can be applied at the top and bottom of the clip
Prepunched large-diameter anchor holes accommodate 1/4"-diameter concrete screws like the Simpson Strong-Tie Titen HD® screw anchor
Prepunched small-diameter anchor holes accommodate powder-actuated fasteners like the 0.157"-diameter Simpson Strong-Tie PDPAT or #12 self-drilling Simpson Strong-Tie Strong-Drive® XL Large-Head Metal screw
Installation
Use the specified type and number of fasteners and anchors
Related Literature
Product Information Tables

Each box contains (25) connectors.
Load Tables
FC Allowable Connector Loads (lb.)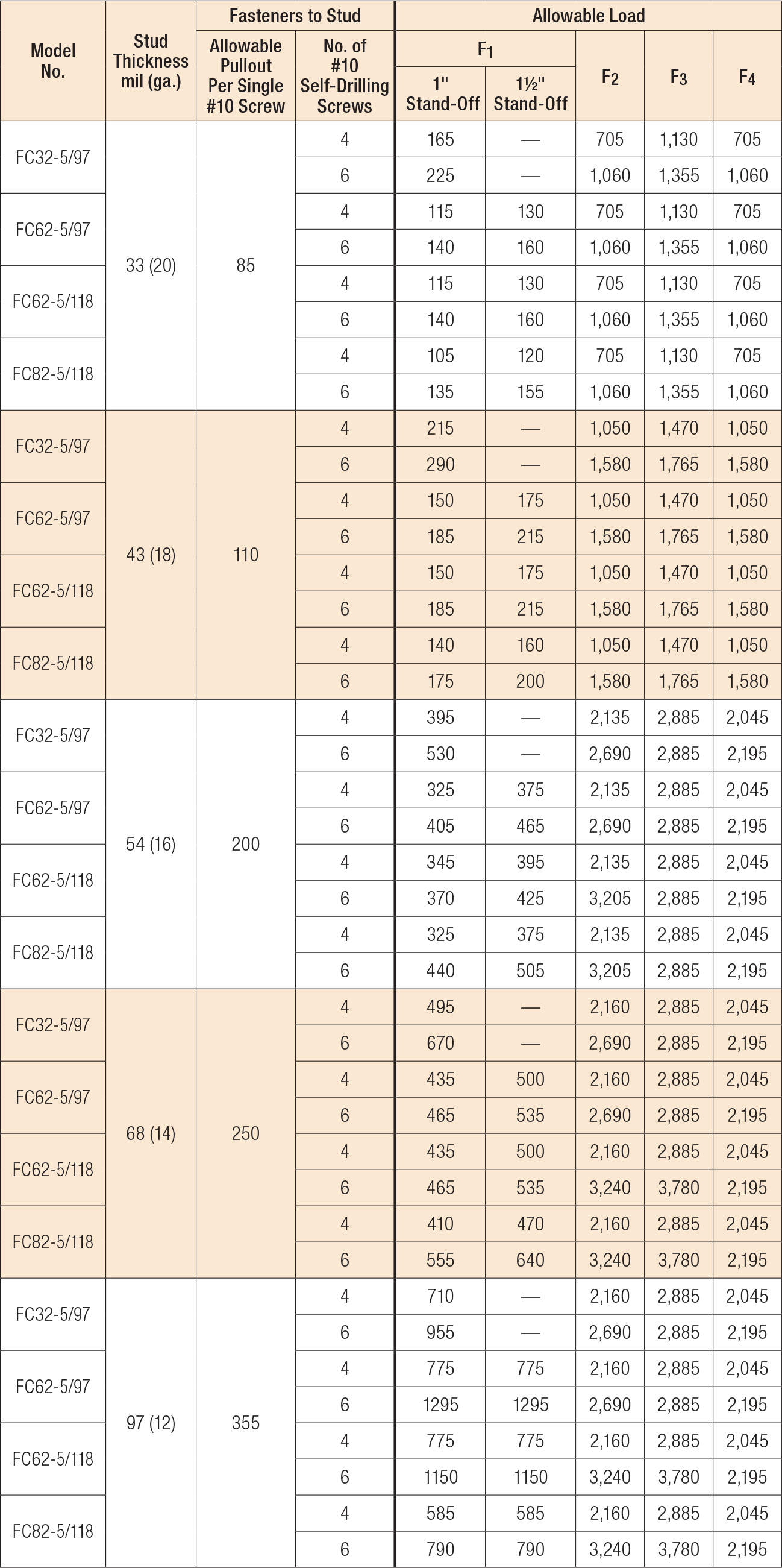 See General Information and Notes.
FC Allowable Connector Loads are also limited by the FC Anchorage Load tables below. Use the minimum tabulated values from the connector and anchorage load tables as applicable.
See installation illustrations in the image gallery for screw fastener placement to stud framing.
Tabulated F1 loads are based on assembly tests with the load through the centerline of stud. Tested failure modes were due to screw pullout; therefore compare F1 against Fp calculated per ASCE 7-10 Chapter 13 with ap = 1.25 and Rp = 1.0.
F1 loads are based on maximum stand-off distances of 1" or 1 1/2" as shown. Other loads are applicable to a 1" stand-off for FC32 and 1" or 1 1/2" stand-off for FC62 and FC82.
The allowable plastic moment at the bend line in the F1 load direction for 97 mil (12 ga.) and 118 mil (10 ga.) FC connectors are 395 in.-lb. and 675 in.-lb., respectively.
FC Allowable Anchorage Loads to Steel (lb.)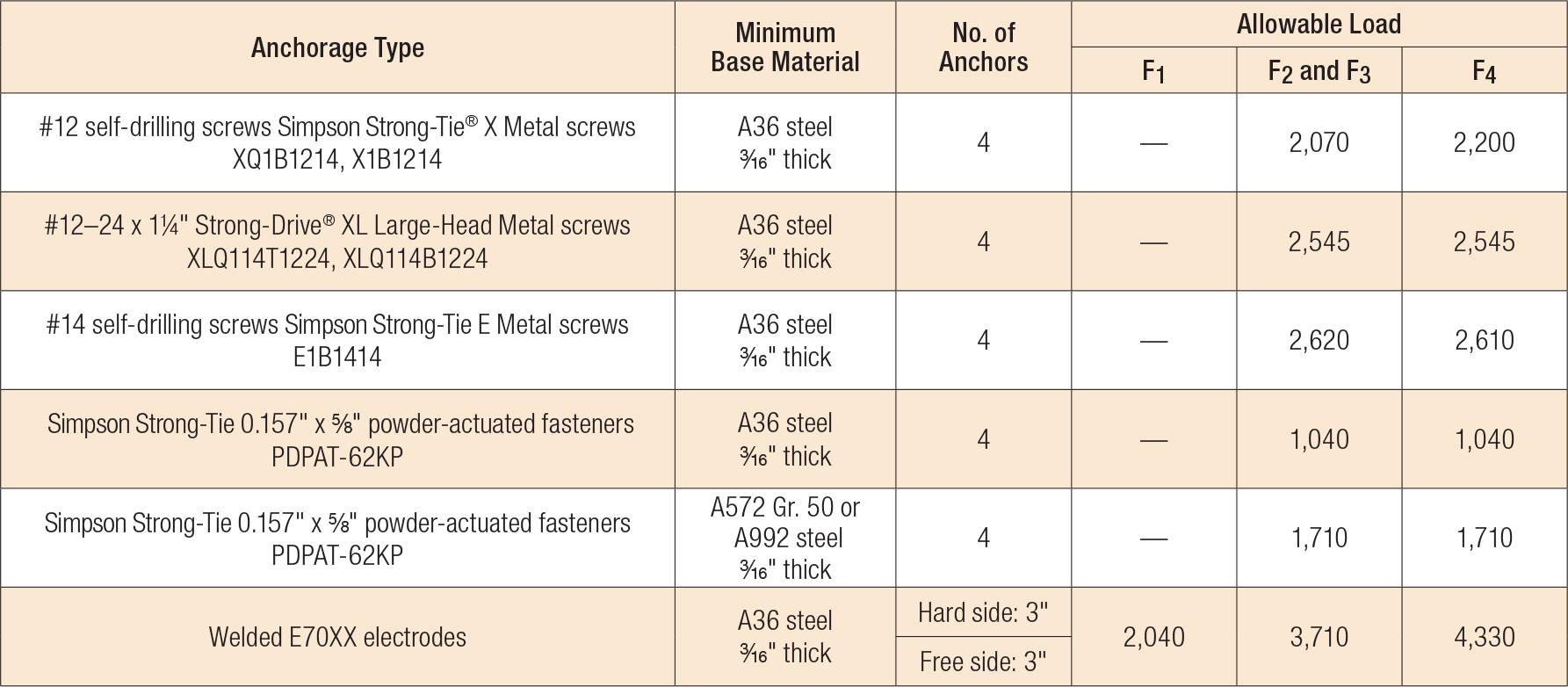 For additional important information, see General Information.
Allowable anchorage loads are also limited by the FC Connector Load table above. Use the minimum tabulated values from the connector and anchorage load tables as applicable.
Allowable loads for #12-24 self-drilling screws and PDPAT powder-actuated fasteners are based on installation in minimum 3/16" thick structural steel with Fy = 36 ksi. PDPAT values are also provided for A572 steel. Values listed above maybe used where other thicknesses of steel are encountered provided that the fastener has equal or better tested values into thicker steel (see General Information). It is the responsibility of the Designer to select the proper length fasteners based on the steel thickness installation.
For screw fastener installation into steel backed by concrete, predrilling of both the steel and the concrete is suggested. For predrilling, use a maximum 3/16"-diameter drill bit.
Allowable Titen HD® Anchorage Loads into Concrete with FC Clip (lb.)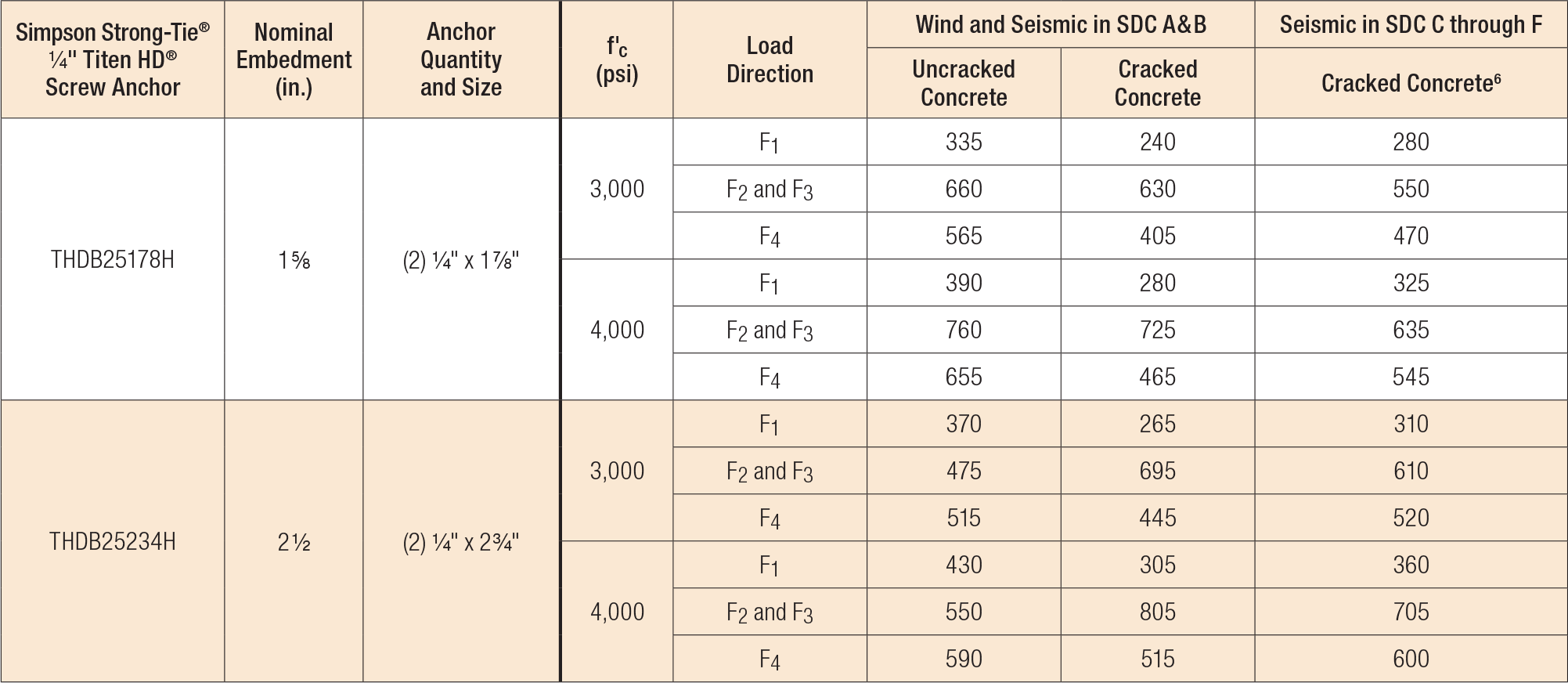 Allowable anchor capacities have been determined using ACI 318-14 Appendix D calculations with a minimum concrete compressive strength (f'c) of 3,000 and 4,000 psi in normal-weight concrete. Tabulated values shall be multiplied by a factor (λa) of 0.6 for sand light-weight concrete.
Edge distance is assumed to be 1 1/2", and end distance is 2 5/8".
Load values are for group anchors based on ACI 318, condition B, load factors from ACI 318-14 Section 5.3, no supplement edge reinforcement, Ψc, v = 1.0 for cracked concrete and periodic special inspection.
Allowable Stress Design (ASD) values were determined by multiplying calculated LRFD capacities by a conversion factor, Alpha (α), of 0.70 for seismic load and 0.6 for wind loads. ASD values for other combinations may be determined using alternate conversion factors.
Tabulated allowable ASD loads for Wind and Seismic in SDC A&B are based on using wind conversion factors and may be increased by 1.17 for SDC A and B only.
Design loads shall include the over-strength factor per ASCE7 Section 12.4.3. For fasteners in exterior wall connection systems, Ωo = 1.5 per Table

13.5-1.

Allowable loads for F4 are based on the governing loading direction which is toward the edge of slab.
Allowable loads for F1 are based on the governing loading direction which is toward the end of slab.
For anchor subjected to both tension and shear loads, it shall be designed to satisfy the following:

For Na / Nall ≤ 0.2, the full allowable load in shear is permitted.
For Va / Vall ≤ 0.2, the full allowable load in tension is permitted.
For all other cases: Na / Nall + Va / Vall ≤ 1.2 where:
Na = Applied ASD tension load
Nall = Allowable F2 or F3 load from the FC Allowable Anchorage Loads for Concrete table
Va = Applied ASD shear load
Vall = Allowable F4 or F1 load from the FC Allowable Anchorage Loads for Concrete table

Tabulated allowable loads are based on anchorage only. The capacity of the connection system shall be the minimum of the allowable anchorage load and the FC Allowable Connector Loads.
Code Reports & Compliance