Rigid Connectors
This product's information may differ depending on the category of use. You are currently viewing details related to Rigid Connectors. You can also view product information related to the category: Misc. Connectors for Cold-Formed Steel Construction
The PHC panel hoist clip allows easier installation and lifting of wall panels on the job and at assembly sites. The PHC clip features a small profile design to fit inside holes as small as 1.5". Contractors can either drill holes in the track onsite or have the track manufactured with holes for easier installation of the clip through the top track. The rolled edges and rolled hoist-edge-hole provide greater strength and give the capacity needed for heavy panel projects. Maximum and minimum screw patterns give you options for heavier or lighter load needs. The PHC hoist clip has been assembly tested for tension and panel pickup, providing an increased level of safety for panelizers, installers and engineers.
Key Features
Small profile to allow for easy installation through the top track
Greater top track strength with reduced opening size required for hoist clip to fit through top track
Rolled stiffener for increased strength across the entire length of clip
Rolled hoist-edge-hole for increased strength and smooth mounting edge
Screw pattern options allow for varying load needs; fill round holes for minimum loads, or fill round holes and triangular holes for maximum loads
Chamfered top corners and minimized distance of material above hoist hole allow for the lifting device to slide freely without getting stuck
Assembly tested for tension and panel pick up at different angles for attachment to stud web
Optional panel hoist clip cover (PHC-C) available to cover track hole and create a tight connector fit for the concrete pour when embedding the installed hoist in concrete or other hole cover needs
Installation
Use all specified fasteners
Related Literature
Product Information Table
Fastener Production Information and Stuff & Things

| Model No. | Thickness (mil) | Ga. | Product Includes | Coating/Material | Packaging Qty. |
| --- | --- | --- | --- | --- | --- |
| PHC12 | 97 | 12 | Box of 50 connectors (screws not included) | Zinc Galvanized, G90 | 50 |
Load Tables
PHC Allowable Connector Loads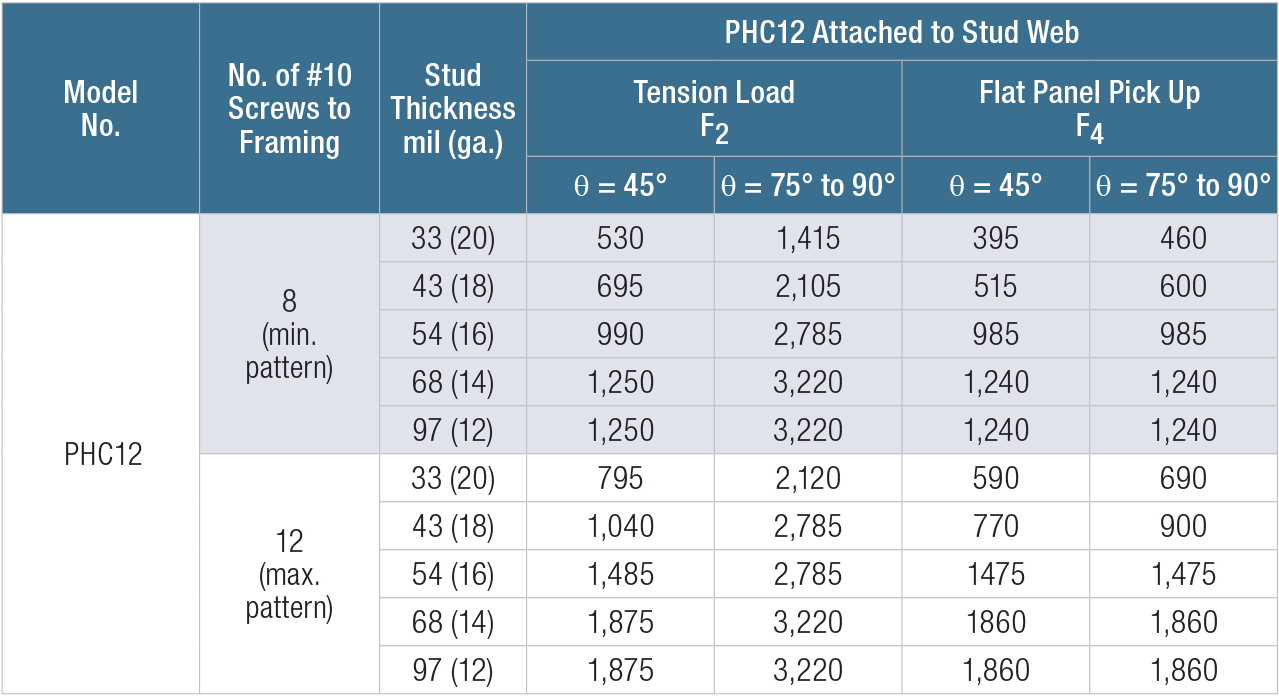 For additional information, see General Notes.
Allowable loads are for clip and anchorage to stud.
Minimum pattern is screws to all round holes; maximum pattern is screws to round and triangle holes.
Linear interpolation is allowed for angles between 45℉ and 75℉.
Tabulated values are based on 3 5/8" to 8" framing members with track and stud of the same thickness and 2 1/2" maximum diameter hole centered in the top track for lifting devices.
Lifting devices should be connected to the PHC12 with a closed-loop attachment of sufficient strength to carry the allowable load.
The listed allowable tension load is the allowable vertical load of the hoist clip (not the allowable load in direction of force).
Code Reports & Compliance