S/H and H
Seismic and Hurricane Ties
On This Page
Designed to provide seismic and wind ties for trusses or joists, this versatile line may be used for general tie purposes, strongback attachments, and as all-purpose ties where one member crosses another.
S/H1A was designed to fit within several proprietary truss chords to provide uplift resistance.
Material
S/H1, S/H1A, S/H2.5, S/H3, H2A, H10S — 43 mil (18 ga.); H6, H7Z — 54 mil. (16)
Finish
Galvanized. Some models available with ZMAX® coating. See Corrosion Information.
Installation
Use all specified fasteners.
The S/H1 and SH1A can be installed with flanges facing outwards (reverse of installation illustration) when installed inside a wall for truss applications.
Hurricane ties do not replace solid blocking.
S/H1A may be used with proprietary truss sections. Contact material supplier for specific installation details.
S/H2.5, S/H3 and H6 ties are only shipped in equal quantities of rights and lefts.
Related Literature
Load Table
These products are available with additional corrosion protection. Additional products on this page may also be available with this option, check with Simpson Strong-Tie for details.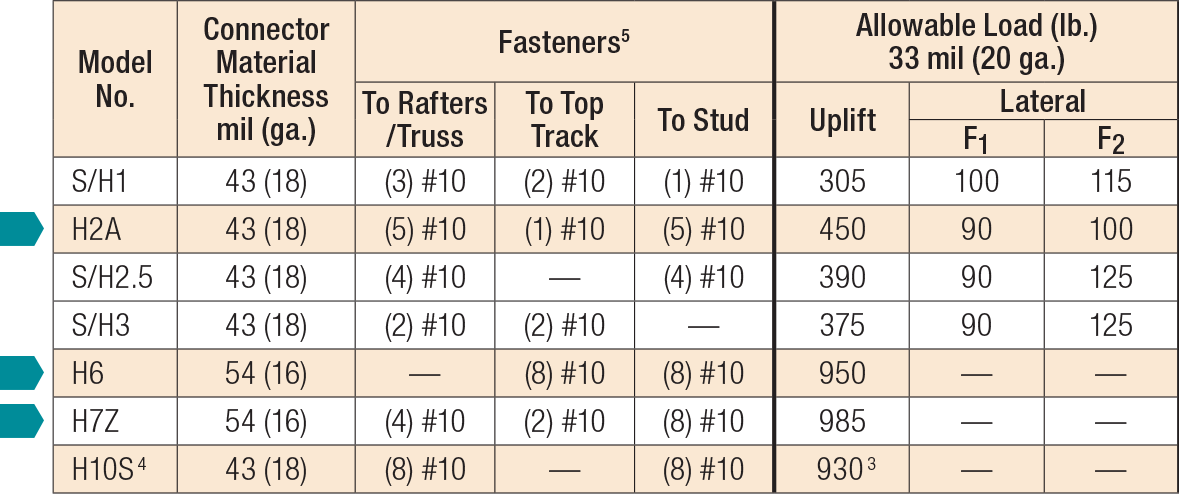 Loads are based on attachment of cold-formed steel members having a minimum thickness of 33 mil (20 ga.).
Hurricane ties are shown installed on the outside of wall for clarity. Installation inside of wall is acceptable. For Continuous Load Path, connections in the same area must be on same side of wall.
For H10S connectors with CFS members having a minimum thickness of 43 mil (18 ga.), the allowable load is 1,260 lb.
H10S connectors can be installed 3/4" (max.) from the center of the vertical stud per the in-line framing specifications of the AISI General Provisions for reduced uplift of 890 lb., provided that the screw edges are met.

Tabulated loads based on truss members with yield strength, Fy, of 50 ksi and tensile strength, Fu, of 65 ksi. Reduce tabulated load proportionally for lower truss member steel strength. For example: 43 mil (18 ga.) truss member with a yield strength, Fy, of 33 ksi and a tensile strength, Fu, of 45 ksi is connected to 43 mil top track and wall stud. The adjusted allowable load is then 550 lb. x minimum [33/ 50 or 45/ 60] = 363 lb.
Code Reports & Compliance