GBC
Gable-Brace Connector
The GBC provides a proven, tested connection for the anchorage of building stability bracing to the top of the gable end wall. With allowable bracing installation angles between 40° to 60°, the GBC offers greater flexibility in a connector rated for both tension and compression loads.
Installation
Use all specified fasteners; see General Notes
The GBC must be installed in pairs to achieve full load capacity
Related Literature
Product Information Tables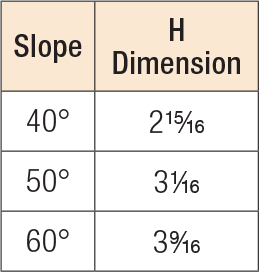 See more installation illustrations in the gallery at the top of the page.
Load Tables

For 1 3/4 x 3 1/2 (or larger) LVL gable brace, the allowable load at 40° to 45° is 635 lbs. towards anchors, 515 lbs. away from anchors.
Loads have been increased 60% for wind or earthquake loading with no further increase allowed; reduce where other loads govern.
Use a minimum 2x4 gable brace. Larger members may be used.
NAILS: 8d = 0.131" dia. x 2 1/2" long, 8dx1 1/2 = 0.131" dia. x 1 1/2" long. See other nail sizes and information.
Code Reports
Part
IAPMO UES ER
ICC-ES ESR
City of Los Angeles
State of Florida
GBC
ESR-2605 ESR-2523
FL10861

ESR-2523 is an Index of many of Simpson Strong-Tie Stamped and Welded Cold-formed Steel Products for Wood or Cold-formed Steel Construction