On This Page
The ETB hidden connector provides a load-tested beam connection without any visible hardware. Interlocking plates are fastened onto each member and lock together for a secure structural connection.
Key Features
Faster than other time-consuming methods and requires removal of less beam material
Three sizes address common beam sizes from 4x6 through 6x12
Connector can be routed into the beam end for a completely flush installation
Templates available to make accurate installation more efficient
Material
Plates — Aluminum 6082-T6
Finish
Plates — none; screws — Dacromet® corrosion-resistant coating
Installation
Use all specified fasteners; see General Notes.
Rout a 3/8" (10mm) deep pocket into the side of the supporting beam as shown for the lower plate.
Install lower plate with 16d hot-dip galvanized nails (not included in kit).
Install horseshoe plate onto end of supported beam using SCRB screws supplied in kit. Screws are installed at a downward angle (approx. 45°).
Related Literature
Product Information Tables
Dimensional and Fabrication Information
Model No.

Dimensions (in.)

A
B
E
E1
t1
t2
ETB90
2.36
3.62
2.72
2.26
0.236
0.393
ETB160
2.36
6.61
5.12
3.74
0.236
0.393
ETB230
2.95
9.13
7.87
5.43
0.236
0.393
Load Tables
Factored Resistance Table (Limit States Design Values)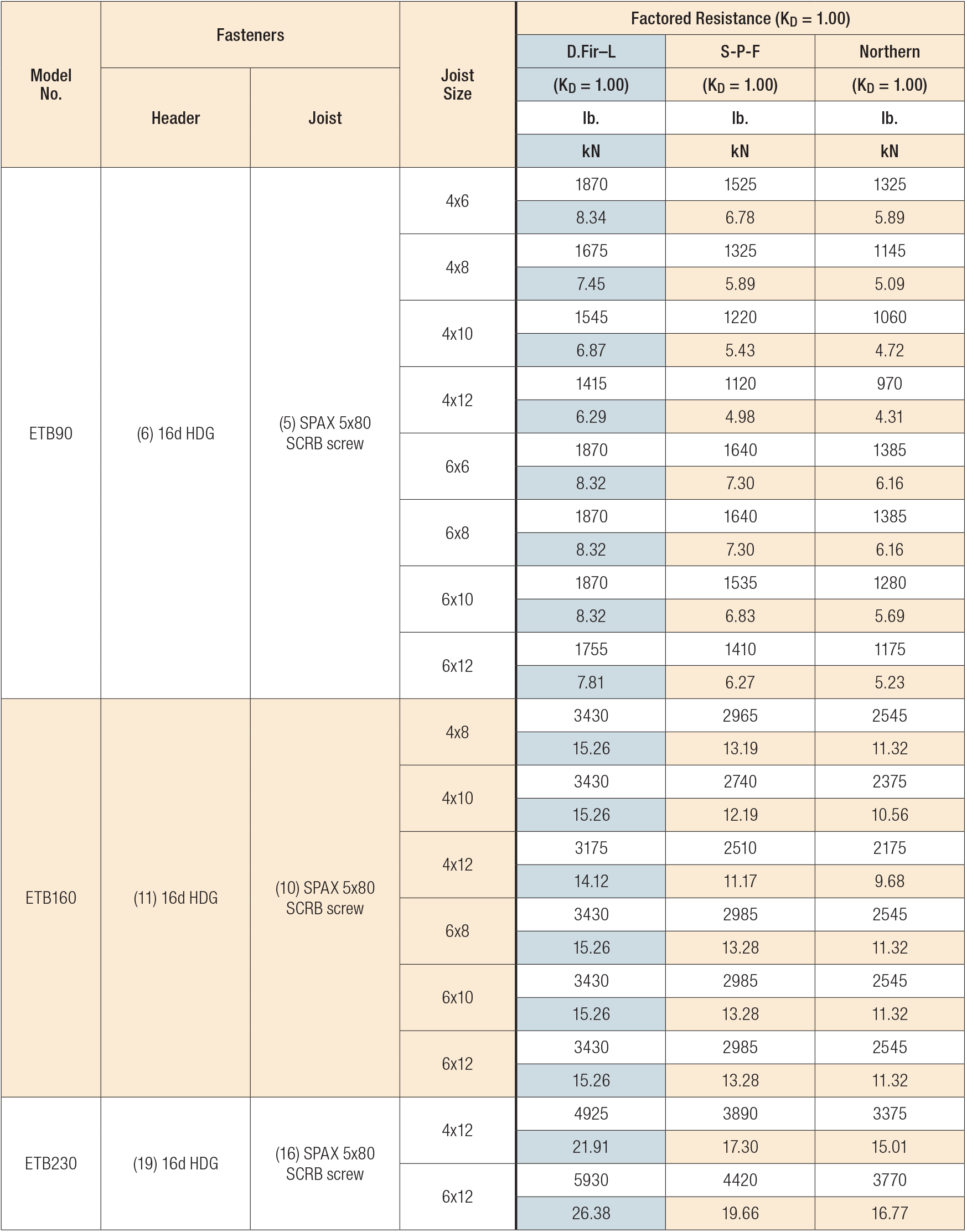 Factored resistances assume standard term load duration; reduce value where other load durations govern. Do not increase value for short-term load duration.
Factored resistances have been calculated in accordance with CSA O86-14 assuming dry service condition (KS = 1.00) and seasoned lumber (moisture content ≤ 15%) at time of fabrication. For unseasoned lumber (moisture content > 15%) multiply tablulated values by 0.80. For wet service condition multiply tablulated values by 0.67.
Do not use ETB connectors with preservative-treated woods.
Factored resistances shown are the lower of the test value, the fasterner capacity or the effective shear capacity of the joist assuming joist and headers are same species.
Substitution for fasteners is not permitted. All fasteners must be used as specified.
Nails: 16d HDG = 0.162" dia. x 3 1/2" long hot-dip galvanized.
Code Reports & Compliance