Strong-Drive® SDWF FLOOR-TO-FLOOR Screw
The Strong-Drive SDWF Floor-to-Floor screw is designed to simplify the wind-uplift restraint connection while providing superior performance over the life of the structure. The unique design of the SDWF enables it to attach upper and lower walls together from the top, spanning the floor system and providing an easy-to-install connection within the continuous uplift load path of the structure.
The innovative Take-Up Washer (TUW) plays a key role in the long-term performance of the SDWF when installed between the screw head and the sole plate of the upper floor. As the structure settles because of shrinkage and construction loading, the threaded portion under the head of the screw ratchets up through the tabs of the TUW, which is fastened with Simpson Strong-Tie Strong-Drive SD screws. The interlock between the tabs of the take-up washer and the threads under the head of the SDWF prevent the screw from sliding back under load, providing a simple yet reliable means of shrinkage compensation up to 3/4" per story.
Key Features
Faster to install than other floor-to-floor connection methods — drive the screw, install the take-up washer and the connection is made from plate-to-plate
Shrinkage compensation ensures a tight connection even after initial shrinkage and settlement occur
Installs from inside the structure, eliminating exterior work on upper stories and enhancing job safety
Fastening can be done before or after exterior sheathing is applied for added flexibility
One screw length can be used for multiple floor depths (refer to chart to select appropriate screw size), reducing the need for many screw lengths
Applications
Wind-uplift restraint connections
Product Includes
Kit includes all required installation hardware:
(25) Strong-Drive SDWF Floor-to-Floor screws
(25) TUW take-up washers (washer is galvanized 10 ga. steel)
(100) Strong-Drive SD Connector screws (#9)
5/16" hex driver bit (replacement driver bit — BITHEXR516-134)
Screw depth guide to ensure proper SDWF engagement with TUW
Codes
Related Links
Catalog Pages
Related Literature
Product Information Table
| Model No. | Length (in.) | Drive Type | Head Diameter (in.) | Head Type | Thread Length | Thread Type | Shank Diameter (in.) | Point Type | Coating/Material | Packaging Quantity | UPC |
| --- | --- | --- | --- | --- | --- | --- | --- | --- | --- | --- | --- |
| SDWF2716-TUW | 16 | 5/16 in. Hex | 0.73 | Hex Washer Head | 5 | Variable Thread Design | 0.270 | Type-17 Point | E-Coat™ Electrocoating | 25 | 707392478805 |
| SDWF2720-TUW | 20 | 5/16 in. Hex | 0.73 | Hex Washer Head | 5 | Variable Thread Design | 0.270 | Type-17 Point | E-Coat™ Electrocoating | 25 | 707392885405 |
| SDWF2724-TUW | 24 | 5/16 in. Hex | 0.73 | Hex Washer Head | 5 | Variable Thread Design | 0.270 | Type-17 Point | E-Coat™ Electrocoating | 25 | 707392845904 |
| SDWF2726-TUW | 26 | 5/16 in. Hex | 0.73 | Hex Washer Head | 5 | Variable Thread Design | 0.270 | Type-17 Point | E-Coat™ Electrocoating | 25 | 707392448709 |
Load Tables
Product Information and Withdrawal Loads

Allowable loads are for CD=1.0 and may be increased for load duration up to CD = 1.6.
Joist depth listed based on the 3/4" subfloor and 3" of thread penetration into double top plates.
SDWF-TUW Floor-to-Floor Screw — On Center Spacing for Uniform Uplift Loads

Spacing listed based on lesser of: single bottom plate bending allowable load, single bottom plate deflection limited to spacing/240 and 1/4" max, screw allowable withdrawal load, and take-up washer allowable load.
Withdrawal load is based on a CD = 1.6 and minimum 3" penetration into lower wall double top plates.
Stud-to-plate connections are required to complete the load path. These connections shall not exceed the lesser of 48" o.c. or SDWF spacing.
Spacing values listed for SP lumber consider new base values adopted by AWC on June 1, 2012.
Concentrated Uplift Loads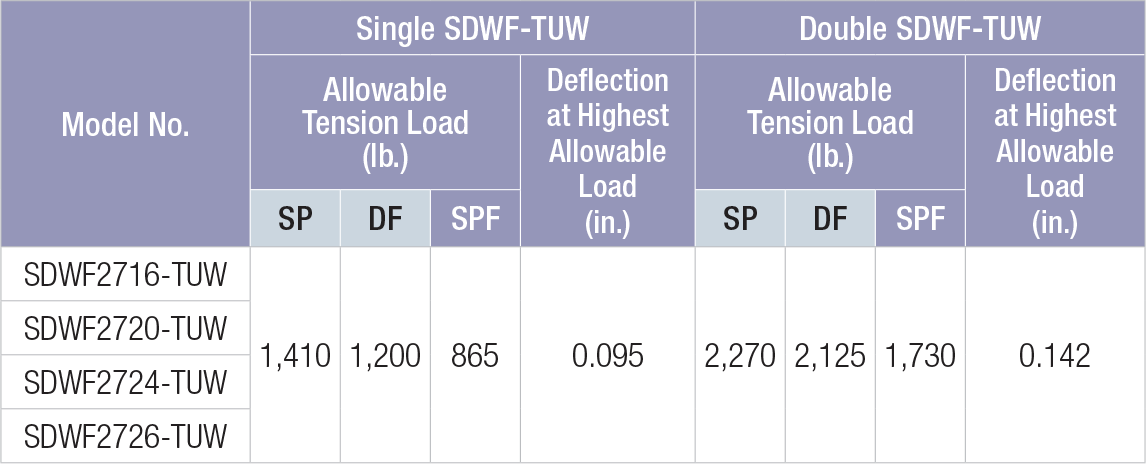 Allowable loads listed include a wood load duration factor of CD = 1.6 for wind or earthquake loading with no further increase allowed; reduce when other loads govern.
Single and double SDWF-TUW applications listed are for concentrated load uplift restraint conditions (i.e. end of header, at girders, or at the end of shearwalls).
See additional Load Tables, Technical Data and Installation Instructions for the Strong-Drive® SDWF Floor-to-Floor screw