On This Page
The HTT is designed to resist medium tension loads that are fastened with #10 screws. This single-piece formed heavy tension tie has a four-ply formed seat, is designed without rivets and does not require washers. This tension tie provides high-strength, post-pour, concrete-to-steel connections.
Key Features
Ideal for retrofit or new construction projects
Can be installed with cast-in-place or post-installed anchor bolts
Four-ply formed steel provides increased tension capacity
Anchor bolt washers not required
Installation
Use all specified fasteners.
Use the specified number and type of screws to attach the strap portion to the steel stud. Bolt the base to the wall or foundation with a suitable anchor; see table for the required bolt diameter.
See SB and SSTB anchor bolts for anchorage options.
See SET-XP® and AT-XP® adhesive products for anchor bolt retrofit options.
Options
Special sizes can be made to order; contact Simpson Strong-Tie
Related Links
Catalog Pages
Related Literature
Load Tables
These products are available with additional corrosion protection. Additional products on this page may also be available with this option. Check with Simpson Strong-Tie for details.
Many of these products are approved for installation with Strong-Drive® SD Connector screws.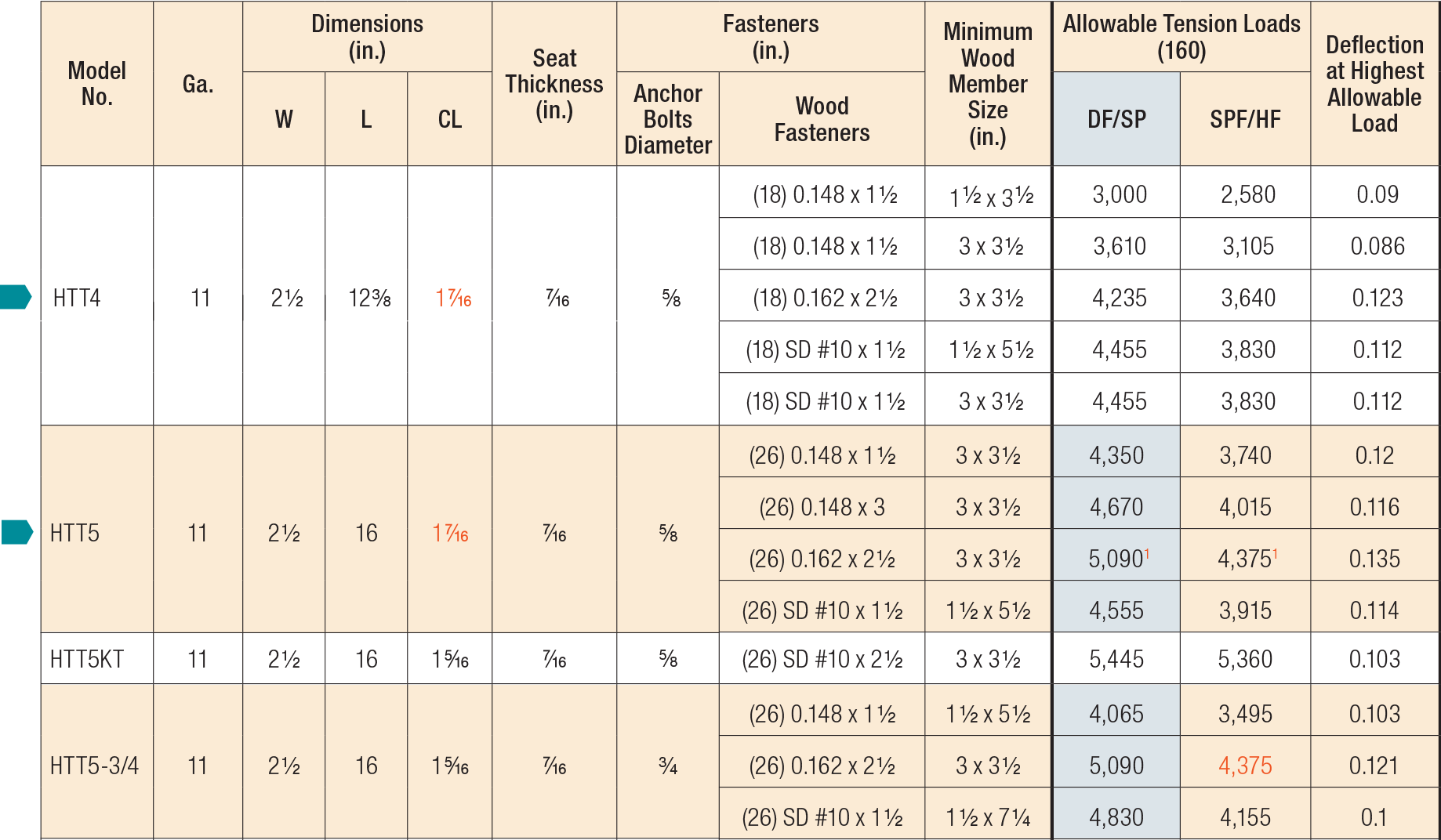 Allowable load for HTT5 with a BP 5/ 8-2 bearing-plate washer installed in the seat of the holdown is 5,295 lb. for DF/SP and 4,555 lb. for SPF/HF.
Fasteners: Nail dimensions in the table are listed diameter by length. SD and SDS screws are Strong-Drive® screws. For additional information, see Fastener Types and Sizes Specified for Simpson Strong-Tie Connectors.
Code Reports & Compliance