Tension ties offer a solution for resisting tension loads that are fastened with nails. The HTT4 and HTT5 are the latest generation of tension ties. They feature an optimized nailing pattern which results in better performance with less deflection. Designed to meet new code standards, the HTT4 and HTT5 offer higher loads than their predecessors.
HTT5KT is sold as a kit with the holdown, bearing plate washer and Strong-Drive® SD Connector screws. The HTT5-3/4 is designed to use a 3/4" diameter anchor bolt. 3/4" epoxied anchor bolts are commonly used when retrofitting tension ties to horizontal wood members.
The LTT19 Light Tension Tie is designed for 2x joists or purlins and the LTT20B is for nail- or bolt-on applications. The 3" nail spacing makes the LTT20B suitable for wood I-joists with 10dx1 1/2. The LTTI31 is designed for wood chord open web truss attachments to concrete or masonry walls and may also be installed vertically on a minimum 2x6 stud.
Finish
Galvanized. May be ordered HDG; contact Simpson Strong-Tie.
Installation
Use all specified fasteners. See Holdown and Tension Tie General Notes.
A standard cut washer is required for LTT19 and LTT20B when using 1/2" or 5/8" anchor bolts. No additional washer is required when using 3/4" anchor bolt.
View step-by-step installation instructions in the Installer's Pocket Guide (S-C-INSTALL).
Related Literature
Load Tables
These products are available with additional corrosion protection. Additional products on this page may also be available with this option, check with Simpson Strong-Tie for details.
These models are approved for installation with the Strong-Drive® SD Connector screw. See the load values below.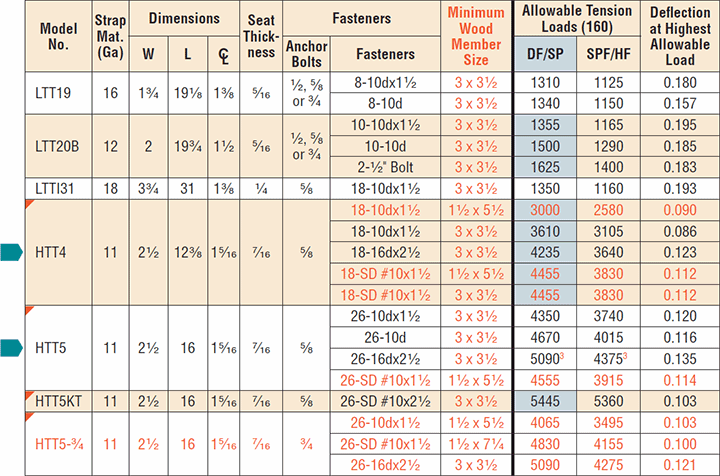 LTT holdowns may not be installed more than 4½" above the top of concrete.
LTTI31 installed flush with concrete or masonry has an allowable load of 2285 lbs.
Allowable load for HTT5 with a BP5/8-2 bearing plate washer installed in the seat of the holdown is 5295 lbs. for DF/SP and 4555 lbs. for SPF/HF.
FASTENERS: 10dx1 1/2= 0.148" dia. x 1 1/2" long,
10d = 0.148" dia. x 3" long,
16dx2 1/2= 0.162" dia. x 2 1/2" long,
SD #10x2 1/2 = 0.161" dia. x 2 1/2",
SD #10x1 1/2 = 0.161" dia. x 1 1/2".
See other fastener sizes and information.

Code Reports