WP/HWP/HWPH/WMU
Plated Truss Top-Flange Hangers
On This Page
The WP hangers offer design flexibility and versatility supporting trusses off of wood or steel. WMU hangers are designed for use on standard 8" grouted masonry block wall construction.
Material
WP/HWP — 7-gauge top flange and 12-gauge stirrup; HWPH — 3-gauge top flange and 7-gauge stirrup
Finish
Simpson Strong-Tie gray paint; hot-dip galvanized available: specify HDG
Installation
Use all specified fasteners.
The WP may be used for weld-on applications. The minimum size weld is a 1 1/2" long fillet weld to each side of the top flange; weld size to match hanger material thickness. See General Instructions for the Installer, note k for weld information. Weld-on applications have the maximum allowable capacity listed. Uplift loads do not apply to this application.
Hangers can support multi-ply carried members; the individual members must be secured together to work as a single unit before installation into the hanger.
Options
For skewed trusses using the WP hanger, order the Type B stirrup for proper bearing
For 4x2 trusses, the ANP nail pattern may be ordered with WP hangers, which will relocate the joist nails to the top and bottom chords
Related Links
Catalog Pages
Related Literature
Load Tables
Nailer Table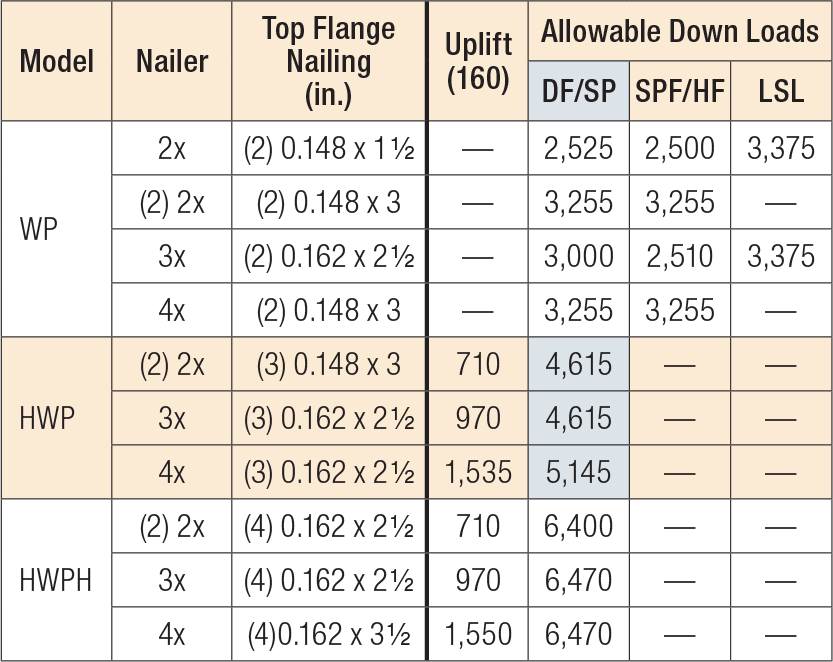 Attachment of nailer to supporting member is the responsibility of the Designer.
Various Headers
These products are available with additional corrosion protection. Additional products on this page may also be available with this option, check with Simpson Strong-Tie for details.

Uplift loads have been increased for earthquake or wind loading with no further increase allowed. Reduce where other loads govern.
Joist dimensions do not include truss plate thickness.
Fasteners: Nail dimensions in the table are listed diameter by length. For additional information, see Fastener Types and Sizes Specified for Simpson Strong-Tie Connectors.
Code Reports & Compliance