The WMU is designed for use on standard 8"-grouted masonry block wall construction.
Material
12-gauge top flange and stirrup
Finish
Simpson Strong-Tie® gray paint; hot-dip galvanized available: specify HDG
Installation
Use all specified fasteners; see General Notes.
Minimum f'm is 1,500 psi.
End vertical must be minimum double 2x.
Mid-Wall Installation:
Installed between blocks with two 16d duplex nails cast into grout with a minimum of one grouted course above and below the top flange and one #5 vertical rebar minimum 24" long in each adjacent cell.
Top-of-Wall Installation:
Install on top of wall to a grouted beam with Titen® masonry screws.
Refer to technical bulletin Sloped Joist in Non-Sloped Hangers (T-C-SLOPEJST) for information regarding load reductions on selected hangers which can be used without modification to support joists which have shallow slopes (3/4:12).
Options
See Hanger Options information.
Hanger Height
For hanger heights exceeding the joist height, the allowable load is 0.50 of the table load.
Offset Top Flange
WMU top flange may be offset left or right for placement at the end of a header. The allowable download is 0.50 of the table roof load.
Related Literature
Load Tables
GFCMU Hanger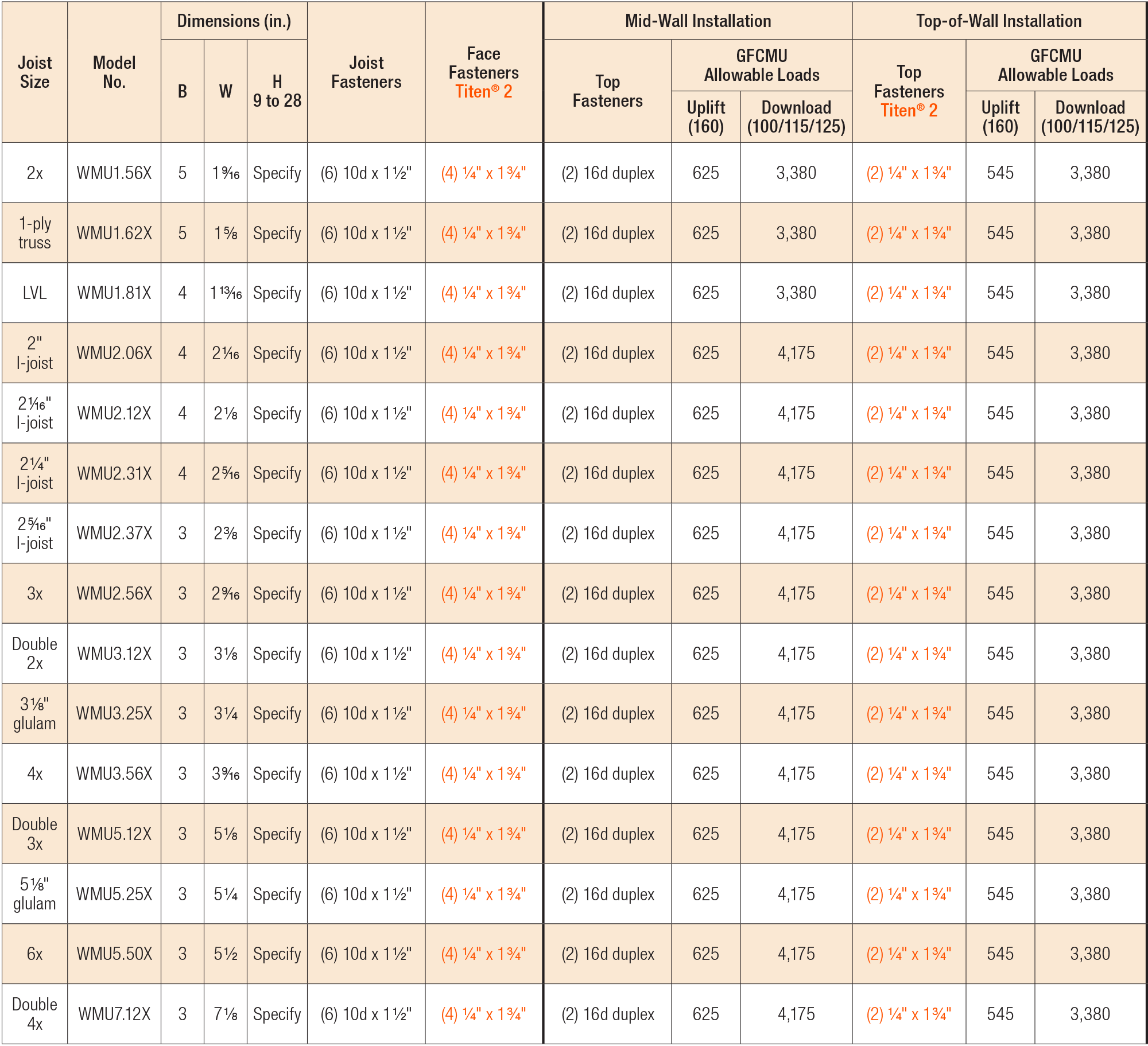 Uplift loads have been increased for wind or earthquake loading with no further increase allowed; reduce where other loads govern.
See figures for top-of-wall and mid-wall installation. Minimum f'm = 1,500 psi.
Products shall be installed such that Titen® screws are not exposed to weather.
For hanger heights that exceed the joist height, the allowable dowload is 0.50 of the table load.
Fasteners: 16d duplex = 0.162" dia. x 3 1/2" long, 10d x 1 1/2" = 0.148" dia. x 1 1/2" long.
TTN2-25134H = 1/4" x 1 3/4" Titen 2;
TTN25134H = Titen 1/4" x 1 3/4" may also be used at full table loads.
See other nail sizes and information.
Code Reports
Part
IAPMO UES ER
ICC-ES ESR
City of Los Angeles
State of Florida
WMU
No code listing: Please contact us for test data.
Drawings
| Part | Orthographic | Perspective |
| --- | --- | --- |
| WMU1.56X | None | None |
| WMU1.62X | None | None |
| WMU1.81X | None | None |
| WMU2.06X | None | None |
| WMU2.31X | None | None |
| WMU2.56X | None | None |
| WMU3.12X | None | None |
| WMU3.25X | None | None |
| WMU3.56X | None | None |
| WMU3.62X | None | None |
| WMU4.06X | None | None |
| WMU4.68X | None | None |
| WMU4.75X | None | None |
| WMU5.12X | None | None |
| WMU5.25X | None | None |
| WMU5.31X | None | None |
| WMU5.50X | None | None |
| WMU6.06X | None | None |
| WMU6.88X | None | None |
| WMU7.12X | None | None |
| WMU7.50X | None | None |